Welcome! I'm so glad you decided to learn more about natural helps for attention and learning including essential oils!
I began learning about essential oils about 10 years ago because I was looking for natural ways to have more energy as a busy mom. Using oils also resulted in improved moods, fewer feelings of overwhelm, improved sleep, toxic free cleaning solutions, and an overall healthier life.
Essential Oils for Learning and Attention
Just a few years ago I had a child who was struggling majorly with focus during our homeschool co-op. Homeschooling allows us a lot of freedom with scheduling and curriculum which is super helpful for our outside the box kids who would struggle in a traditional classroom setting.
As our kids get older, however, they will be faced with more demands on their focus and attention. And though our kids do improve in these areas, they will still often struggle more than their peers.
How Essential Oils Helped my Kids With Attention and Learning
This homeschool co-op experience got this mama bear on the research track once again and I discovered that people had found significant help with the use of essential oils. I ordered the few oils that were recommended, popped them in a roller bottle, and brought them to our co-op.
The results were amazing. Where once my daughter was having trouble sitting upright during class, she was able to sit up, take notes, and participate way more. The class was intrigued by the wonderful smell and so the roller made it's way around the classroom for the rest of the year!
How oils work
First, what are oils? They are concentrated plant extracts that retain the essence of the plant they were sourced from.
How are oils used? Essential oils are used in three ways: through aroma, through topical application, or through consuming them internally.
Aromatic use means you are basically exposing yourself to breathing in the aroma of the oil. When inhaled, the aromas can stimulate areas of your limbic system – which plays a role in emotions, behaviors, sense of smell, and long term memory.
This is why you catch a whiff of something and you are suddenly reminded of a moment that happened decades ago. The limbic system also plays a role in affecting some other things such as breathing, heart rate, blood pressure, and physiological functions.
You can benefit from aromatic use by adding a few drops to your hands and then just breathing that in by cupping your hands around your mouth and nose as you inhale.
You can also add a few drops to your diffuser and fill a room with the beautiful scents you added.
Topical use, probably the most common way to use oils, is when you apply the oil to your skin. When applied to your skin, you are allowing your skin to absorb the properties of that oil. Though applying topically, you also still reap the benefits of aromatic use.
Depending on your goal with the oil in use, you apply it where needed.
Some oils work best for you when applied to your temples, neck, behind your ears, etc. Others work best when applied to your forearms. That's why it's beneficial to be in touch with someone who can help guide you along the learning process.
And others, that may help improve the appearance of your skin, such as Frankincense or Tea Tree, work best when you apply it all over your face.
Some oils are pretty potent, so using a carrier oil helps adjust the potency. And this varies person to person.
Internal use of oils is the third way that oils are used. This is where it gets super important to be sure you are using top grade oils.
Less is more with internal use. You can always try an extra drop the next time you use an oil internally, so you can gauge how you reacted the first time. I say less is more because since this is something you've put inside of your body, it's harder to dilute it once it's in you.
Many people add a few drops to their morning tea. I like to add a drop or two of Thieves to my tea when I'm fighting seasonal things or if I'm a bit under the weather. Lemon makes for a great tasting tea too!
Getting Started With Essential Oils
Did you know that you can build your oil stash with quality oils, save loads of cash without having to sell anything to anyone? I started by signing up with Young Living as a wholesale member and selected their Premium Starter Kit with the Desert Mist diffuser.
Why sign up as a wholesale member? Because savings. That's why. You save 24% by becoming a wholesale member. (and no, you do not have to sell anything to keep this status and its benefits)
Be sure Sponsor and Enroller ID# are: 1173341.
Young Living is offering FREE SHIPPING for October for Premium Starter kits, so that's about another $10 off!
Click the red button above and select Wholesale Member. 
Again, this is the wholesale membership…with NO strings attached.
You can select "Retail Customer," but you will not receive wholesale pricing, you won't have access to starter kits and you will pay retail cost which is 24% more than wholesale.
Choose the kit you want. I highly recommend the $165 PREMIUM KIT with oils in the images here. It's the first kit you see when you are signing up, and will get you off to a great start!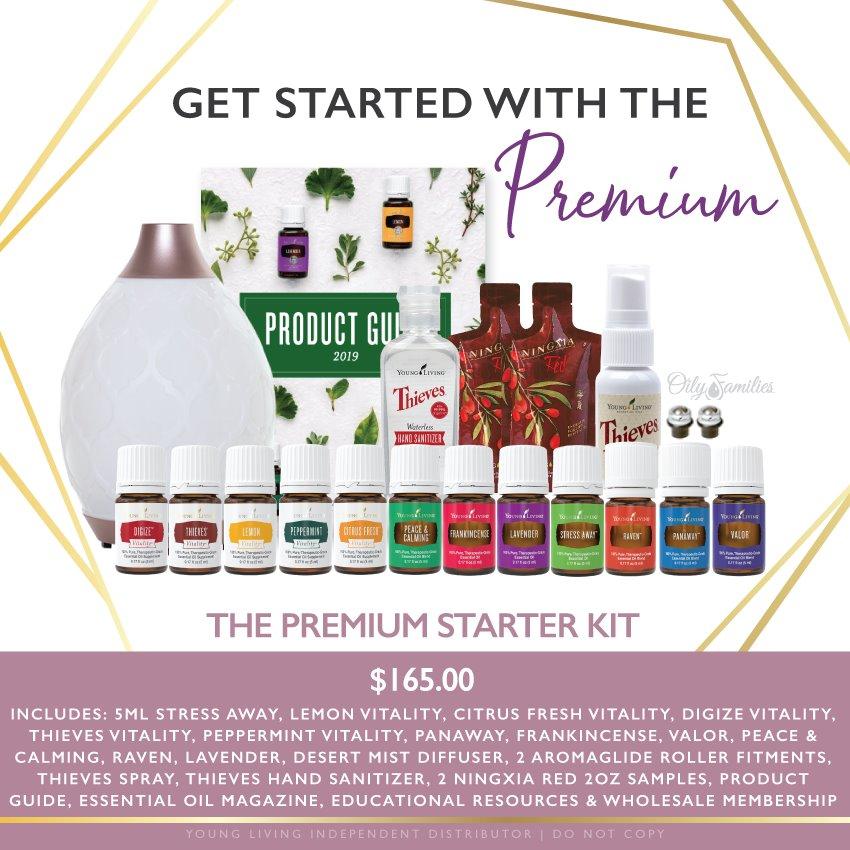 Select YES in TWO PURPLE BOXES on the Essential Rewards program so you get another $10 back in reward points, and then Customize your kit: add Thieves Laundry Soap, Thieves Household Cleaner (14oz is perfect – it's concentrated and that's enough for a year!), and a bottle of Vetiver or Progessence Plus or EndoFlex if you want hormone help!
Save that monthly order. This will get shipped in November on the date you choose. You can change it or cancel it before next month if you want to!
They have other kits – so your sign up doesn't have to be oils + diffuser either! Some kits are of makeup, others are of household cleaners, and others are a combination!
So depending on where you are on your healthier lifestyle journey, there's a kit and loads of products for you!
More Benefits of Membership
People who use essential oils through Young Living often refer to themselves as an 'oily family'. What is unique about our oily family is the amazing level of support that you will receive. If you've been around my site for a long you know that I never recommend anything that I wouldn't use and love myself. The support that is found in this particular oily family is amazing. The people who are further along in their oily journey have a genuine desire to walk alongside us on our journeys to gradually replacing toxins in our homes with clean products that improve not just attention but our health overall.
Oils and Other Natural Helps for Learning and Attention
Be sure Sponsor and Enroller ID# are: 1173341.