One of the most impacting things I have done to help teach my kids better was to teach myself. What do I mean by this?
Understanding dyslexia and how it impacts learning is essential for knowing how to modify our teaching to best meet the needs of our kids. Dyslexia is surrounded by myths and misunderstandings that are hurting our kids.
That is why I created my Parent Dyslexia Courses. As of this writing, I have 8 parent classes to educate parents so they can educate their kids.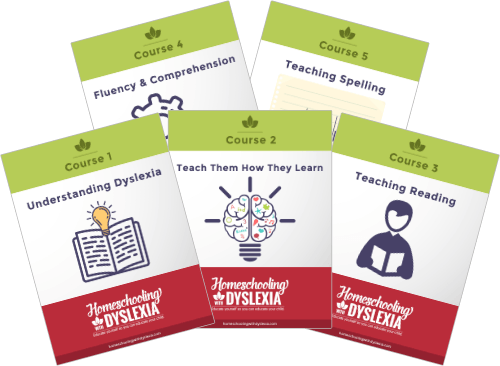 Parent Dyslexia Courses
All of our Parent Dyslexia Courses include approximately 1-hour of online video instruction. Each course includes a downloadable study guide and audio file. Download to your phone (or your husband's phone) and listen on the go. Course members also receive an invitation to our private Facebook group for support and closer contact with Marianne.
Current parent education course topics include:
To more fully understand the many facets of the dyslexic mind
To understand how dyslexics learn and methods you can implement today to dramatically improve learning
To be aware of the other areas affected by dyslexia
To better understand and nurture the seldom mentioned, inherent strengths of the dyslexic mind
Making the decision to homeschool, including how to answer any critics that insist that the schools are the educational experts.
The truth about the state of special education in our public schools.
Common emotional issues for parents and kids and how to overcome them.
How to get started homeschooling; including legalities and finding local support.
Tips on finding and modifying homeschool curriculum for the dyslexic student.
Teaching methods, including how to balance accommodations and remediations.
When to get help in the form of diagnostic testing and educational therapy.
Strategies for getting it all done.
Reading Instruction That Works
Understand the research about dyslexia so you can evaluate the myriads of programs, supplements and services that are offered to parents of dyslexics.
Understand the research-based methods of reading instruction that really work with the dyslexic learner.
Find a program, curriculum or other service to fit your family's needs.
How much does dyslexia remediation cost?
How long does it take?
What about those 'alternative' treatments and therapies?  Do they work?  How can we know?
Building Fluency and Comprehension in Dyslexic Readers
what reading fluency is and how it develops
how fluency affects comprehension
nine of the most effective, research-based methods for increasing reading fluency
easy-to-implement methods to enhance your child's reading comprehension at home
Teaching Spelling: From Remediation to Accommodation
why people with dyslexia struggle with spelling
the best methods for teaching spelling
the power of studying morphology and etymology with your dyslexic students
3 simple ways to teach morphology to your students
the best accommodations for students with dyslexia
how to balance accommodations with remediation
Executive Function: Teaching Your Dyslexic Child to Organize Their Thoughts, Personal Space, and Time
what executive function is and how it affects learning
how executive function weaknesses can affect organizational skills
how executive function affects relationships and how to improve in this area
many strategies for teaching your SEEMINGLY hopelessly unorganized child to develop planning, organizing skills
Teaching Writing to Kids With Dysgraphia
find the help your child with dysgraphia needs

understand what dysgraphia is

learn what causes dysgraphia
learn proven methods for teaching, and mastering handwriting
the best accommodations and assistive technology for dysgraphia
Teaching Math to Kids with Dyscalculia
why some kids struggle unexpectedly with math
what signs you may be seeing
the four underlying weaknesses that kids with dyscalculia have and the connection between dyslexia and dyscalculia and other learning difficulties
simple teaching strategies and effective activities that can be done at home to help all students develop better math sense
Fill out the form below to enter to win our Foundation Bundle – Parent Dyslexia Courses 1-5, plus a free download of my book Dyslexia 101.