Thank you for joining me on for this 10-day series on Preparing Your Student With Dyslexia for College Success. To read the whole series, click here.
With the explosive growth in technology available today, dyslexic students have more opportunities than ever before to find work arounds for their areas of academic weakness.
As with study skills and self-advocacy skills, the use of compensatory technology helps should be mastered as much as possible before the first college assignment for a smoother transition.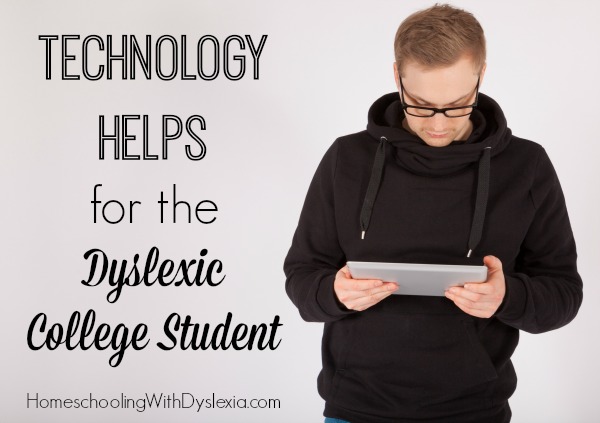 There are many forms of assistive technology from apps, to software, to strategies.
Technology Tools for Organization and Time Management
We talked yesterday about the skills needed for college success. From word processing programs (with spell checkers) to electronic calendars and organizers, there are many ways to help your dyslexic student become more organized. Click the links provided and have your student get familiar with a few that he or she finds useful.
Google Drive:  documents, spreadsheets, forms and presentations
Google Sites:  web pages, web binders, group projects
Gmail:  powerful email provider through Google
Google Calendar:  tasks schedules, daily agenda, alerts, sync to smart phone
Evernote:  record, organize notes, folders
Variety of Homework Apps:  weekly schedules, keep track of assignments
Technology Tools for Brainstorming and Mapping
The right-brain strengths of the dyslexic learner make them natural inventors and 'idea people'. Help them to find a way to document and organize these creative thoughts in ways that make sense to them by trying one of these visual organizers.
Technology Tools for Writing (Speech to Text)
When we first started our dyslexia journey speech to text technology (apps and programs that turn your spoken words into text) was like something out of a Sci-Fi story. People were talking about this technology but the programs that were offered were expensive and didn't work well. Over the years, the speech to text technology has vastly improved.
Dragon Dictate:  Speech to Text – converts speech into text, or try Dragon Naturally Speaking  for the desktop.
Technology Tools for Studying
Studying is a part of college that is inescapable. Finding tools to help your student study smarter will go a long way in preparing them for college success.
Quizlet: Flashcard app that also has an audio function that reads the flash cards to your auditory learner.
Text to Speech:  There are many of these apps that can read text from a web page, email or even social networking sites and read it to your student.
Kurzweil:  Helps with highlighting and outlining text.
Voice Recorder and Voice Memo apps:  There are many of these apps that can be used to record notes to yourself or dictate messages and assignments.
White Board apps:  Educreations, ScreenChomp
Visuwords:  Graphic dictionary – excellent for visual learners.
Reading and Input (Text to Speech)
Since dyslexic students often learn better by hearing, finding ways to use 'ear reading' will help them learn faster.  Text-to-speech technology reads text out loud.
Web Reader HD:   Text-to-speech app that can read web page content. Super easy to use and mostly effective.
Learning Ally   Excellent resource for audio books, including textbooks
iBooks features – has text to speech function built in.
Most e-readers have built-in text-to-speech capabilities today
Visit our Resources Page for more excellent links to useful technologies for the dyslexic student.
Is Using Technology Cheating?
Some people are still under the misunderstanding that using technology to learn is somehow cheating. Everybody learns differently with different strengths and weaknesses. Finding the way that you learn best is common sense. If your student would benefit from using technology in his or her studies, by all means, let them!
Join us here for tomorrow's post, Understanding the Differences Between High School And College.
Do you use technology in your home or homeschool? Which technology tools are your favorites?
Please Share!
Thank you for joining me here today for the 10-day series – Preparing Your Dyslexic Student for College Success. If you haven't subscribed and would like further posts from HomeschoolingWithDyslexia.com to come to your inbox, sign up for free email updates from Homeschooling With Dyslexia.
Join me today over on the Homeschooling With Dyslexia Facebook page to further the discussion of preparing your dyslexic student for college success.
Please help me spread the word about this series by sharing this post via the links below to Facebook, Twitter, Pinterest or a by leaving a comment below.