Struggling to get it all done in your homeschool?
You feel like homeschooling is the best thing for your kids but there isn't enough time in the day.
You don't know how you're going to continue homeschooling with confidence.
"I love homeschooling but don't have the peaceful, relaxed atmosphere I've always envisioned."
"I'm feeling alone and isolated, not sure I was doing anything right."
"I'm tired of feeling overwhelmed and wondering if we are doing enough."
---
Learn from a veteran homeschool mom who has been right where you are!
A Unique Blend of Mentoring and Online Course
Learn how and what to prioritize in your homeschool lessons.
Learn how to help kids who are discouraged to be more eager learners.
Understand how brain development and the unique brain wiring of dyslexic kids affects how they learn so you can set realistic, yet challenging, goals.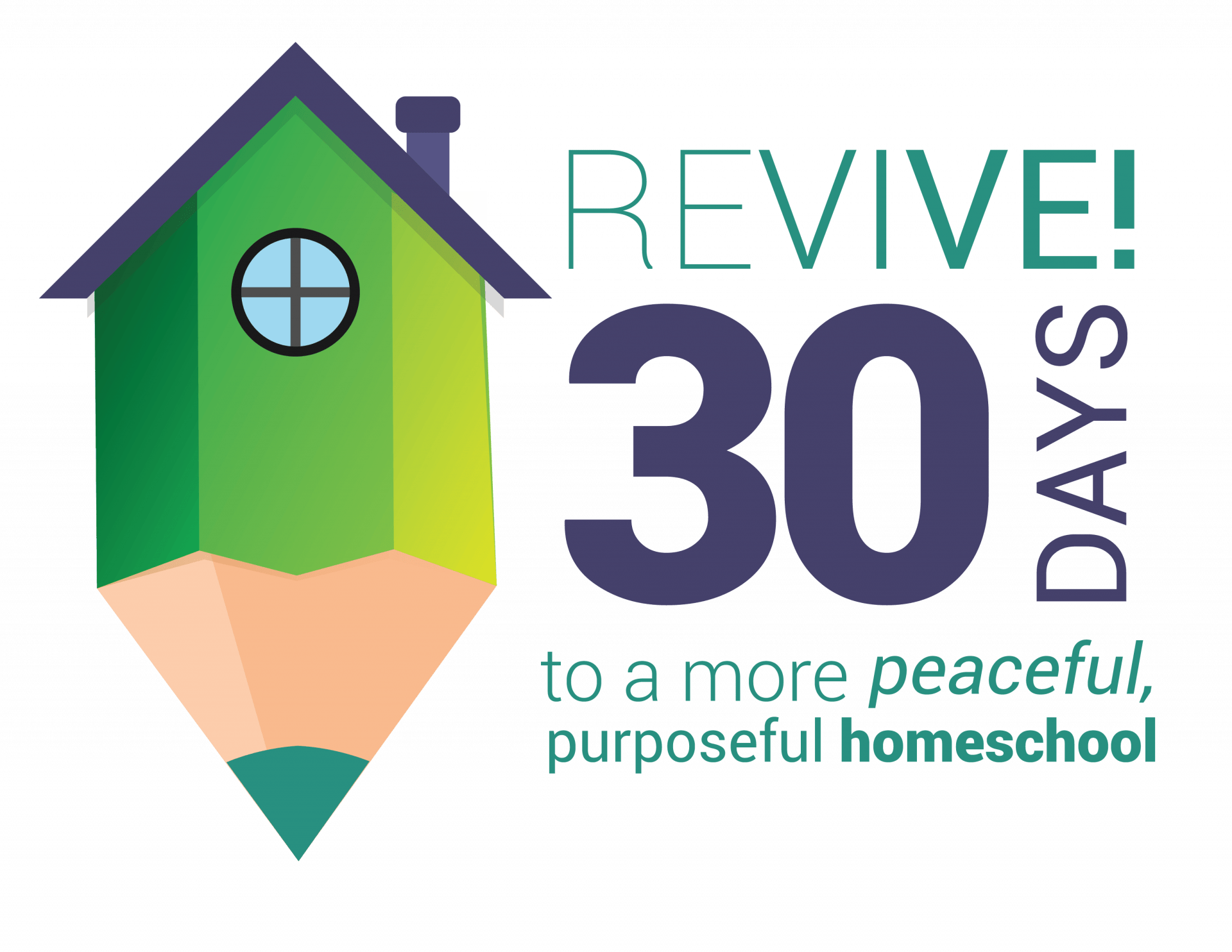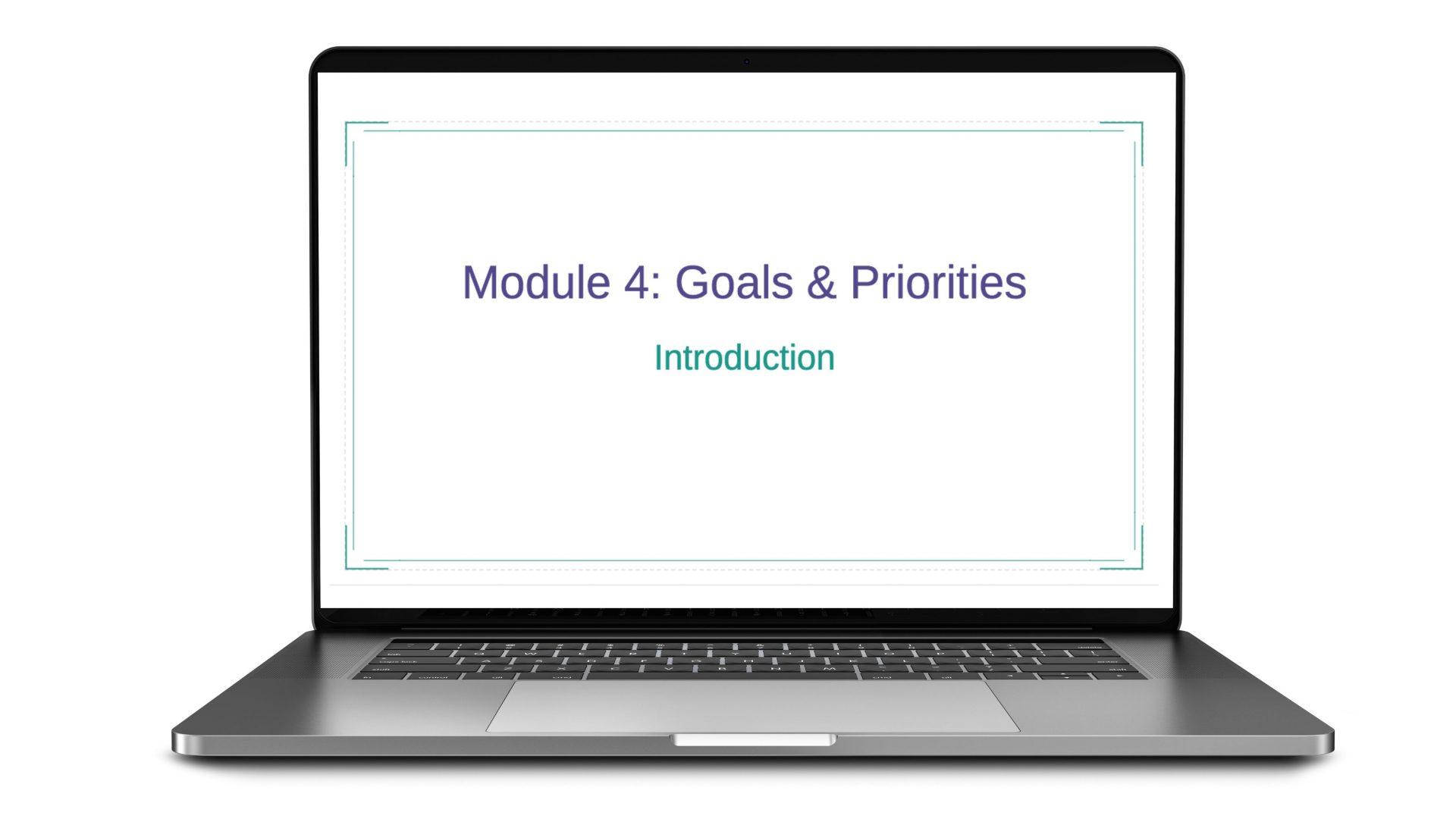 Video Lessons
Five weekly lessons with 4-5 short video tutorials each week. Download the audio file for listening on the go.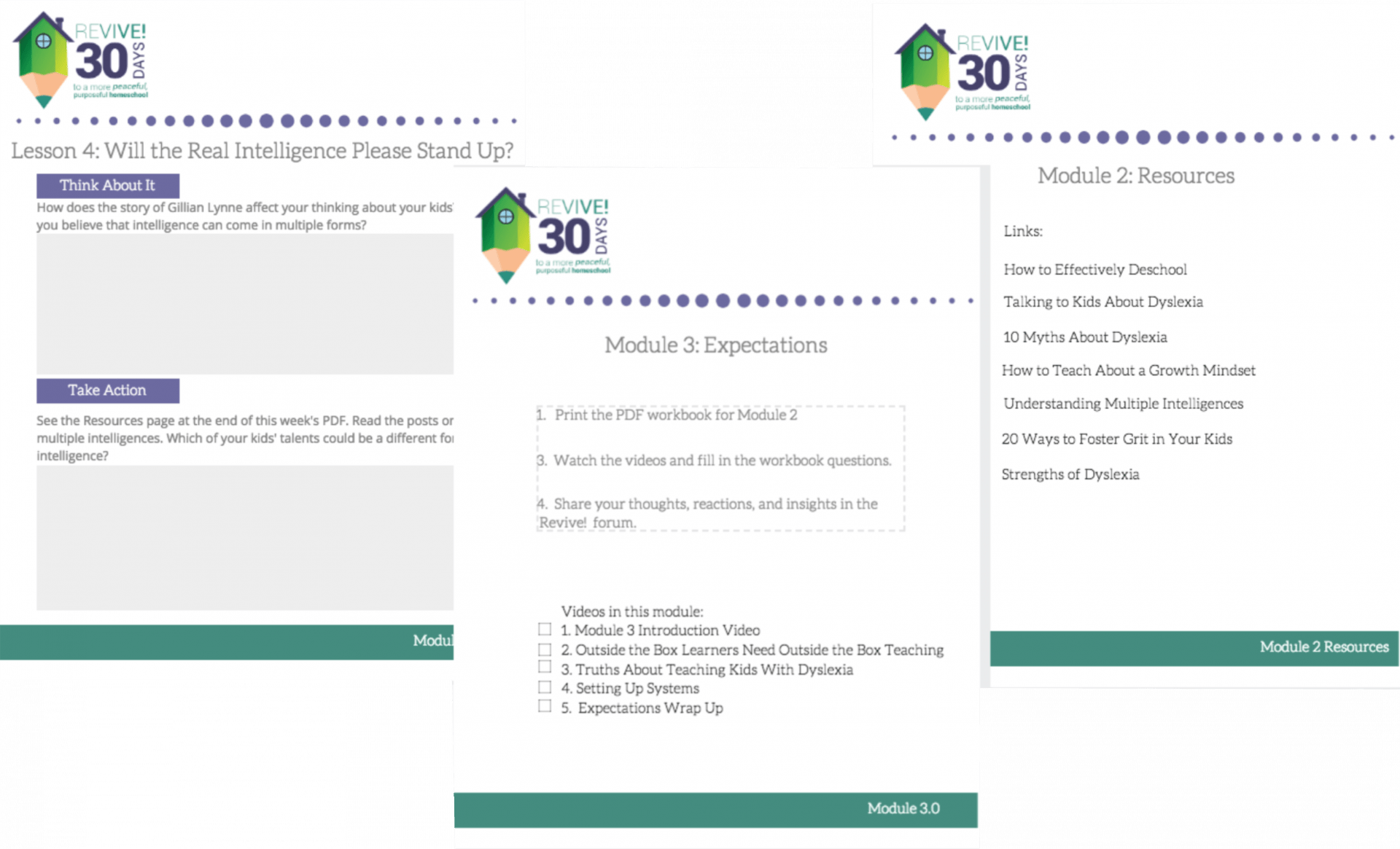 Workbook
A course workbook for note-taking, journaling, and planning. Plus lists of resources for further learning.
You need insight and perspective to focus on what's important.
Teaching kids with dyslexia at home offers families freedom to teach kids the way they learn.
You can create a plan that is effective, that sees your whole child (not just academics) and have peace.
What others are saying about Revive!
"Before Revive! I was feeling alone and isolated, not sure I was doing anything right. I couldn't figure out what resources to use or how to approach my son's homeschooling. Since taking Revive! I feel more relaxed about not doing everything. I have more understanding and patience for my son's unique learning style and how his brain works differently from mine. I'm more compassionate, and able to listen more deeply to what he needs, rather than what I feel that I need him to learn. I like the format, the short videos, the transcripts, and the weekly calls. For the cost of the course, this was excellent value. Clear, clean and professional. I got a lot out of the different modules, and it was just the right amount of information for each week. Thank you so much!"
"Marianne not only gave me tangible options, but she lifted my spirit with her wisdom and personal anecdotes. I gleaned so much knowledge from our conversations and felt empowered to help my son navigate his learning difference while maintaining the health and wholeness of our entire family."
Before taking Revive! I struggled with feelings of constantly being overwhelmed. I was discouraged and worried that I wasn't accomplishing enough. Most of all it really bothered me that we weren't experiencing the peaceful, relaxed atmosphere I had always envisioned for our family. I had spent a lot of time learning about dyslexia, Orton Gillingham programs, remediations and accommodations, but I knew I was still struggling with pulling all the information together into a working system for me. I knew that if anyone could relate to my personal challenges of homeschooling a house full of dyslexics, it would be Marianne.
Since taking Revive! I feel much more peace. It's given me the vision of what a successful homeschool for dyslexics looks like. I have been able to re-prioritize my time and feel confident knowing that I am spending my time and energy on the areas that are the most valuable for the academic progress of my children.
"After taking Revive! I am much more at peace. I am no longer worried and I am less stressed. I have tools to implement and a much more realistic perspective of how to approach teaching a dyslexic child. Marianne, your wealth of information and experience have been so helpful. I greatly benefited from each session. I didn't expect to be so encouraged or to gain as many resources to help my son."
Revive! is a 30-day online course designed to give you the knowledge and strategies you need to have more confidence as you teach your outside-the-box learners.
The Five Modules of REVIVE!:
Module 1: Mom's Mindset: You've heard it said, "Ain't Mom happy, ain't no one happy."? Learn simple, doable ways to fill your tank so you can fill others'.
Module 2: Kids' Mindsets: Learn why kids with learning struggles develop limiting beliefs about themselves and their ability to learn. Learn multiple strategies to help empower them.
Module 3: Expectations: Take an honest look at how the unique brain wiring of the dyslexic learner effects learning and how to have the right expectations for teaching them. (Hint: We are not lowering our expectations!)
Module 4: Setting Goals: Putting it all together. How to set goals that take into account our kids mindsets, brain development and dyslexic learning style.
Module 5: Consistency: None of the strategies that you'll learn in REVIVE! will work well unless they are applied consistently. Learn he common pitfalls to homeschooling consistently and establish more effective, consistent homeschool habits.
How long do I have access to the course materials?
You have lifetime access to the course materials.
I'm super busy. How long does it take to get through the weekly lessons?
Your content goes here. Edit or remove this text inline or in the module Content settings. You can also style every aspect of this content in the module Design settings and even apply custom CSS to this text in the module Advanced settings.