Your 'Quick Start' Guide to The Site
When we discovered that our oldest child had dyslexia some 18 years ago, we were at a loss as to what our next steps were.  That is why this site was created.  I don't want other parents to have to go through the same frustrations or the waste of time and money that our family experienced all those years ago.  To learn more about Marianne and her family's journey with dyslexia, visit our About Page.
Getting Started Homeschooling Kids With Dyslexia
If you are just getting started with homeschooling or still trying to decide if homeschooling is the right choice for your family, you will want to head over here to How to Get Started Homeschooling With Dyslexia.  Here you can download our free 50-page ebook and learn about all of your educational options, legal issues, how to find support and curriculum, and what to expect if you choose to homeschool.
Learning About Dyslexia
Although dyslexic learners struggle with reading writing and spelling, they have many other unique and meaningful talents.  As many as 40% of entrepreneurs are dyslexic!  As you begin your homeschool journey, read How Dyslexics Learn, to begin to understand the basics of how your child learns best.
Parent Education Classes
If you have a child with dyslexia, getting educated about what that means is one of the most important things you can do.  This allows you to teach your kids in the ways in which they learn best and also to teach them what dyslexia is – both the weaknesses and strengths.  Our parent dyslexia classes were designed to get parents educated quickly and are a combination of current research  (dyslexia is one of the most heavily researched learning 'disabilities') and my own personal experience teaching our 7 kids with dyslexia for the past 20 years.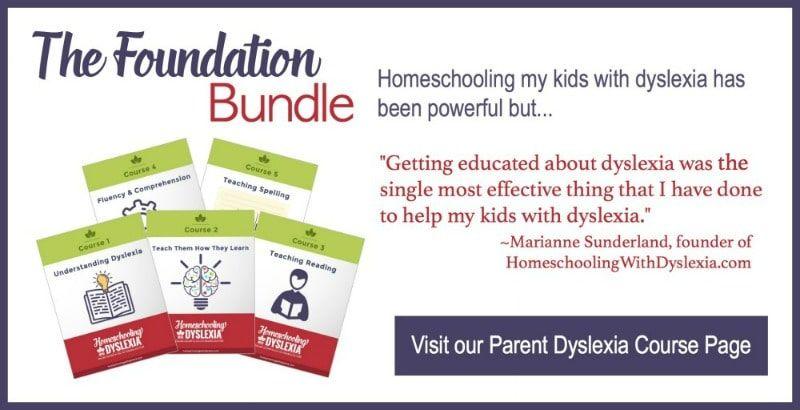 Resources
Honestly, there are a lot of programs, ideologies and treatments available out there.  Fortunately, there has been more and more research done in the area of dyslexia that can provide us with the information we need to make intelligent, educated choices for our families.
Our Resources page includes links to the best books, websites, apps, assistive technology and curriculum for people with dyslexia and ADD/ADHD.
Are Parents Really Qualified?
You may be desiring to teach your children at home but wonder if you are truly capable.  I totally get it.  Homeschooling is a big responsibility and homeschooling a dyslexic child can be difficult.
Even the International Dyslexia Association had this to say about students with dyslexia:
Dyslexic students need direct, systematic and individual instruction in reading and spelling and traditional schools do not always provide adequate levels of service. – International Dyslexia Association
If this is a concern to you, read this post that answers the question, Are Parents Really Qualified to Homeschool Their Dyslexic Kids?
Get Connected
There is nothing quite as encouraging as having another parent with whom to share your concerns and questions.  We have quite an active Facebook community where I frequently post articles of interest and encouragement.  It is a great place to connect with a group of people who are experiencing many of the same things that you are experiencing.  I also have a growing Pinterest Page with a wide variety of teaching tips for all subjects.
Blog
As I research the latest information about dyslexia I share the latest research and what is working (and not working) in our home on the Homeschooling With Dyslexia Blog.  Visit the blog for Teaching Tips, Curriculum Reviews, and Encouragement from Preschool thru High School and beyond.
For your convenience, you can also sign up to receive all blog updates via email below.
My Books
Dyslexia 101:  Truths, Myths and What Really Works is meant to be a Parent's Quick Start Guide to understanding dyslexia.  Visit the Dyslexia 101 book page for more info and purchase options.
What is Dyslexia:  A Parent's Guide to Teaching Kids About Dyslexia was written to help parents teach their kids the facts about dyslexia including the little-known strengths of dyslexia.  Visit the What is Dyslexia?  book page for more information and purchase options.
Consulting
Sometimes you just need to talk to someone who has been there.  Marianne offers consulting services to help families:
Gain confidence
Make realistic goals
Choose curriculum
Choose teaching methods
Implement appropriate accommodations
Monitor progress
Visit our Consulting Page for more info and to make an appointment.
Contact
Can't find what you're looking for?   Have a question for Marianne?  Visit our Contact Page to send an email.