Upgrade your order and SAVE!
Purchase the Foundations Bundle and get all 5 Foundations Courses
PLUS
A free download of my book Dyslexia 101: Truths, Myths, and What Really Works.
---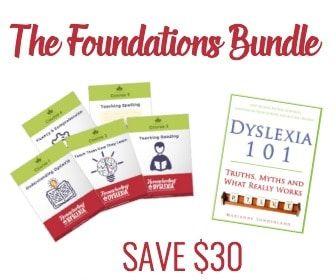 Full Price: 5 courses + Dyslexia 101 – $107.99

–

Your Price: $77.00 Over $30.00 Savings!
The 5-Course Foundation Bundle includes:
Course 1: Understanding Dyslexia
Course 2: Teaching Them So They Learn
Course 3: Reading Instruction That Works
Course 4: Building Fluency & Comprehension
Course 5: Teaching Spelling
Educate Yourself so You Can Educate Your Child
Yes I Want It! Upgrade My Order
---
What people are saying about these classes!
Your courses have been such an amazing help for me as we are new to the dyslexia journey. I am still learning so much about it and about the way our two boys learn so differently than I've ever known. I'm learning to relearn to meet their needs. There have been so many meltdowns, due to lack of being able to express what they need, and misunderstanding their needs. We're making progress through it all, though! Thank you for sharing the wealth of information you have learned through research and personal experience with the world!
– Tricia M.
I am a retired Dyslexia Specialist, public school teacher, and adult dyslexic myself. Your information is accurate, rock solid, and practical to implement. I have recommended it to several homeschoolers as a good source of information to review and consider using.
– Barbara N.
This site is my go-to resource for teaching my profoundly dyslexic son. Marianne's practical and encouraging wisdom has helped me think differently about how I educate my son – and all for the better. I am so grateful for her heart to help other parents with dyslexic kids succeed in educating their children at home. Thank you!
– Shawna W.
Upgrade my order!