What You Need to Know to Create a Firm Foundation in Your Homeschool
Have you ever wondered how to get started homeschooling?
Are you already homeschooling but lack a firm foundation?
Do you have kids who are having trouble learning and doubt your ability to teach them well?
This free 50 page ebook is for you!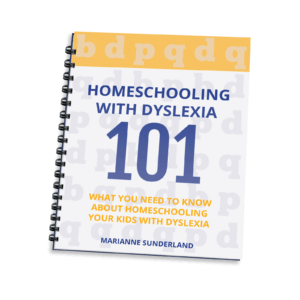 I created this free digital book because of the many requests I receive from people who are overwhelmed with the idea of starting to homeschool as well as from families who have been homeschooling for some time but need more direction and support.
Homeschooling With Dyslexia 101:  What You Need to Know to Homeschool Your Kids With Dyslexia,  has 8 chapters that will give you the tools you need to start homeschooling with more confidence.  Whether you are brand new to the idea of homeschooling or you have been homeschooling for some time and need some guidance, this book will help you.
This eBook is a result of my own journey of homeschooling my 8 children (7 of whom are dyslexic) from preschool through high school since 1996.  I share the actual practical steps that you can take to establish, organize and be more successful homeschooling your own kids.
Chapters in This FREE Homeschooling With Dyslexia Digital eBook:
1.  Getting Started Homeschooling:  Overcome your doubts, understand the legalities, learn the many benefits to homeschooling – especially for children with dyslexia.
2.  Understanding Learning Styles:  Learn what a learning style is and how to observe them in you and your children, learn the ways that people with dyslexia learn best.
3.  Creating a Positive Learning Environment:  Learn ways to rekindle your child's love of learning, learn how to observe the interests and abilities of your children and about the power of interest-led learning, create a safe place for your kids who learn differently to thrive.
4.  Homeschool Teaching Methods:  Learn about the different homeschool methods and which methods work best with your child's unique learning style.
5.  Finding the Right Homeschool Curriculum:  Look at the different types of homeschool curricula, how to choose a good fit between the different learning styles in your home.
6.  How to Create Your Homeschool Schedule:  Tips and ideas for how to create and implement a homeschool schedule in your home, learn some simple ways to manage the needs of your dyslexic learners.
7.  Setting Realistic Goals:  How to make a homeschool mission statement, setting big picture goals and academic goals.  What to do if your child is behind.
8.  Tips for Getting it All Done:   Learn the importance of keeping a long term perspective in your homeschool, some powerful tips for maximizing your time so you can get more done.
Receive your copy today, by clicking on the image below.