Can a 7th grader with dyslexia, dysgraphia, and ADHD succeed in Classical Conversations Challenge A program?
We are wrapping up our first semester of Challenge A. The rumors are true. The Classical Conversations Challenge program is, well, challenging.  However, it is the highest quality education I have seen in my 20+ years of homeschooling and well worth the investment of time and effort.
Challenge A is rigorous for all students whether dyslexic or not.  Our daughter did complete two years of Foundations and Essentials.  After much counsel, we held her back from starting Challenge until her 8th-grade year so that she could have one more year of Foundations and Essentials.  Many families go this route and I do not regret for a minute making that choice.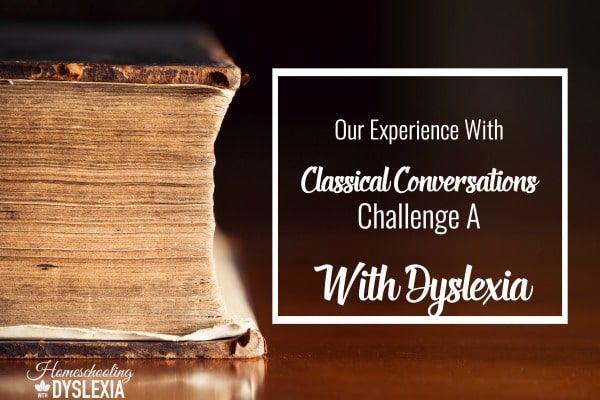 Our Classical Conversations 'Challenge A' Experience by the Course
Rhetoric
In Class:  Rhetoric for the first semester of Challenge A consists of weekly reading assignments in It Couldn't Just Happen as well as memorizing three new 'catechism' questions each week.  Catechism questions are key points taken from each week's reading.
At Home:  Because of the volume of material to be memorized each week, we opted right away to use the Quizlet app to review the catechism questions.  While handwriting has been linked to better learning and memory, that is not always the case for students with dysgraphia.  We began by reading It Couldn't Just Happen (ICJH) out loud with her 6th-grade sister who will be in Challenge A next year.  We have had a ton of great conversations.  After a few weeks, my daughter took charge of the reading that is broken down into very manageable daily assignments.
The study method that CC teaches the kids to use is an excellent lifelong tool for learning non-fiction from a text. Weekly assignments are broken up into smaller daily assignments in seminar each week.
Day 1:  Scan the assigned chapter's title, charts and graphs, section titles, images, and captions and write a sentence or two on what you think the chapter will be about.
Day 2:  Read the chapter like it is a novel, ignoring pictures and graphs, etc.  Make a list of vocabulary words not known, and highlight in blue things you found interesting.
Day 3:  Using the Rhetoric Study Guide from the CC Challenge A Guide write down each section title and write in one sentence the main point of that section.
Day 4:  Read through assigned chapter again and review questions at the end of the chapter with parents.
The content of Rhetoric is highly engaging and our dyslexic daughter had no issues with the content or assignments.  Consistent review of the catechism questions will be important for mastery.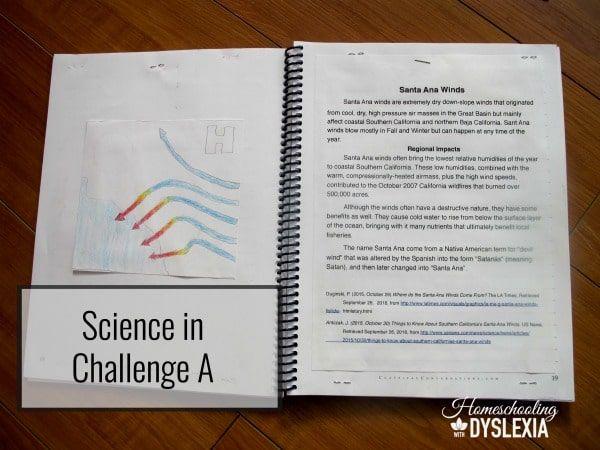 Science
In Class:  Science in the first semester of Challenge A consists of weekly research assignments on an assigned topic from the field of Natural Science.  Students research the topic using simple books with the key being similar to the 'summarizing a text' lessons in the Institute for Excellence in Writing (IEW) program.  Kids in grades 4- 6 who participate in the Classical Conversations Essentials program will have three years of IEW instruction.  Students illustrate their papers and include the paper and drawing in a Science Journal.  During the weekly Challenge A seminar, students present their paper and drawing to the class.
At Home:  At first, our daughter's papers were fairly short.  The goal of Science in Challenge A is to improve research skills.  Our dyslexic daughter already enjoys researching and she also loves to write (although she types and spelling isn't 100%) and so was not too much of an issue.  Two years of IEW was a big help.  Prepping to present her paper was not an issue either since she has had 2 years (the program is 3 years long but we started late) of weekly presentations in the Classical Conversations Foundations program.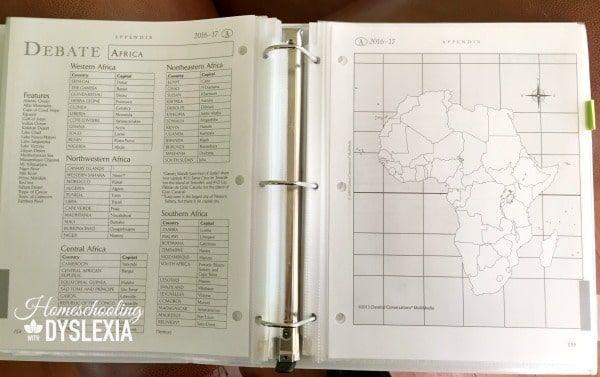 Geography
In Class:  Geography in the Challenge A program involves learning to draw the world by memory and labeling territories, countries, states, capitals, major waterways and land masses over the course of the year.  Students also learn 5-6 geography terms each week.
At Home:  Sheppard Software World Geography Games was a life saver for my daughter.  She was able to learn all of the territories and capitals of Canada during the first week and easily drew the maps each week.  Learning the entire United States in 2 weeks brought her to tears so I recommend having your kids really work on learning this some before entering Challenge A.  All of the kids had trouble with this and all of the parents allowed some scaling back.  At the end of the first semester, students are to draw the entire western hemisphere from memory to the best of their ability.  We scaled back on how many physical features she was required to learn, focusing on countries, territories, states, and capitals and major bodies of water and landforms.  Even with this scaling, she has a vast knowledge of world geography.
Composition With the Lost Tools of Writing
Composition in the Challenge A program consists of learning to use the tools of the Five Common Topics in developing a persuasive essay.
I was very pleased with the writing program used in Challenge A – the Lost Tools of Writing (LTW) from the Circe Institute.
The program systematically introduces each of the 5 Common Topics (Definition, Comparison, Circumstance, Relationship, and Testimony) kids write rudimentary persuasive essays; one paper every three weeks based on the current literature assignment.
The teacher's manual gives a good overview and summary of each essay and the online video instruction is a must watch, extremely helpful tool.
A key takeaway for LTW is that students in Challenge A are being introduced to the tools of writing. Like an inexperienced carpenter's apprentice, students are taught what the tools are and how to use them but not expected to make anything highly skilled.  Remember that LTW will be repeated the following two years in Challenge B and Challenge A.  I understand this year to be one of exposure, not mastery.
I read somewhere that a better name for the Lost Tools of Writing would be the Lost Tools of Thinking. I can see that my daughter is learning to think more deeply about her proofs and I love being able to walk with her through this process.
Math
Math in Challenge A consists of an hour of math discussion and mental math activities based off weekly lessons (completed at home) in Saxon 8/7.
After much counsel with other Challenge A parents and our daughter's Challenge A tutor, we decided to stick with Teaching Textbooks for Math.
The reasons for this are:
she was doing really well with Teaching Textbooks
she can do it independently
I didn't want to have to learn a new math program as well as all the other new programs in Challenge A
So, how did it go?  Just fine.  She didn't always know all of the math that was being discussed but it didn't stop her from enjoying and learning from the conversations.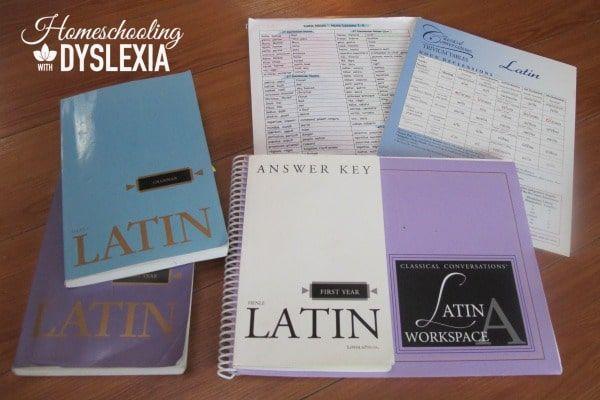 Latin
Latin in Challenge A uses the Henle First Year Latin text.
If you're like me, Latin was a big unknown and was approached with more than a little trepidation.  There are three other dyslexic students in our Challenge A class.  One is only learning the vocabulary in Latin and I have always held that option in the back of my mind for our daughter.  So far, I haven't felt the need to play that card.
Much like the Classical Conversation's Essentials program, Latin in Challenge A feels a lot like being thrown in at the deep end of the pool without a 'floaty'.  There is a LOT to learn and although they are working through the text slowly, keeping up with Latin has been a challenge.  Now in our third year of CC Essentials, (an in-depth grammar and writing course for kids in 4-6th grades), I understand the 3-year cycle.  Year 1 was a blur and we were able to master a small portion of the material.  Year 2, we picked up more, and now, in Year 3, we are finally mastering the content.  I believe that that will be the case with Henle Latin and so we press on.
Our creative, experienced tutor has done a fabulous job teaching Latin and one of the parents, who has had several kids go through Henle Latin, hosts a Latin study group each week for two hours where the kids go through their exercises together.
So while initially, I tried to keep up with the Latin, after about 6 weeks, I had to let go.  Our dyslexic daughter is a whiz with the vocabulary and enjoys the challenge of learning new words.  The grammar has been more difficult.  I should mention that our daughter is a super easy-going kid and doesn't sweat not knowing everything (unlike her poor mother).
I am reassured after speaking to several moms of Challenge A kids with dyslexia, that her knowledge of Latin will come together.  Dyslexic learners like to understand the big picture first and then add details.  I prefer to understand all the little pieces and fit them into one big whole.  I am trying to let go of how I think Latin study should look and am in close communication with our daughter's Challenge A tutor on her progress.
Latin is definitely a difficult class and a lot of work.  Remember each subject should take only an hour per day. After that, parents should scale the work to meet the needs of their child.
Key Takeaways for Challenge Program and Dyslexia:
There is a huge learning curve during the  first 4 weeks.  You will likely feel like you can't keep up and that you will never get organized.  Not true.  You will.
Find a designated workspace as soon as possible
Try making a checklist for each day's work.  We used a dry erase board but you could use a student planner or spiral notebook.
Know that developing a daily routine will take some time because there is just so much to organize.
Spending only 1 hour per day, per strand.  This is a CC guideline.  If you find that you are taking longer, look for ways to scale back.  There are lots of scaling tips in the CHA guide.
Use these struggles to teach problem-solving and time management skills.  Talk through each difficulty and brainstorm ways to manage them.
If you have weekday activities, plan on spending some time in the evenings and weekends to finish Challenge A assignments.
Look for accommodations to help with areas that are taking a lot of time.
Look on CC Connected – Challenge Level for 'cheat sheets' and other reference tools to make your student's workload lighter.
Consider using the Quizlet app for Catechism and Latin vocabulary and grammar review.
Listen to literature assignments on audio books.  Listen to all books during the Summer to lighten the load once class starts in the Fall.
Find a good balance of independence as soon as possible.
Working alongside your student will help you to see the areas in which he or she might be struggling.  Do this until you get systems in place that help with this.
Talk about how it's going regularly.  Find out what is working and what isn't and brainstorm together ways to help.
Encourage grit.  If your child learns nothing but that value and discipline of hard work, your year will be a success.  Of course, they will learn much more than that!
Communication
Because I have younger kids in the Foundations and Essentials program, I am unable to sit in class with my Challenge A daughter.  I do check in with her tutor at the end of every class to see how she is doing and to be certain that she is participating in class and keeping up.  I love that her tutor knows her character so well and encourages diligence, friendship, and flexibility.
Unlike the Classical Conversations Foundations and Essentials program, the CC Challenge tier is a drop-off program.  I strongly recommend, however, staying highly involved with your child's learning. This includes checking all assignments each week for completeness, quizzing kids on their memory work, and keeping in regular communication with your child and their tutor.
Seeing the Big Picture
I am looking at this year as an enormous catalyst for character and habit growth.  If she learns half of what she is studying, and learns to be diligent with her studies and enhances her ability to think, I will be a very happy mama.
The biggest complaint that I hear from parents of dyslexics about the Classical Conversations program is that their kids are not performing as well as other students.  For example, their child is not as quick to recall facts, not as detailed in their maps, or not as quick to understand and remember Latin grammar rules.  This very well may be true.
In my experience teaching kids with dyslexia over the past 20 years, I have to say "Stop comparing your kids to other kids!"  Your child is uniquely gifted and those gifts are different from other kids.  The freedom for our children to be who they were created to be is a HUGE part of homeschooling in the first place.  Even more importantly, is teaching our kids to understand themselves and appreciate their differences.
That was an epic post!  Please leave your comments or questions below.  Let's start a conversation!
More Posts on Classical Conversations and Dyslexia
Classical Conversations and Dyslexia:  Yes or No?
Accommodations and Modifications for the Dyslexic Challenge A Student