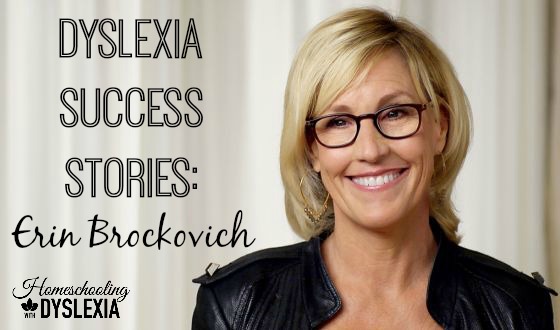 Erin Brockovich may be best known as the legal assistant responsible for the largest direct-action lawsuit in history, but did you know she is also dyslexic?
Early struggles
Growing up in Kansas, she struggled in school and recalls feeling overwhelmed by learning even as early as the second grade. Like many others with learning struggles, she was undiagnosed until adulthood, so additional resources weren't made available to her.
Teachers were generally unfamiliar with dyslexia at the time, and their constant frustration with her left her feeling continually discouraged. They advised her not to go to college, as she surely wouldn't be able to pass. One teacher even called her stupid in front of her peers. She faced bullying from classmates because of her inability to understand readings and complete classwork. Success seemed unattainable, and she struggled greatly with her self-confidence. But through her trials, she found the will to reach inside herself and discover her inner strength.
One Caring Adult…
Erin credits one teacher in particular, Ms. Borseff, for spurring major change in her life. This teacher was the first to notice that Erin understood the coursework even though she consistently failed written exams. Trying to strategize creatively, Ms. Borseff verbally presented exam questions to her and convinced the other teachers to do the same. Erin passed the tests with flying colors!
Instantly, both her self-esteem and self-value surged. Ms. Borseff found this minor accommodation to be the crucial first key in helping Erin unlock her potential in learning. Erin knew she was capable of learning, as did Ms. Borseff, so working together toward her goals helped empower her to learn.  She decided right then to never let her disability stop her from reaching her goals.
A changed life
"Life is full of challenges whether you are learning disabled or not. It's how you handle those challenges." – Erin Brockovich 
Erin was forced to learn accountability and responsibility for her actions, and became self-taught in strategies to help her understand and memorize information. She continued her education based on her passions and successfully completed community college.
Later in life she became a single mother and was further driven to succeed by her devotion to her children. She became a legal clerk, and despite having no formal legal training whatsoever, her diligent work on the lawsuit against Pacific Gas and Electric helped bring about the largest settlement in history, totaling $333 million.
Another related suit against Pacific Gas and Electric's Kettleman worksite was settled for $335 million shortly after. An important part of her job on these cases was to read and take notes on thousands of pages of detailed medical records and tedious legal briefs, a daunting feat that would have seemed impossible to her younger self.
Changing the world
The record-breaking settlements were instrumental in driving environmental policy changes and forcing accountability for large corporations in America. Her relentless pursuit of them was such a compelling story that it became the subject of the 2000 film, Erin Brockovich. Julia Roberts played the starring role of Ms. Brockovich, and the movie went on to be nominated for five Academy Awards.
What Erin is doing now
Erin is still working as a successful activist and advocate, tirelessly laboring to improve the environment and empower individuals without a voice. She has gone on to become president of her own consulting firm, brought about many other large-scale environmental lawsuits, hosted several television programs, and has even written a book titled, Take it from Me: Life's a Struggle, but You Can Win. She is a passionate advocate for children with learning disabilities and recently opened up about her personal struggles with dyslexia in the 2011 HBO documentary, Journey into Dyslexia.
Lessons learned
Erin's real-world success is in large part due to her experience overcoming dyslexia. The lessons she learned throughout those hardships directly prepared her to be strong, diligent, resolute, and creative. Speaking directly to children who struggle with learning, she offers valuable wisdom to help them reach their full potential:
"Never give up hope. When someone helping you gets frustrated, don't let them. Take a step back, because you can't learn anything under pressure. And don't worry about the label!"
Dyslexia was an obstacle that uniquely helped Erin become a better and more successful person, and she is a true inspiration to others.