Over and over again we are hearing about high school graduates who are leaving school with poor writing skills. Learn how to homeschool high school composition in an easier way!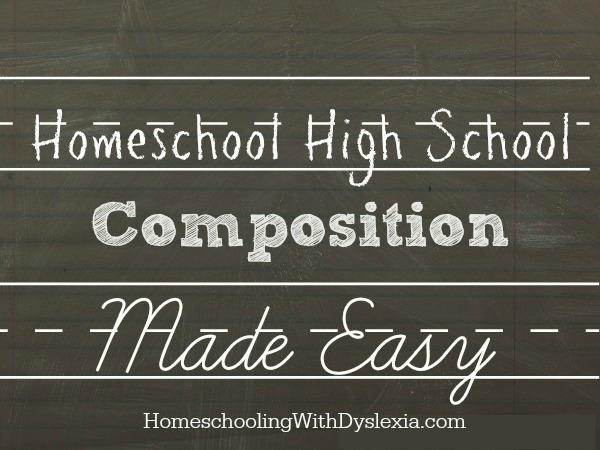 The more I homeschool, the more confidence I have in my abilities to teach my kids at home.  In our 20 years of homeschooling, we have graduated 3 kids with 5 more in the ranks.  We have settled on some solid curricula for the high school core classes that have served us well over the years.  However, there is one area that has continued to elude me – high school level writing instruction.  
I remember learning so much from my own high school composition classes and obviously enjoy writing myself, but I still felt totally inadequate to teach writing, other than very basic information, to my own kids.
Over and over again we are hearing about high school graduates who are leaving school with poor writing skills.  I have scoured the Internet to find  a program that will help me teach my kids to write really well.
Then I was introduced to Fortuigence – Essay Rock Star online writing program and I am happy to say that we have found what we were looking for!
Please note:  I received this program in exchange for an honest review.  I was compensated for my time in writing this review.  All opinions are my own and I was not required to write a favorable review.  See my disclosure page for more information.
Using the Fortuigence Essay Rock Star Online High School Writing Course
The Essay Rock Star writing course includes instruction in how to write four types of essays typically required in the high school and college years:
The Personal Statement
The Persuasive Essay
The Textual Analysis
The Expository Essay
Each essay is broken up into five assignments or steps that walk the student step-by-step through the writing process.  Each lesson begins with instruction that is presented in written format, audio file or on video.  For this house full of dyslexic learners, this audio option is seriously the highlight of the program.  The instruction is clear, detailed and to the point.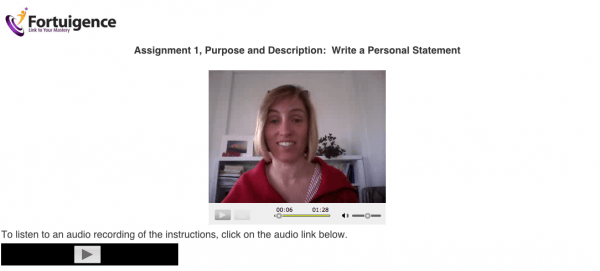 Students are directed to the Essay Rock Star Resource Center for more in-depth instruction and samples of the exact assignment they are working on. These resources are also available in both written and in audio formats.  Again, this is a huge bonus for kids who naturally learn better by hearing than by reading.
When each step of the assignment is finished, it is emailed to the instructor for review.  This is a simple process and, unlike other online courses we have used, was seamless with excellent directions and easy to use.
Once the assignment is reviewed by the instructor, it is returned with any feedback, including grammatical corrections, to the student. Turn around time was quick – rarely more than 24 hours after being submitted.  If changes are required, the student makes the changes and submits them for review before moving on the the next step in the essay writing instruction.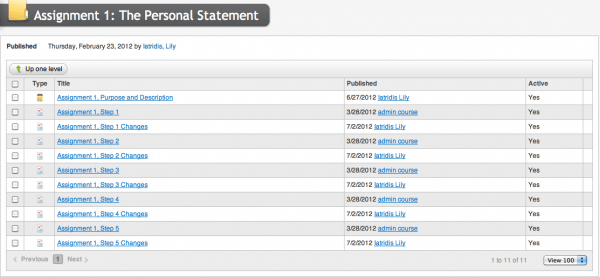 Benefits of Essay Rock Star Online Homeschool Writing Course 
Excellent for different learning styles
As many of you know, our homeschool contains more than a few dyslexic learners. This complicates our homeschooling days in several ways;  our kids tend to be less independent in their studies and mom-intensive schooling means that mom has limited time to teach each child individually.
The Essay Rock Star program meets both of these needs in our home by providing audio instruction which helps my auditory learners learn independently and step by step instruction that takes a seemingly huge assignment and makes it manageable.  This has the added benefit of freeing mom up work with other kids.
 Extensive Amount of Resources
Secondly, I'm a strong believer in the continuing education of homeschooling parents.  The extensive list of resources included with the Essay Rock Star program is a huge benefit to both the student and the involved parent.
Individualized instruction
Another benefit to the program was the timely, individualized and professional instruction and feedback.  Even if I was confident enough to teach my kids writing skills, it is sometimes hard for my children to take correction from me without feeling like I am being critical of them.  Having such a professional teacher to provide the feedback relegates me more of a co-learner.  Lily is able to provide just the right feedback that my daughter needed.
Other benefits
Other benefits to the program include a user friendly web-based interface, excellent communication on all fronts from the instructor, a self-paced program that can be worked on as quickly or slowly as the student's needs dictate and excellent step-by-step instruction that relieves any sense of overwhelm for both parent and student!
What you need to know
The Essay Rock Star course is considered semester worth of class.  It can be completed in anywhere from 3-6 months depending on your child's skill level and time dedicated to the course.
There is a 100% money back satisfaction guarantee.  If the program does not work for you, you are able to receive a complete refund.
Instruction is web-based – all assignments are completed in the computer and require an Internet connection.
Strengthen Your Kids' Writing Skills
If you are looking for an excellent high school level writing course for your homeschool, I highly recommend Fortuigence, Essay Rock Star!
Connect with Lily and
Fortuigence
 on these social networking sites: