Growing up in school, there were years when math was painful.  I didn't understand the concepts.  I didn't get the help I needed.  I felt lost a lot of the time and began to really dislike math.
Then there were years when my teacher got it.  He or she explained concepts clearly and gave enough example problems in class that I was able to complete my homework successfully at home.  My confidence grew and I actually enjoyed math.
That's just how it was in school; some years you had the good math teacher and some years you didn't.
As homeschoolers, it doesn't have to be that way!  With Teaching Textbooks math curriculum it is like having the good math teacher at home every year.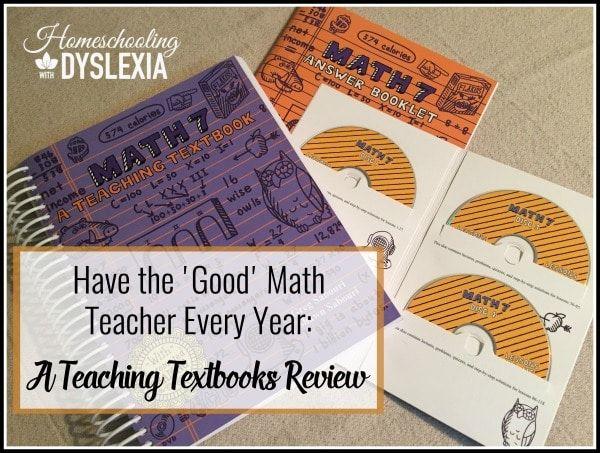 An Overview of Teaching Textbooks
Teaching Textbooks is a computer-based math program with levels beginning in 3rd grade and progressing all the way up to Pre-Calculus.
The program comes with a large spiral-bound student book and a sleeve of computer CDs. Students can complete the lessons straight from the book or, as our family prefers, complete the lessons on the computer.  CDs will run on both Mac and PC.  A soon-to-be-released version 3.0 will run on tablets and mobile devices.  Note:  TT has generous upgrade options.  Contact their customer service for more information.
Computer-based lessons include an audio presentation of the lesson including several interactive practice problems.   Students type their answers to the problems right into the lesson. Feedback is immediate.  The screen design is simple and bright.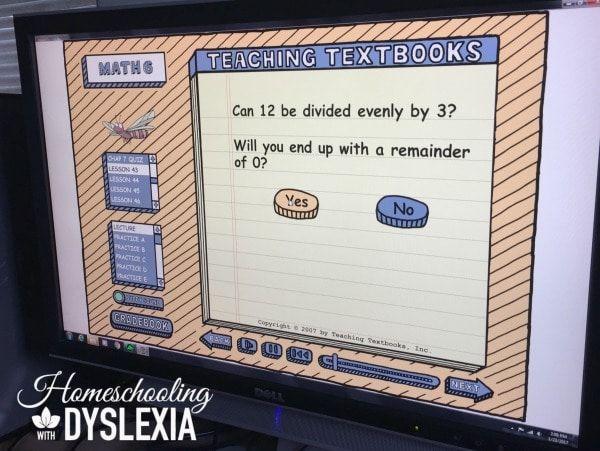 Students complete the lessons, entering their answers into the program. If their answer is incorrect, they are given another chance to complete the problem correctly.  If the answer is still incorrect, there is an option to watch the solution to the problem right away.  As a busy homeschool mom, this is one of my favorite parts of the program!
The automatic grade book feature creates reports for how many practice problems, assigned problems and quizzes your child has completed, how many problems were answered correctly and if the student watched the solution after missing a problem. It also calculates a final grade based on lesson problems and quiz scores.
Lessons include the audio lecture and 5-6 practice problems followed by 18-25 practice problems. Problem sets include a generous amount of review of previously learned material.
Benefits of Teaching Textbooks
We have used just about every math program on the market in our 20+ years of homeschooling.  When we discovered success with Teaching Textbooks over 10 years ago, we no longer felt the need to switch curriculum every year or two.  Here's why we love Teaching Textbooks:
Here's why we love Teaching Textbooks:
Independent work.  On a very practical level, having my kids be able to do their math independently has been a huge time saver.  We are currently homeschooling four kids but at one time were homeschooling and managing eight kids!  There are times when our kids get stuck and need my help to understand a concept being taught. After sitting with them for a lesson or two, they are up and running independently again.
Audio lectures.  Since seven of our eight kids are dyslexic, not being able to read lessons such as those found in traditional math programs, has been a considerable stumbling block all of our 20+ years of homeschooling.  The audio lectures included with Teaching Textbooks help tremendously with comprehension and the interactive practice problems keep my kids who struggle with attention engaged.
Automated grading.  Before we discovered Teaching Textbooks, our kids would occasionally do an entire lesson incorrectly.  By the time this busy mama got around to correcting their assignments, they had moved on the next lesson and were essentially building their math framework on a faulty foundation. Teaching Textbooks math curriculum corrects each problem immediately.  This immediate feedback provides meaningful information while the student's thinking processes are still fresh in their minds.  This is much more effective and efficient.
Ample review.  With a houseful of kids who struggle with learning in one way or another, the amount of built-in review is just right.  There's not so much that they despise the program (well except maybe with long division – but I call that a right of passage for middle schoolers!) and not too little that they are forgetting what they've learned.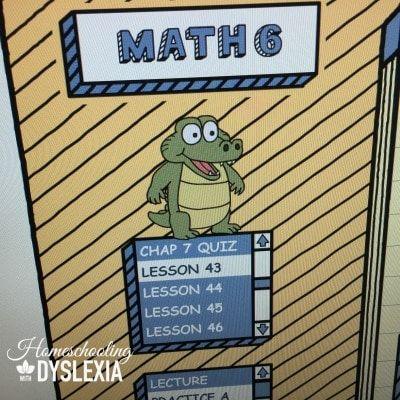 Buddies!  Every level of Teaching Textbooks comes with a variety of 'Buddies'.  Buddies are animated animals or scenes that change each time a problem is completed.  After completing several problems and after completing the entire lesson, the Buddies cheer or make some other amusing comment.  These can easily be changed by the student by clicking directly on the Buddy.  They are surprisingly fun and motivating for kids.
Tips for Using Teaching Textbooks
Placement Tests. Consider taking one of the Teaching Textbooks online placement tests if you're not sure on which level to begin.
Follow the instructions for installing and registering the software system on your computer.  Create both parent and student accounts. Teaching Textbooks customer service is easy to reach if you have any problems.
Show your kids how to use the program.  Plan to sit with them until they understand how to watch the lecture, type in the answers, and move on the next problem.  Show them how to change their 'buddy', a surprisingly fun and motivating part of the Teaching Textbooks program.
Store your discs in a safe place.  You'll need to insert the disc each time you use the program. Replacement discs are available for $15/each by calling Teaching Textbooks super friendly and helpful customer service.
Still have questions?  Visit the Teaching Textbooks FAQs Page.
Get to Know Teaching Textbooks
Connect with Teaching Textbooks by visiting them:
Facebook  ll  Instagram  ll   Pinterest  ll   Twitter
Have you used Teaching Textbooks for math?  Share your experience below!