As parents and teachers of dyslexic students, we are always trying to find ways to help these struggling readers learn to enjoy reading and learning. One way you can do this is by using an Amazon Kindle for your dyslexic reader.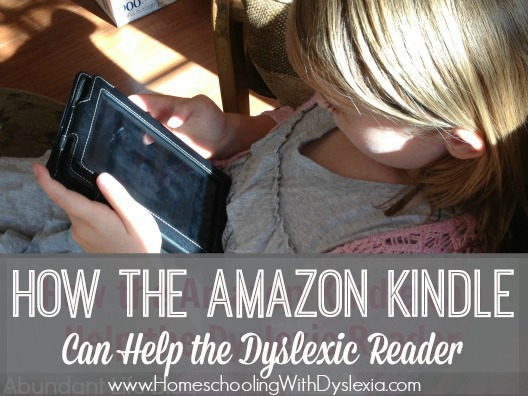 As parents and teachers of students with dyslexia, we are always on the lookout for ways to help these struggling readers learn to find success and enjoy reading. Large print, specialized fonts, and audiobooks are just a few of the accommodations we can make.
There is another resource that you may already own without realizing it – Immersion Reading on the Amazon Kindle.  Amazon and Audible (their audiobook arm) have paired up to provide some excellent new technologies that make owning a Kindle Fire just that much more awesome. Now in addition to surfing the web, answering emails, downloading apps and books, unlimited free cloud storage, and watching movies via Amazon Instant Video, Amazon offers the following features:
Whispersynch Technology
Whispersync technology enables readers to switch, without losing their place, between different devices while reading a Kindle book or to start watching a video on a Kindle Fire and pick up where they left off on an Internet-connected TV.
For example, I own a Kindle Fire and an iPhone. When I buy books on Amazon, I choose to have them downloaded to my Cloud rather than any particular device. That way when I access my Amazon Kindle Reader (free downloadable app) from my iPhone or Kindle I can download the book to any or all of our devices that have the Amazon Reader App. Now I can be reading a book on my Kindle and if I am out without my Kindle, I can access the book (without losing my place) on my iPhone.
Also, I don't know about you, but with a houseful of bright minds that are late readers, we listen to a LOT of audiobooks. There is little more frustrating than losing your place in an audiobook, no? Especially when your 9-year-old comes to you with the iPod (we have a designated iPod just for audiobooks) asking you to find her place in a 4-hour book when neither of you has any idea where she was. So that is nice, but it gets better.
Whispersync for Voice
With Whispersync for Voice, Kindle and Kindle Fire users can now switch seamlessly between reading a book and listening to the Audible edition on any iOS or Android phone, still without losing their place. This means that if I am listening to a Whispersync-enabled Audible audiobook and want to go read the book, my device knows where I was in the audiobook and offers to sync to that page. No searching and rereading trying to find my place.
Whispersync for Voice is nice but how will it help the dyslexic readers in my house?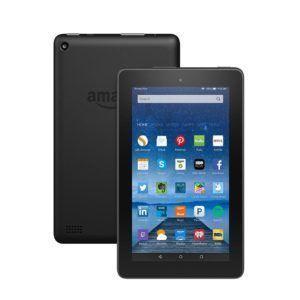 Immersion Reading for Whispersync for Voice
With Immersion Reading for Kindle Fire and Kindle Fire HD,  Kindle edition books are synced to the corresponding Audible audio edition AND as the books are read the text is highlighted while it is narrated via the Audible audiobook.
We have long used audiobooks and had our dyslexic kids listen to the book as they followed along in the paper version. The trouble is that they can often lose their place and end up just listening, thus losing the multi-sensory input. The benefits of this immersion-type of listening are similar to those of the Neurological Impress Method (NIM). In this instructional method, the parent (or tutor) reads a text that is slightly above the student's reading ability while running their finger under the text.
This multi-sensory instruction allows the child to see and hear the words at the same time and is very effective for building word recognition and fluency.
There are nearly 15,000 Kindle books and Audible audiobooks available for Immersion Reading and Whispersynch for Voice as well as a nice selection of free sets including, The Adventures of Huckleberry Finn, A Tale of Two Cities, The Three Musketeers, Gulliver's Travels and other classics.
For a list of Kindle Edition Books with accompanying Audible Audio editions with Whispersync technology, click here.
To see a list of the FREE Kindle Edition books with FREE Audible Audio edition, click here.
If you don't have the second generation of Kindle Fire or one of the newer Kindle Fire HD devices, you can still access the Whispersync technology and the free Kindle books and Audible versions just without the Immersion Reading technology. All you need is a Kindle and the free Audible app that comes pre-installed on your Kindle.
The new Kindle Fire (second generation) and the Kindle Fire HD also come with a text-to-speech function. While this is nice (my kids don't seem to mind the computerized voice) there is really no comparison between a professionally recorded narration such as those offered by Audible and a monotone digital text-to-speech voice.
When E-Readers first came out, there was some concern about whether it was really good for children to read digital versions of books. If you are in doubt, read the following list of benefits (that can also help people with dyslexia) of reading books from an E-Reader:
Other E-Reader Benefits
1. Changing the font size of the text and the number of words on the e-reader screen can help students customize the text to their preferences, which can be especially helpful for struggling readers.
2. Using the built-in dictionary function of some e-readers may help students quickly define words they don't know and provide pronunciation information that can help them sound out unfamiliar words.
3. Having students record their thoughts or respond to specific questions with the "notes" feature of some e-readers provides insight to their comprehension of the text.
4. The text-to-speech feature of some e-readers could provide instant support for struggling readers to better understand a text by reading aloud the words that cause them the most difficulty.
If you have been looking for some technology to help your struggling reader enjoy reading, consider the Amazon Kindle. If you want the added benefit of text-to-speech and Immersion Reading Technology, click here for more info on the Amazon Kindle HD for $44.99.
This post contains affiliate links. I earn a small amount of any purchase that you make at Amazon by clicking on a link on the Homeschooling With Dyslexia site. You pay no more and your purchase is completely anonymous; I will not know who ordered or what was ordered. Also, I never post about products or services that I have not used and loved!