You know the old saying "Ain't Mom happy, ain't no one happy"? In my 30 years of parenting, I have come to understand that "Ain't the kids happy, ain't no one happy" is also true. Do this quick Kids Homeschool Assessment to find out how your kids really feel about homeschooling and learning.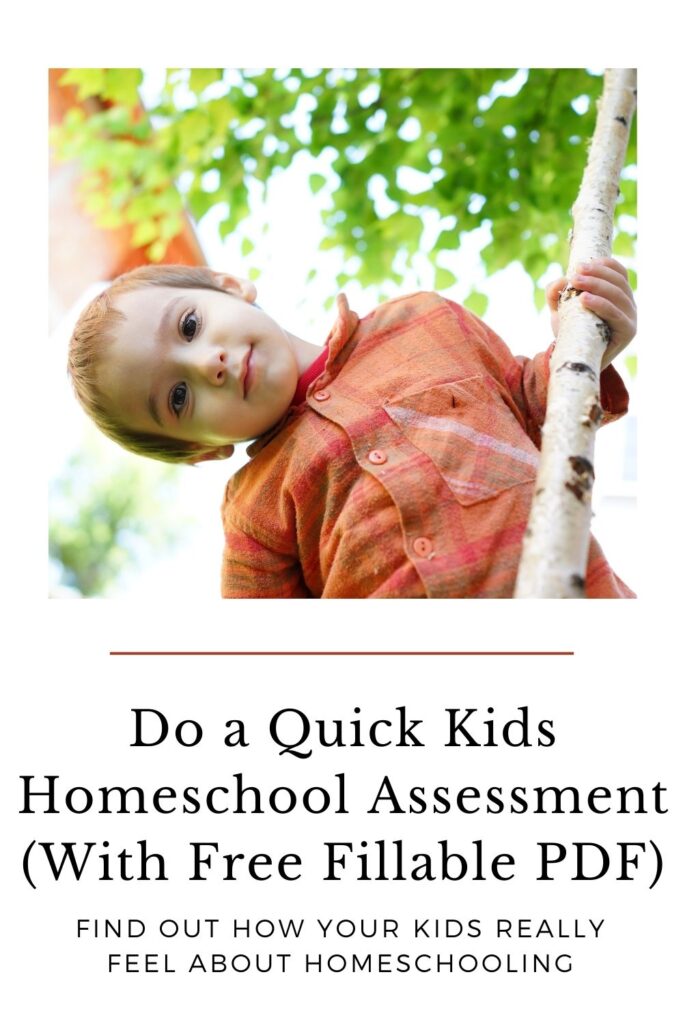 If you would prefer to listen to this post, click on the player below:
At the beginning of every semester, I like to run through a quick Homeschool Assessment. You can read more about how I do this here. This really helps me assess where I am in my homeschool from how much academic progress we've made to how our family relationships are going to how our home is running. One thing that has been missing from this, however, was a way to assess how my kids were feeling about our homeschool.
As my kids have gotten older, I realized that a lot of the time they were dutifully doing their assignments but they weren't really enjoying them. They were going through the motions, getting their assignments done ASAP so they could do more of what they were really interested in.
Some of this type of learning is unavoidable, especially in the older years around high school. However, one of the biggest benefits of homeschooling is the freedom we have to tailor our kids' education to meet their unique needs and interests.
So this year I made a way to assess how my kids were experiencing our homeschool by creating a quick kids homeschool assessment.
What is in a kids homeschool assessment?
The assessment has the kids answer a series of questions designed to help Mom or Dad know what areas they like and which they don't. It also prompts kids to share more of what they would like to be doing and learning.
Bearing in mind that 7 of my 8 kids are dyslexic, I wanted to be sure to also assess what they felt their strengths and weaknesses were. The assessment asks what their favorite subjects are but also assesses which subjects or skills they want to learn.
How to use the kids homeschool assessment
When I printed up the assessment for my own kids (with dysgraphia and dyslexia) they were kind of overwhelmed by the amount of writing. I created the assessment as a fillable PDF so that answers can be typed right into the PDF. Create copies of the PDF and rename them for each child. Add the date so you can keep track of their homeschool experience throughout the years.
Since my kids are not currently at the sit down and reflect on my life stage, I decided to do the assessment orally and type their answers into the PDF myself. It was much more informative once the burden of writing was removed.
And when I did, the results were powerful. With the results, I am able to adjust some of their learning time not only to focus on things they want to learn but also for them to learn in ways that are more enjoyable for them.
If you would like a copy of the Kids Homeschool Assessment, fill out the form below and it will be emailed to you!
Did you do the assessment? What did you learn?