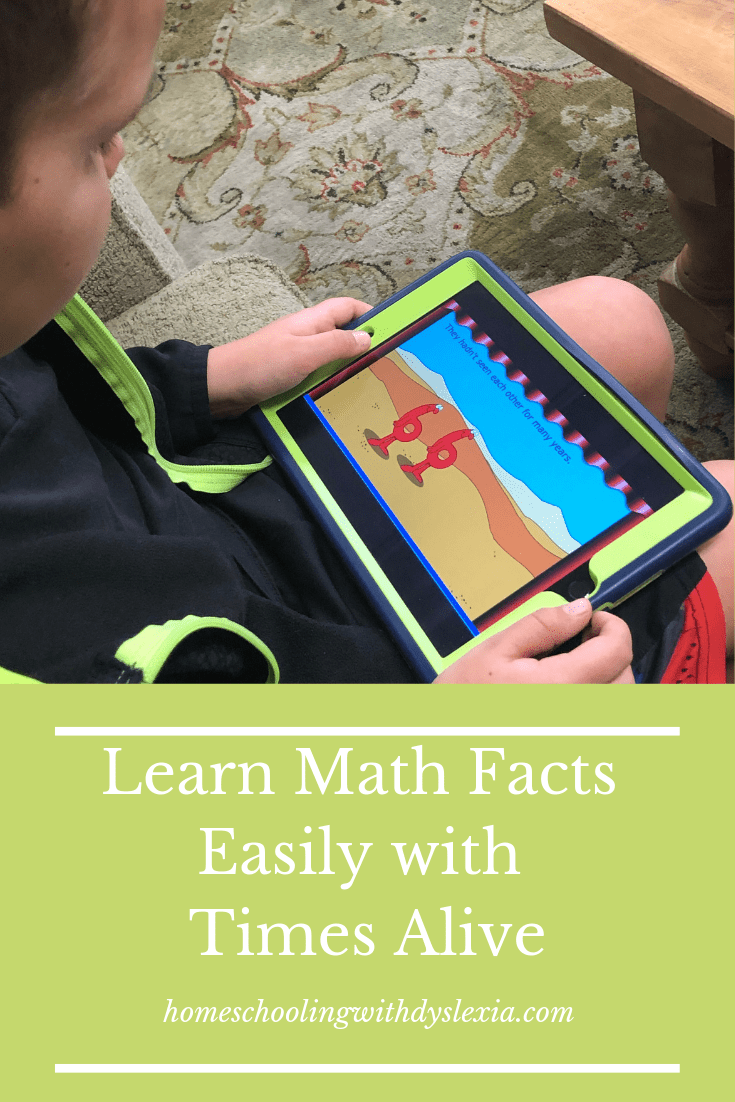 Although 7 of my 8 kids have dyslexia, most of them had little trouble with math, that is until it came time to learn their math facts. Honestly I'm not sure why this is, but I have a few theories:
Weak processing and information retrieval make recalling the facts difficult.
Their natural big picture thinking makes focusing on and remembering details difficult.
Weaknesses in attention and focus can make remembering facts difficult.
Whatever the cause, difficulty mastering math facts is a common problem for kids with dyslexia.
Teaching Math Facts to Kids with Dyslexia
If your child is struggling to remember their math facts I highly recommend two things:
Accommodations when needed. Allow the use of a simple math facts chart as an accommodation for your child. This allows your child to continue through their math program at a good pace.
Continue to remediate and practice the math facts until mastered. As with many things, kids with dyslexia struggle with memory, especially rote memory of things like math facts. Continue to practice the math facts with methods that work as part of your weekly schedule.
What makes an effective math fact review program?
So what kinds of methods actually work? If you're like me, you have a closet full of math manipulatives and programs.
Here are the elements of an effective math fact review program:
Multi-sensory. An effective program will use more than one of the senses at a time. This is a well-documented teaching strategy and is helpful because the information is being accessed by more than one areas of the brain at once.
Lots of review. Kids with dyslexia are smart and are fully capable of understanding most math concepts with time. Remembering details is difficult though. It is essential that our kids have plenty of review so that the information can be mapped to long term memory where it will stick.
Engaging. Many of our kids with dyslexia also struggle with attention. For a program or curriculum to be effective, it needs to hold their attention.
I was recently approached by CityCreek to review their Times Alive program. I could tell at a glance that the Times Alive program had all of the elements of an effective program so I happily agreed.
My 8 and 11-year olds just went through the entire program in a couple of weeks with some impressive results.
How Times Alive Works
Times Alive is available as an iPad/iPhone, or Android app or as an online subscription available via computer. The app is good for one user at a time but can be used as many times as you like – just one child at a time.
The online/ computer-based version is very similar to the app version but will keep track of the progress for many students at a time.
Each Times Alive lesson includes:
A Pretest
Before your child begins the pro0gram, he or she will take a pre-test. See how much your kids know and compare it to the post test. You'll be amazed at how many facts your kids will master!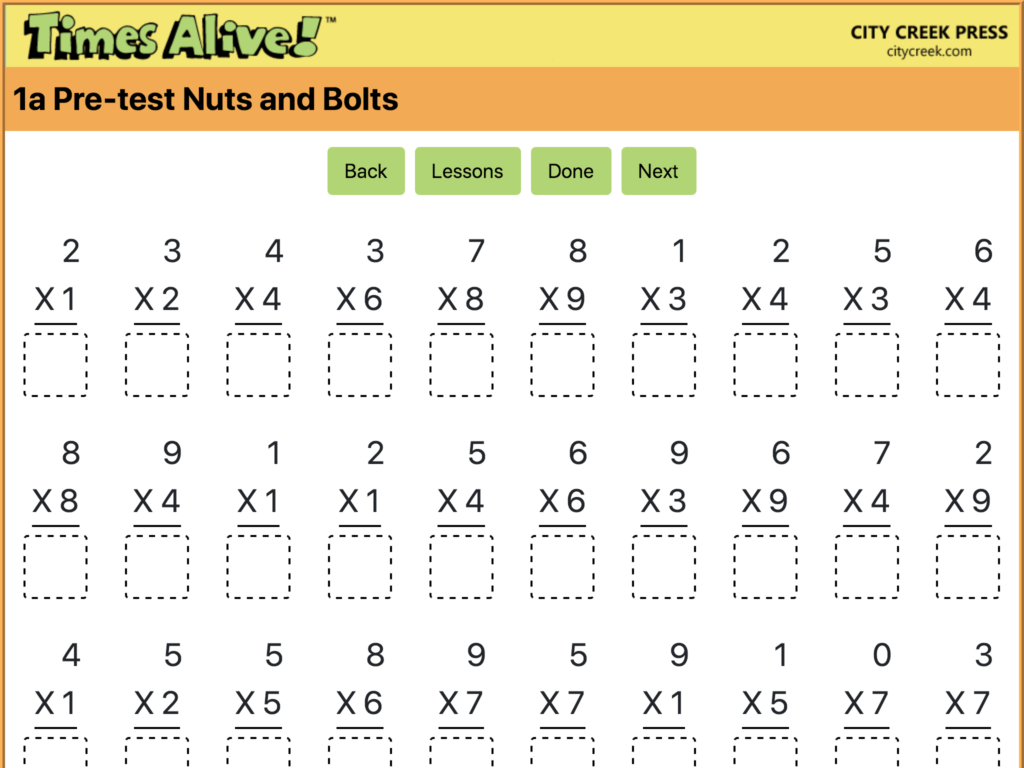 Video That Tells the Math Fact Story
This is definitely the highlight of the program. Each story is carefully crafted to incorporate the images and numbers of each math fact. The stories are funny which makes them memorable.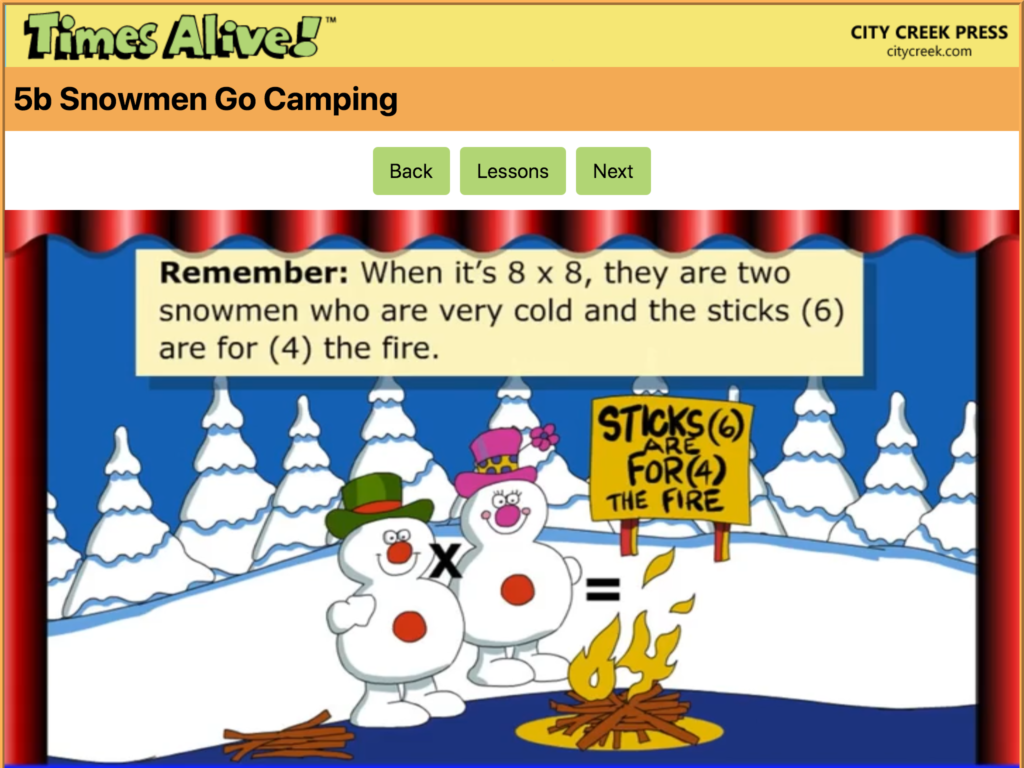 Regular Review and Practice
Regular review and practice are essential for kids with weak memory. Times Alive handles this beautifully with regular review lessons and progress checks.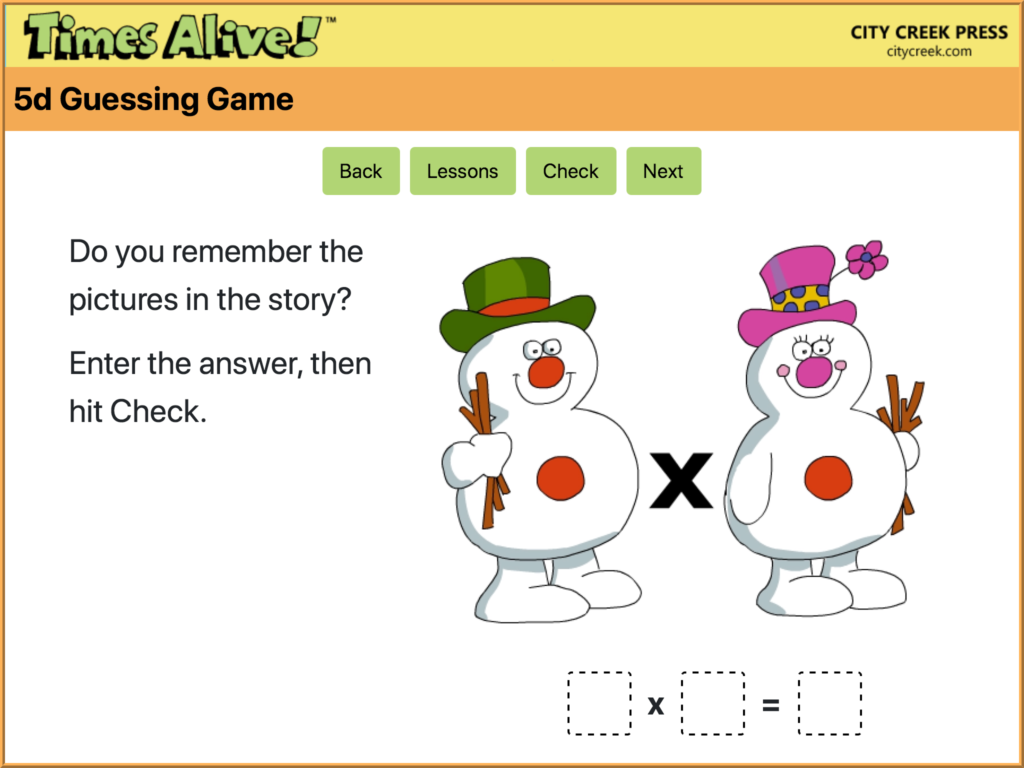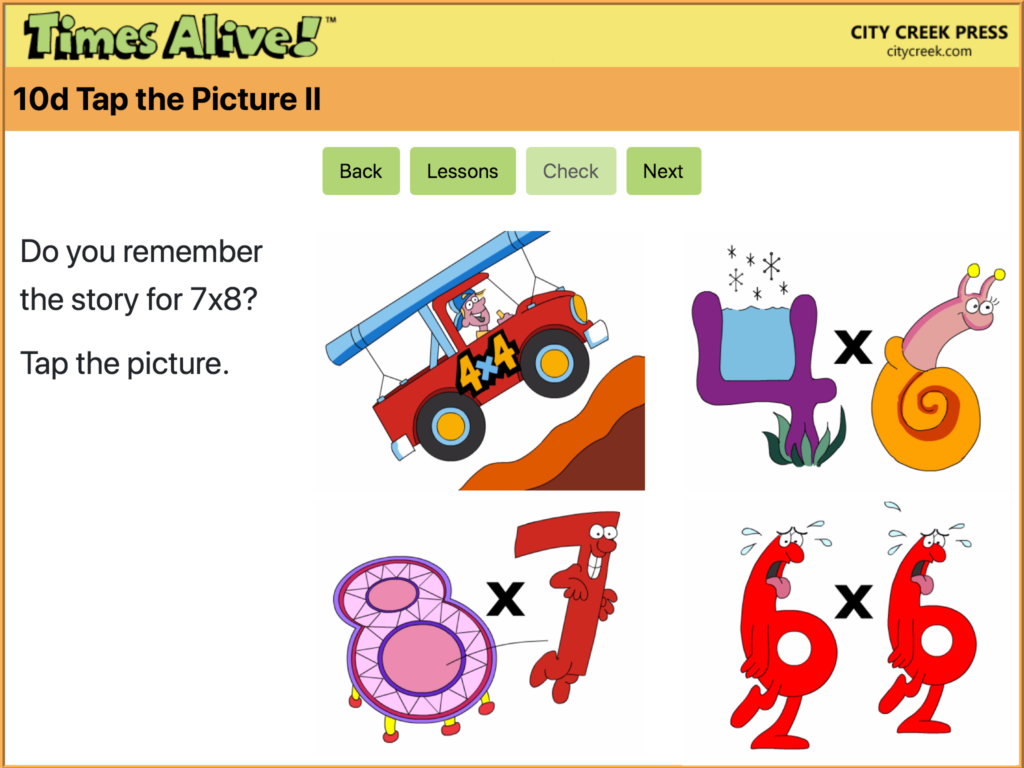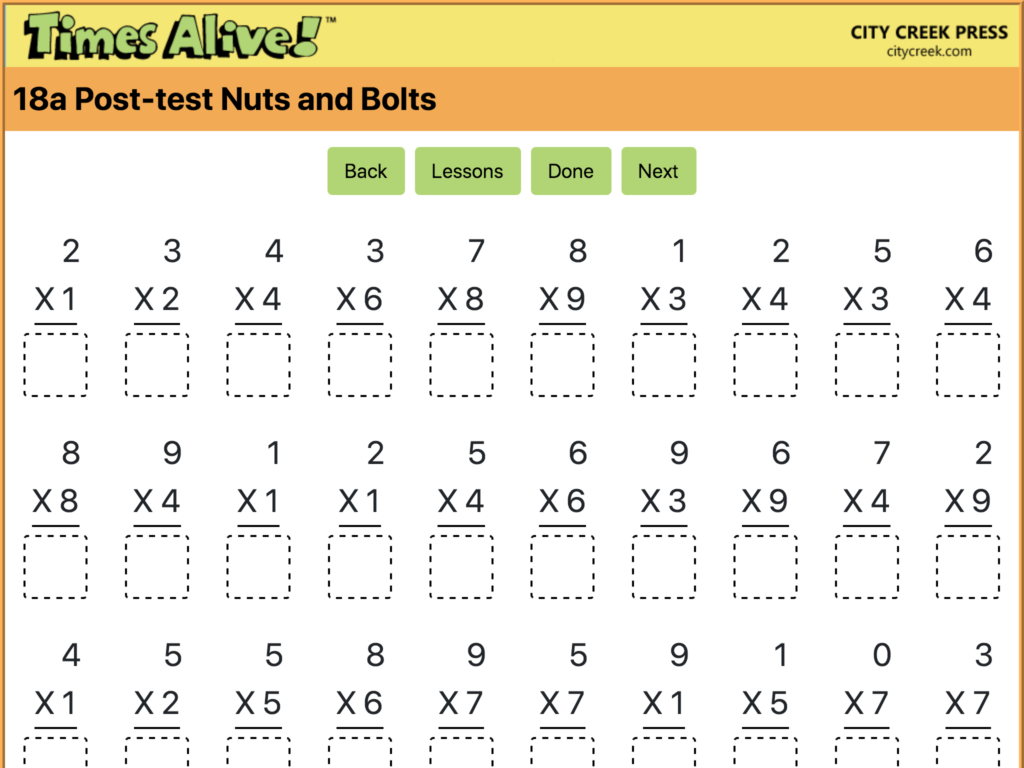 Our Experience With Times Alive
The 11-year old: My 11-year old son is profoundly dyslexic and has been skip counting to figure out his multiplication facts for years. He ran through Times Alive on our iPad over a period of several weeks.
Because of the humorous and memorably strange (I mean that in a good way) story lines, the stories held his attention which is a MAJOR factor for this kid.
He really enjoyed the videos in each lesson and I feel that they were more engaging than just reading them out of a book would be since he also has ADHD. The story and number characters are introduced in a fun, colorful video and next the same story is put to a catchy song with a video. This was just the additional layer of auditory input that he needed to remember the stories.
A short quiz is presented every few lessons to reinforce the songs. Citycreek was kind enough to send me the Times Activity Book and the Times Clue Cards to use for additional review. Your kids could review their facts by running through the program again but having these extra hands-on materials is a nice review option, especially for kids with poor memory like my kiddo.
My 11-year old has severe memory and attention weaknesses and so I wasn't sure if he would actually remember all of the stories, but HE DID! I noticed a big drop off in his memory if we didn't review them frequently so we have incorporated review into his daily independent work.
The 8-year old: My 8-year-old is much more mildly affected by dyslexia. Although he is only beginning to learn about multiplication, it was easy for him to remember his facts after using Times Alive for a short time – AND he really enjoyed the interactive format of the iPad app.
Mom: First of all I love that this is available in the form of an app or computer program. My kids don't get much screen time so having a quality, educational app that they can play on the iPad made the program even more appealing to me and my kids.
Times Alive is super easy to use. My kids are not independent in many areas yet so having something that they could do on their own was awesome. The user interface is simple and both boys quickly learned to navigate each of the elements of the lessons on their own.
Times Alive is effective. Right away the kids could remember the stories and facts. There was just the right amount of review in both frequency and duration. The additional printed materials made daily review simple and easy to implement.
Times Alive is affordable. There are less expensive apps out there but I haven't found any math apps as effective as Times Alive. The Times Alive online subscription version which is completed on the computer allows an unlimited amount of students with one subscription. Get your whole household up to speed with one subscription!
Times Alive is the winner of the Academic Choice Award for Fall 2018.
Get Started With Times Alive Today!
Wondering what to buy?
Times Alive App: Apple Full Version II Apple Trial Version II Android
Remember, the app tracks only one student at a time. It can be cleared to start another student at any time. One advantage to using the app is that once it has been downloaded, there is no need for Internet to run the app.
Times Alive Online Subscription
Good for any number of students at the same time. All online and available for a small monthly fee.
Get one month of Online Times Alive with discount code: lovetolearn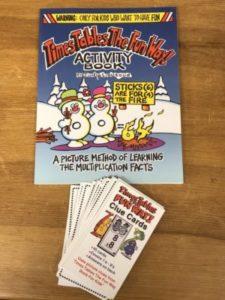 Times Tables the Fun Way Activity Book
Reviews the stories with activities and flashcards that can be cut out and colored.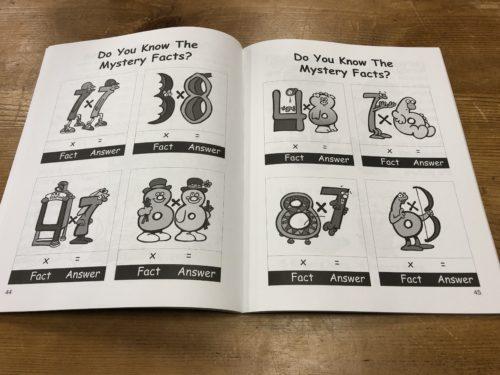 Times Alive Clue Cards
Picture clues appear on the cards with stories. Simple facts are plain.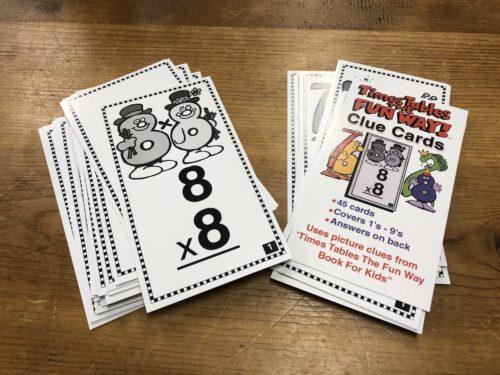 Special Offer Just for You!
Times Alive made a special discount code just for Homeschooling With Dyslexia readers! Enter discount code 'lovetolearn' and receive $6.95 off the online Times Alive (this will waive the setup fee).
If your kids are struggling to master their math facts, Times Alive is an excellent option to teach them in a way that is multi-sensory and engaging with plenty of review.
How have you taught your kids their math facts?