I was compensated for this review.  All opinions are my own and as you know, I never promote anything that my own struggling readers haven't truly benefited from. 
This website exists to educate parents on the best methods and resources for teaching their struggling learners to learn. The reality is though that we can be the best teachers and use the best curriculum but learning for our kids is still hard. And honestly, who does enjoy doing what is hard?  Not me!
This is why I was so excited when my two sons with dyslexia (ages 6 and 9) tried and loved the Nessy Reading and Spelling online reading program.
Why Nessy Reading and Spelling Works With Kids With Dyslexia
There are hundreds of online programs for teaching reading. What sets Nessy Reading and Spelling apart from other programs is their approach to teaching reading.
Unlike most online reading programs, Nessy Reading & Spelling is Orton-Gillingham-based. The Orton-Gillingham (O-G) approach to teaching reading is one of the only approaches that has been proven to be effective with dyslexic kids.  For more information on the O-G approach, read this.
Why my Kids Love Nessy Reading and Spelling
Kids begin their adventure in learning by taking a short placement test in spelling and reading called the Nessy Challenge.  This helps parents to know where to start the program.
Next, kids visit the islands of Nessy, watching short, simple, animated videos to teach phonetic concepts. The videos are engaging and a little silly which helps my little guys remember.
The strategy videos are followed by fun games that practice the concept for both reading and spelling.
There is enough variety in the games that kids don't get bored, but not so many different games that they become overwhelmed.  Kids collect golden nuggets for playing which adds another layer of motivation. Also, games only review one concept at a time which provides some laser-focused learning time that my kids need.
Why Moms Will Love Nessy Reading and Spelling
Printable worksheets.  While I'm not usually a fan of worksheets for my kids with dyslexia, one thing that I appreciated about the program as a homeschool mom was the amazing free, full-color, printable worksheets and card games that coincide with every concept taught.  These have been fantastic for review between the kids' sessions on the computer. I slipped the worksheets in plastic page protectors and my sons use dry-erase pens to complete them.
Kids are really learning. Another reason that parents will love Nessy Reading and Spelling, is that their kids are really learning.
Kids with dyslexia need a LOT of practice with reading and spelling to become fluent.  With Nessy Reading and Spelling, my kids are having so much fun they don't realize how hard they are working. This is a win-win.
One thing to note is that while Nessy Reading and Spelling can be used to teach any kind of learner to read, dyslexic or not, it may not be suitable for a stand-alone reading curriculum for kids with dyslexia.
My 9-year-old is on the more profound side of dyslexia. He uses Nessy Reading & Spelling purely for review and fun.  My 6-year-old is more mildly dyslexic and seems better able to keep up with the pace of the program.  If he starts to move too quickly and forgets the concepts he's learned, I print off some worksheets and card games for review before he practices on the computer again.
Affordable. At $12/month, Nessy Reading and Spelling is well worth every penny.  Or purchase the complete Parent Pack which includes the following 5 Nessy products for 10% off.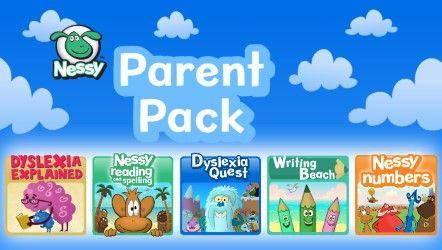 About Nessy Learning
The people at Nessy Learning created Nessy Reading & Spelling to help children who learn differently. They know what works and have a sincere desire to help kids and educate parents.  Download a free copy of the Nessy Dyslexia Explained e-book.
Follow Nessy Learning on Facebook, Twitter, Pinterest, and YouTube for more educational information and encouragement on your dyslexia journey!
With summer right around the corner, Nessy Reading & Spelling would make an excellent resource for summer reading review that is not only effective but fun!