One way to encourage your kids with dyslexia is to learn more about people with dyslexia who found success as adults. Most of the following dyslexic adults had to overcome significant obstacles to get to where they are now. Knowing this can help our kids face their challenges with hope.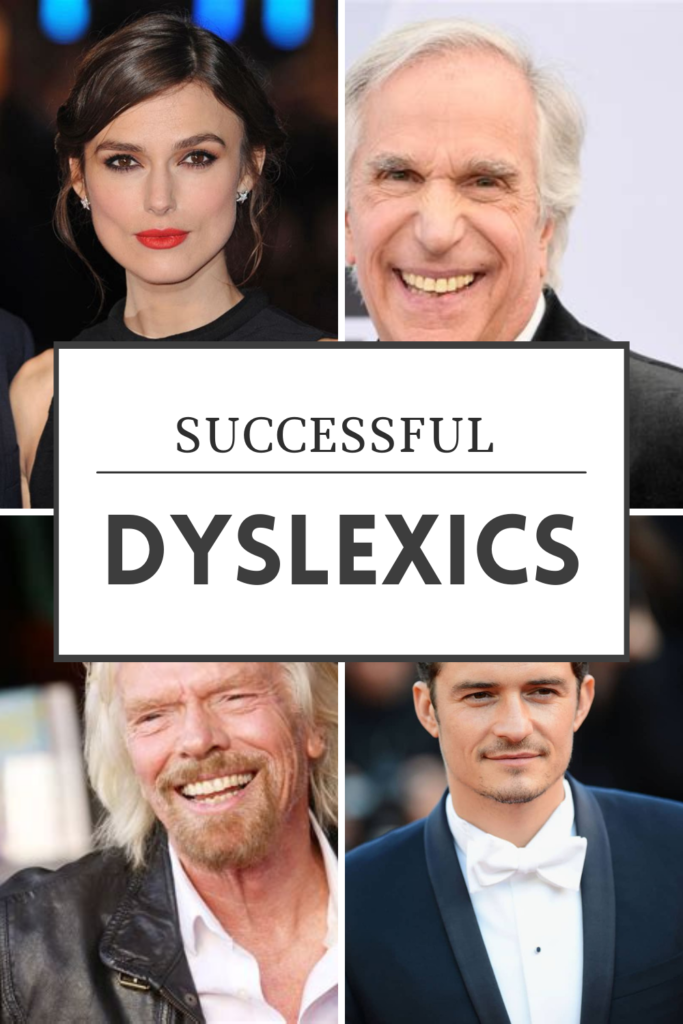 Successful Dyslexic Entrepreneur: Richard Branson
Richard Branson, the founder of Virgin Group, struggled with dyslexia as a child but went on to become a billionaire entrepreneur and philanthropist. He attributes his success to his ability to think creatively and outside the box, which helped him build a diverse business empire.
Watch this video of Richard Branson talking about growing up dyslexic.
Successful Dyslexic Movie Producer: Steven Spielberg
Despite struggling with dyslexia and being diagnosed late in life, Steven Spielberg is one of the most renowned filmmakers in history. His exceptional visual storytelling skills, combined with his determination and passion, have led him to direct blockbuster movies like "Jurassic Park" and "E.T. the Extra-Terrestrial."
Watch this video of Steven Spielberg talking about his dyslexia.
Successful Dyslexic Actress: Whoopi Goldberg
Whoopi Goldberg, an Academy Award-winning actress and television personality, overcame dyslexia to achieve remarkable success in the entertainment industry. Her perseverance and unique comedic talent have made her a beloved figure, known for her roles in films such as "Sister Act" and "Ghost."
Here is a video of Whoopi talking about her dyslexia.
Successful Dyslexic Architect: Sir Richard Rogers
Renowned architect Sir Richard Rogers, known for his innovative and sustainable designs, faced dyslexia throughout his life. Despite his difficulties with reading and writing, he co-founded the architectural firm Rogers Stirk Harbour + Partners and contributed to iconic projects like the Centre Pompidou in Paris and the Millennium Dome in London.
Here is a video of Sir Richard Rogers talking about his dyslexia.
Successful Dyslexic Author: Agatha Christie
Agatha Christie, the world's best-selling author, experienced dyslexia, which affected her spelling and grammar. Nevertheless, she went on to write 66 detective novels and 14 short story collections, creating memorable characters like Hercule Poirot and Miss Marple and becoming a literary legend in the mystery genre.
Successful Dyslexic Car Racer: Sir Jackie Stewart
Sir Jackie Stewart, a three-time Formula One World Champion, struggled with dyslexia throughout his racing career. Despite facing challenges in school, his exceptional driving skills, intelligence, and meticulous approach to racing helped him achieve tremendous success and solidify his status as one of the greatest drivers in motorsport history.
Here is a video of Sir Jackie Stewart talking about his dyslexia.
Successful Dyslexic Actor, Producer, and Author: Henry Winkler
Henry Winkler, known for his iconic role as "The Fonz" in the TV series "Happy Days," didn't discover he had dyslexia until his adult life. Despite his learning difficulties, he became a successful actor, producer, and director, inspiring others with dyslexia through his children's book series featuring a dyslexic protagonist named Hank Zipzer.
Henry Winkler talks about his dyslexia in this video.
Successful Dyslexic Actor: Orlando Bloom
Actor Orlando Bloom, famous for his roles in blockbuster films like "The Lord of the Rings" trilogy and "Pirates of the Caribbean," grew up with dyslexia. Despite struggling with reading and writing, his dedication to his craft, combined with his natural talent, has led him to a flourishing acting career and international fame.
Here Orlando Bloom talks about being dyslexic.
Successful Dyslexic Singer: Cher
Cher, an iconic singer, actress, and fashion trendsetter, faced dyslexia throughout her life. Despite her challenges with reading and writing, she has sold over 100 million records worldwide, won numerous awards, and established herself as one of the most influential and enduring figures in popular culture.
Successful Dyslexic Chef: Jamie Oliver
Celebrity chef Jamie Oliver, known for his successful television shows and cookbooks, struggled with dyslexia during his childhood. His passion for cooking, combined with his determination to succeed, propelled him to become an internationally recognized culinary figure and a leading advocate for healthier school meals and food education.
Watch Jamie Oliver talk about his dyslexia.
What other successful dyslexics do you know of?