After 30 years of parenting and homeschooling my seven kids with dyslexia, here is what you need to know about the elementary years with dyslexia.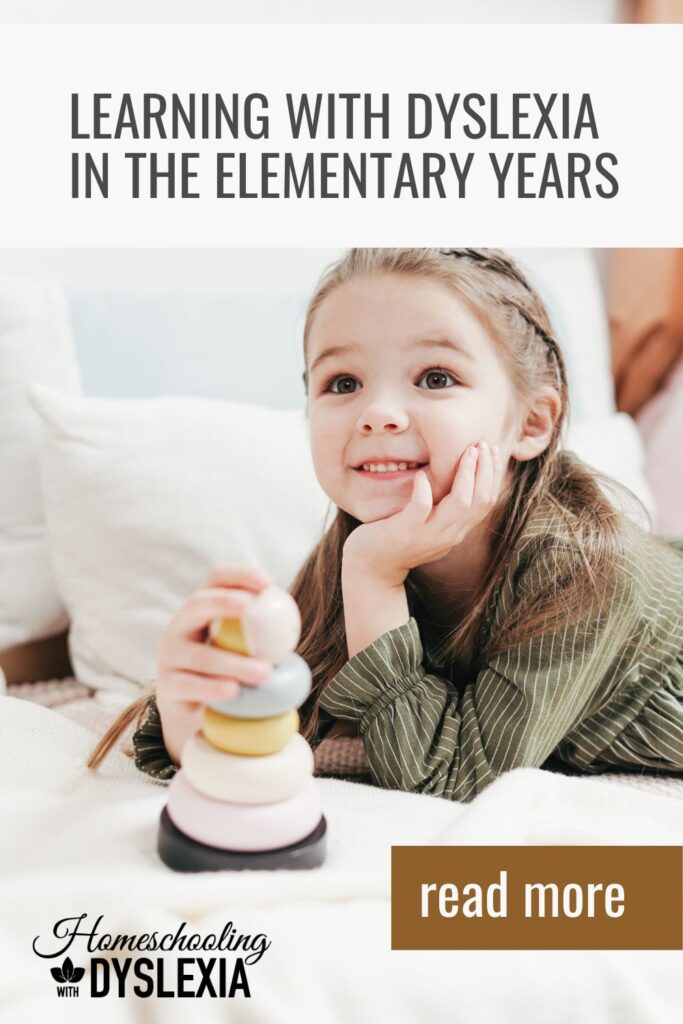 If you would prefer to listen to this episode, click play below:
I met with some of my online mentoring group parents last week. Meeting live on Zoom with other parents on the same journey is always powerful. We laugh, and sometimes cry, and always leave encouraged that we can do this outside-the-box homeschool thing.
I wanted to share with you one of the thoughts and threads that we went through during our chat.
Feeling like you're not getting enough done
One mom was worried because her daily routine had been thrown off by sickness in the family. She was feeling worried about missing so many days of 'school'.
I write 'school' because I am referring to the academic side of homeschooling. However, it's super important to remember that homeschooling is much more than academics.
It's also important to remember that all homeschools are full of interruptions whether you have kids with dyslexia or not. The toilet overflows, the toddler dumps flour all over the kitchen during read-aloud time, mom or dad gets sick, or a family member needs help. No family is immune to this.
The thing is though that kids, especially young kids, are always learning.
They are always learning whether they are learning academic stuff like phonemes and syllable types or learning about caring for the needs of others, learning to clean the house, or learning how to make a peanut butter and jelly sandwich.
We are educating and growing people, not robots. Our jobs are not to fill our kids' heads with all the facts (although there is a place for that) but to mold and shape kind, caring, and thoughtful people. Living together in families is a great way to accomplish this.
When kids help mom or dad with the running of the home they learn life skills and feel like a valued part of the family team.
When kids learn that they are an important part of the running of the family, they gain skills and confidence.
When you curl up on the couch and watch a nature show or even an old, black-and-white TV series, there are so many things gained; connection, bonding, comfort, stability, and memories.
And here's the thing you really need to know.
The more I teach my own kids with dyslexia and the more I talk to many of you doing the same, the more I realize that our focus during the elementary years can be way more about hands-on, interest-led learning than academics.
That's a bold statement!
The reason I can say this with confidence is because of something interesting that happens a few years later during the middle school years. I call it 'middle school magic' because I'm scientific like that.
Middle School Magic
Over and over again I see that once kids hit the middle school years, roughly between the ages of 12-14, reading (and spelling to a lesser degree) often 'take off'. Kids are suddenly able to use the phonetic instruction they have had along with their considerable knowledge of vocabulary and the use of context clues to crack the code of reading.
In fact, all learning becomes easier. It obviously has to do with brain development. I have seen it over and over again.
My kids, with or without research-based reading instruction, learned to read independently during their middle school years. Once they became more fluent readers, space was cleared in their brains and they were able to tackle writing and spelling.
The pace of learning sped up during middle school and many of them 'caught up' to their peers.
So how does this relate to the elementary years?
Kids with dyslexia learn at a different pace than traditional learners of the same age – especially in elementary school. This is why homeschooling during these younger years is so critical.
As a mom-of-many who values her time and sanity, I am always looking for how I can get the best return on investment for my time.
Dragging my reluctant writer through paragraph and essay writing in elementary school may not be a good return on investment for me especially if I am doing the bulk of the work or my child is overwhelmed or frustrated.
What if they could learn the same skills in less than half the time with half the effort if I waited until their brains were more 'ready' to learn in middle school? What if I replaced that 'school' with real-life, interest-led learning that built confidence and critical thinking skills?
Being able to individualize our instruction is the best part of homeschooling and is what makes homeschooling kids with dyslexia so beneficial.
Being able to adjust what and how we teach to their actual ability (offering an appropriate challenge) is the best education.
Have you seen 'middle school magic' in your kids?
How does understanding this period of growth change the way you look at teaching your younger kids?
Let me know in the comments below!
More resources for teaching in the elementary years:
Join my online mentoring group.
Take my Homeschool Essentials Course for Elementary School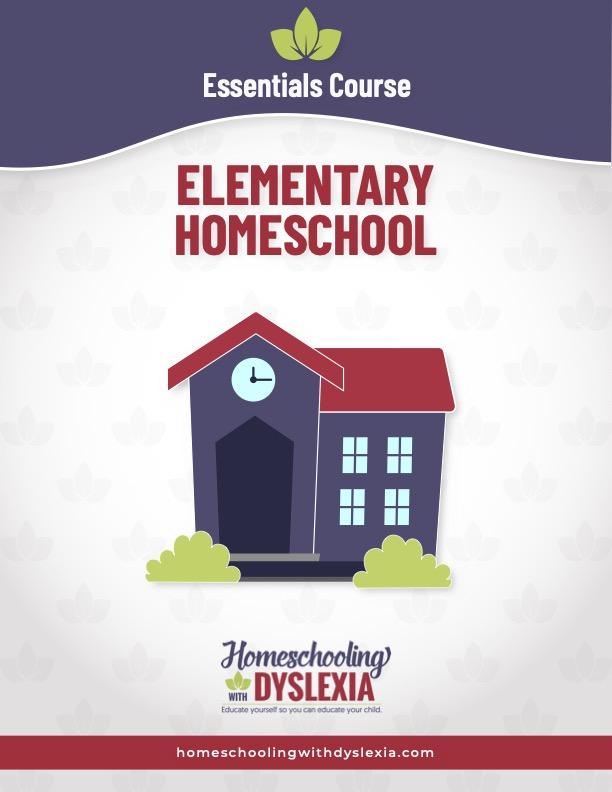 The Elementary Homeschool Essentials Course is what I want every parent who is homeschooling their kids with learning differences to know about day-to-day, year-by-year homeschooling. Parents who have taken the course consistently share how much more confident and equipped they feel.
Kids who learn differently need to be taught differently! The Homeschool Essentials Courses will help you to know what to expect, how to teach, how to overcome obstacles, and how to plan and prioritize for your unique family's needs.
In this course we look at:
1. Learning Expectations.
2. Teaching Needs and Methods.
3. Overcoming Learning Obstacles.
4. Putting a Plan Together.
This is course is completely online and immediately available after purchase. Get started learning today!