It's one of a parent's worst nightmares.  Your child can't read.  When you have a child that is obviously bright but cannot read your mind goes all sorts of bad places.  Something about fear and worry makes the mind of an anxious parent extremely creative – able to think of every worst cast scenario for their sure-to-be illiterate child.
Dyslexia can be overwhelming and that is why this site exists!  After homeschooling 7 kids with dyslexia for the past 20 years, I've learned a lot about teaching reading.  I have likely tried just about every reading curriculum available.  I like to say that I have test-driven them for you!
Today I'd like to introduce you to our favorite curriculum for teaching reading to our kids with dyslexia.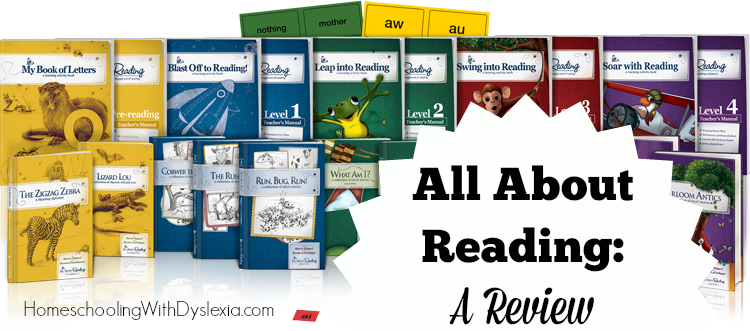 *This post contains affiliate links
Teaching Reading With All About Reading
All About Reading was developed by a concerned mom much like you to help her severely dyslexic son learn to read.  Marie Rippel, the developer of All About Reading and All About Spelling, knows what it is like to watch your child struggle with reading and all of the emotions that go along with that and did something about it.  All About Reading and All About Spelling were created using research and evidence based methods that have been shown time and time again to work.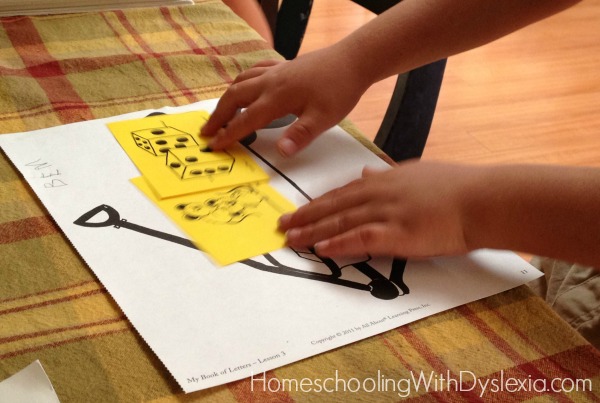 Benefits of All About Reading
I told you how I've used just about every different reading program on the market, right?  So here's why we have chosen All About Reading over every other reading program.
All About Reading is Easy to Use
I'm not going to lie.  If a program is too much work, I'm just not going to be as faithful with it as I need to be.  All About Reading is super easy to use.
All of the lessons are 'lightly' scripted with teaching tips sprinkled throughout the text to help parents as they teach their kids.
Everything you need to teach is included – all of the games, reading practice and hands on materials are included in each level of All About Reading.  I don't have to waste time and energy searching for materials – it's all there.
Support.  The good people at All About Reading are 100% dedicated to helping you help your child and as such have an incredible level of lifetime support.  From the FAQs page, to the amazingly practical and useful blog, to the Facebook Support Community
– help is there for you!
Did I mention that the program is also affordable and comes with a 100% money back guarantee for one year?  Awesome stuff!

All About Reading Works!
The All About Reading and All About Spelling programs really work.  Here's why:
Research and evidence based methods.  You've likely heard me talk about the Orton-Gillingham approach to teaching reading.  I am an Orton-Gillingham dyslexia tutor myself.  Although the OG approach has been around for over 100 years, it is still the most effective way to teach struggling readers to read.
Multi-sensory.  Multi-sensory teaching is just what it sounds like.  By using more than one sense at a time, more areas of the brain are involved and therefore learning takes place more quickly.
Hands-on activities.  Each level of All About Reading comes with a wide variety of activities and games to help reinforce what is being learned.  Our kids love this!  While learning to read is hard work for a child with dyslexia, these games and activities are highly motivating because, well, because they are fun!
Explicit teaching.  Part of the OG approach to teaching reading is that everything must be taught explicitly.  This means that every rule is taught and reviewed, systematically, until it is mastered.  Nothing is left to chance – everything is explicitly taught.
Lots of review.  Students with dyslexia need a lot more practice than a traditional learner.  All About Reading understands this and has incorporated lots of review into their program naturally so you don't have to!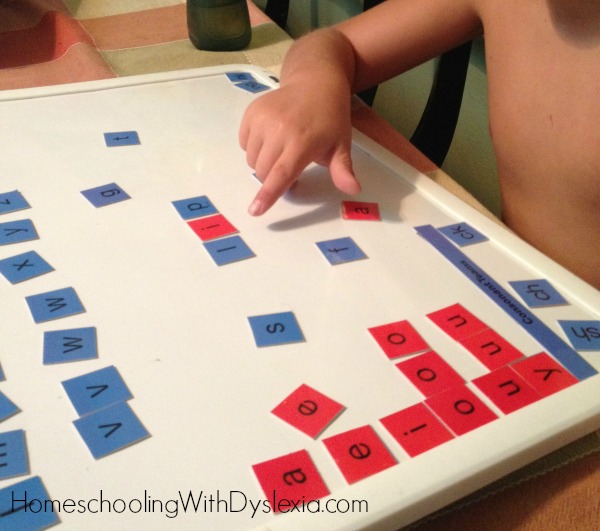 How we Use All About Reading
Once our materials arrived, we followed the instructions in the teacher's manual and set up our magnetic letter tiles, phonogram cards and word cards. I purchased an inexpensive magnetic white board online to store the magnetic alphabet tiles.  The lesson plans in the Teacher's Manual clearly explain which phonogram cards, word cards, and activity book pages will be used in each lesson.  Easy peasy.
Tips For Using All About Reading 
If you're like me, you love to check off boxes in your homeschool that show that you are accomplishing stuff.  If you're homeschooling kids with dyslexia, you're going to have to resist the urge to check off lessons too quickly.  I have learned that to get the most out of All About Reading (and any other curriculum – be it math, science or history) I need to individualize it for my kids.
That means that if my child hasn't mastered a lesson, we don't move on.  We may review a lesson for 3-4 days at times, while at other times, my child will seemingly fly through a lesson.  Don't rush your child.  Relax, smile and have fun as you teach.  Just make sure they are able to remember and apply the lesson before moving on.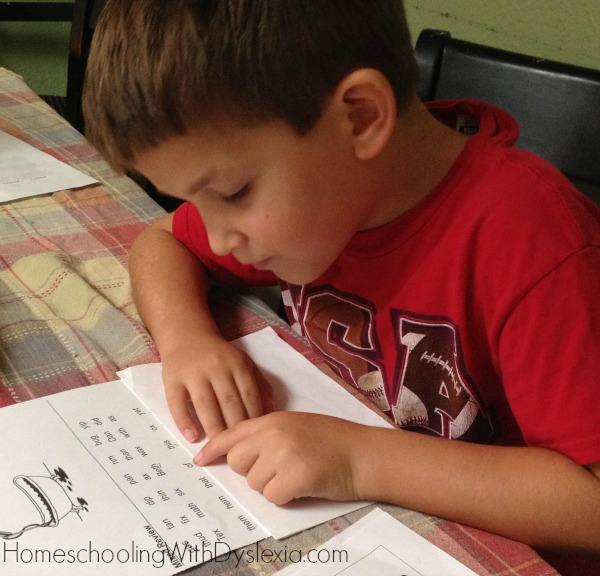 How Our Kids Like All About Reading
Of our 8 kids, 7 are dyslexic!  These days, I am blessed to be focusing on our 2 youngest – ages 5 and nearly 8.  Our 5-year old just completed All About Reading Pre-Level 1 which is full of hands-on phonemic awareness activities to prepare your child to learn to read.  He's an easy going kid who just loves spending time with mom.
Not so our nearly 8-year old!  He is a diamond in the rough, leader-type that has a low tolerance for frustration.  He has been a constant challenge for this mom of many.  So how does he like All About Reading?  He loves it!
Because he has trouble sitting still and focusing for long, he really benefits from the hands on activities.
Because of the beautifully hand drawn graphics in the readers, he is highly motivated to keep reading so he can find out what is going on in the story.
Because mom is prepared and confident, I have the time and energy to individualize his instruction each day so that he is neither bored nor overwhelmed.
Is All About Reading For Your Family?
All About Learning is perfect for families who:
Need an affordable, non-consumable (except for the student work book) reading program
Need an easy-to-use program that works with all learning styles
Need a reading program that is easy to use
Would benefit from a strong customer support system
Have a child with learning struggles, like dyslexia, who will benefit from an Orton-Gillingham based program
How about you?  How has your family benefited from All About Reading or All About Spelling?