Phonemic Awareness is a foundational skill necessary for reading. Using apps to teach phonemic awareness is a fun way to sneak some learning in while you and your kids are having fun.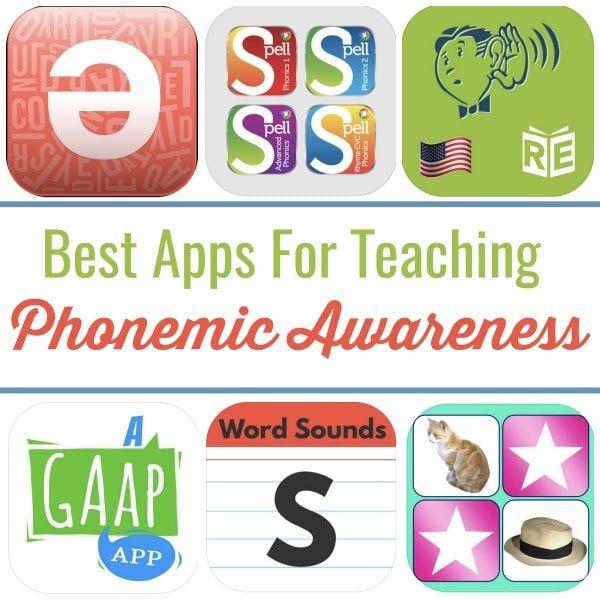 What is Phonemic Awareness?
Phonemic awareness is a foundational skill for reading. It is the ability to hear and manipulate phonemes (sounds) in words. Almost all kids who struggle with reading will have weak phonemic awareness skills. Phonemic Awareness skills develop naturally in traditional learners but kids with language-based learning differences need explicit instruction in phonemic awareness to develop these skills.
Here are a few posts I've written on Phonemic Awareness if you want ore information:
Both of these posts contain printed resources for teaching phonemic awareness.
Best Apps for Teaching Phonemic Awareness
The following 11 apps are some of the highest rated apps available.
(4.99 each or purchase the Simplex Spelling School Literacy Curriculum Bundle of 4 apps for 13.99)
A highly regarding teaching tool, Simplex Spelling teaches high frequency spelling words organized by spelling patterns. Every word is broken down into its syllables both visually and auditorily to help students build phonological awareness skills. The Simplex spelling 'reverse phonics' hint feature breaks each word down further into individual  phonemes to improve phonemic awareness, a critical skill and achieving literacy. Visit the developer web site to see word lists for each level and determine the best level for your kids.
(free)
The What's Changed Skill Builder app has been specifically designed to develop students' phonemic awareness. What's Changed? focuses on developing phonemic awareness with vowel sounds and consonant blends through exercises that require students to listen to two non-words and identify what changed between the two words. It also helps to develop segmentation and blending skills.
Students develop the core foundational skills that make up phonemic awareness by identifying the type of change that occurred, including:
– identifying the sound that changed ('zat' to 'zad')
– substituting a new letter for the sound that changed ('feld' to 'fald')
– specifying the letter for a sound that was added or omitted ('strek' to 'stek')
– switching two letters for sounds that were switched ('blist' to 'blits')

(3.99)
This interactive app helps individuals learn phonemes in a fun and engaging way. Four activities include:
– Breaking up words – Segmenting
– What word? – Blending
– How many sounds? (drag and drop)
– Identify the number of sounds with the number of letters and syllables provided
(3.99)
Practice early and basic phonemic awareness skills with this interactive app that helps individuals identify the different sounds that make up words in a fun and engaging way.
Four activities include:
– Do these two rhyme?
– Find the picture that rhymes with the word
– Word families – drag and drop
– Identifying the rhyming pair from 6 pictures
Teach Speech Apps also has a variety of bundles that can be purchased:
Teach Speech Apps Bundle 1: Prepositions, Rhyming Words, and Pronouns (8.99)
Teach Speech Apps Bundel 2: Following Directions, Wh Questions, Rhyming Words (8.99)
(free)
Assessments for Phonological Awareness with Progress monitoring. GAAP allows teachers to assess a student, track their learning objectives, while providing instructional aids. It can be used for accommodations all while trending student's growth through years, teachers, and classrooms.
• Assessments: Letter Recognition, Letter Sounds, Rhyming, Blending, Segmenting/Chopping, High frequency words
• Ability to monitor classroom progress
• Ability to monitor student progress
• Ability to assess effectiveness of intervention activities
• Instant feedback on students grasp of concepts taught
• Standard measurement for skills assessment
• Ability to monitor student through classrooms and grades
• Data to trend students growth, identify areas of support for teachers
(24.99)
Targeting phonemic (sound) awareness, phonics, and speech production, the three unique teaching activities are based on the key techniques of the world-renowned, research-based program, Lively Letters, created by speech language pathologist, Nancy Telian.
Flashing: This activity introduces, drills, and tests the letter sound associations for the 44 English speech sounds, using the multisensory cueing methods that Lively Letters is so famous for. As the chosen letters flash in, students can hear the associated sound, the song, and the story.
Tracking: In this activity, students engage in the powerful Lively Letters manipulative word play, (tracking) activities. Here you simultaneously train phonemic awareness and phonics, while further practicing letter sounds and speech production. Students have fun building the critical phonemic awareness skills of sound blending, segmenting, and manipulation while learning how to sound out words of increasing length and difficulty for reading and spelling.
Matching: Here's a playful way to practice letter sound associations and speech production skills. This activity also offers opportunities to associate uppercase to lowercase letters and to transition from Lively Letters pictures to plain letters. Students have fun playing the classic Match Game, now using the letters and letter types chosen.
(21.99)
Phonological Awareness Lab (PAL) is a fun, multi-level game specifically designed to improve phonological awareness in children. Designed by a certified speech-language pathologist, PAL incorporates a fun science lab theme to encourage children to demonstrate their phonological awareness.
Created to help teach phonological awareness, PAL incorporates four (4) "labs" to target the essential phonological awareness skills needed for reading.
• The Sentence Experiment Lab
• The Decoding Room
• The Rhyming Compound
• The Syllable X-Ray
Inside the Decoding Room and Rhyming Compound are multiple levels of activities including blending syllables, blending sounds, rhyming identification, rhyming selection, and rhyming match.
Hearbuilder Phonological Awareness
(free with membership to their online program at Super Duper Publications)
Program Features:
• Targets nine phonological awareness skills: Sentence Segmentation, Syllable Blending, Syllable Segmentation, Rhyming, Phoneme Blending, Phoneme Segmentation & Identification, Phoneme Deletion, Phoneme Addition, Phoneme Manipulation
• Multi-level program gradually increases in difficulty
• Teaches children important listening and sound awareness for reading
• Monitors progress and provides frequent feedback
With a subscription to HearBuilder Online you can:
• Access all four HearBuilder programs – Following Directions, Phonological Awareness, Auditory Memory and Sequencing
• Monitor progress and track student data
• Individualize each student's program settings
• Set levels of difficulty for each activity
• Customize and print reports
Lots of rhyming apps
Rhyming is a basic component of phonemic awareness. Reading strategies that use rhyming as part of their phonemic awareness program help foster the best literacy rates among children and help to create children that really know how to read well.

(free)

(free)
Teaching phonemic awareness doesn't have to be a chore. Have fun teaching with these award-winning apps.
How about you? How are you teaching your kids phonemic awareness?