If you are teaching a child to read, All About Reading provides an inexpensive, research-based program that is easy to use and highly effective. It may be a perfect fit for your dyslexic child.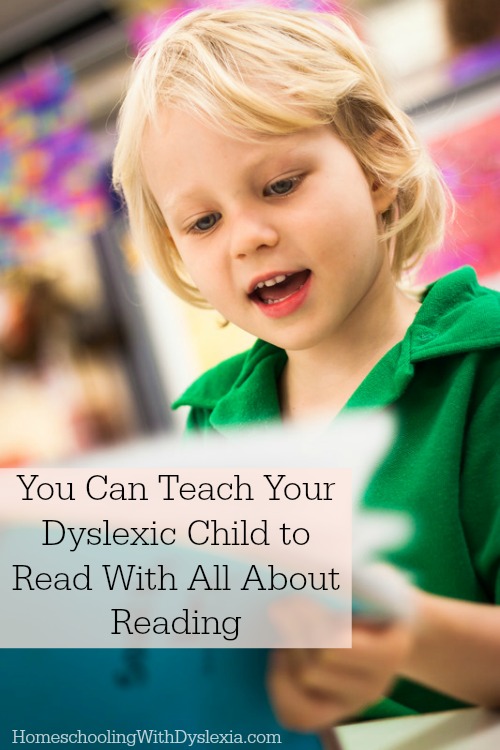 I am passionate about encouraging parents of dyslexic learners not only that they can teach their children to read, but that they are the best person to teach them if it is at all within their power.
My 87 year old neighbor, Dave, grew up dyslexic.  Occasionally we talk about his school experience; about how he struggled to learn and how nobody knew why he struggled.  My husband grew up with dyslexia.  His school teachers in England wanted to put him in classes with severely mentally disabled kids.  No body had a clue as to why he struggled so.
What is Dyslexia?
We now know much more about this phenomenon called dyslexia;  why otherwise bright people struggle learning to read, write and spell.  We know through scientific studies conducted at Yale University that dyslexia is real, that it is genetically based (which explains why 7 of our 8 kids are dyslexic!) and that it never goes away.  It is not caused by a lack of intelligence, poor diet or watching too much television.  Dyslexia is a processing issue that causes intelligent people to struggle with the written word.  For more information on what dyslexia is, see my Dyslexia FAQs Page.
How to Overcome Dyslexia
People with dyslexia can be taught to read and spell.  Research has shown that an early start is better (dyslexia is not outgrown) and that the way in which reading and spelling are taught is critical.  There are a lot of reading curriculums out there – many of them well done.  But they are not  multi-sensory, nor are they explicitly and sequentially taught.
Dyslexics need to engage all of their senses when they are dealing with the written word – multi-sensory.
Everything needs to be taught – nothing can be assumed.  The 'penny' just doesn't 'drop' for many dyslexics and reading never 'clicks'.  Everything meeds to be taught – explicitly.
Everything must be taught in order.  From phonemic awareness (knowledge of individual sounds) to phonics and decoding – reading instruction must be taught in order – sequentially.


All About Reading
I discovered All About Reading a 2 years ago when my 5-year old son was beginning Kindergarten.  He had many of the early signs of dyslexia.  
We worked through Pre-Level 1 and were thrilled with the results.  The people at All About Learning Press really get reading instruction.  They know how important phonemic awareness is to becoming a fluent reader and every lesson included a fun activity that taught phonemic awareness.  After Pre-Level 1 our son was fully prepared for learning to read with All About Reading Level 1 the following year.
Edited to add:  We finished All About Reading Level 1 last year and are continuing to be happy with what he is learning and how the information is sticking!  All About Reading is fun as well as effective.
If you are teaching a child to read, whether your students are dyslexic or not and whether you homeschool, tutor or otherwise, All About Reading and  their spelling program, All About Spelling provide inexpensive, research-based programs that are easy to use and highly effective.
Visit the All About Learning web site for placement tests, videos and more information on the All About Reading program.