If you're wondering what gifts to give the homeschool moms in your life, you're in the right place!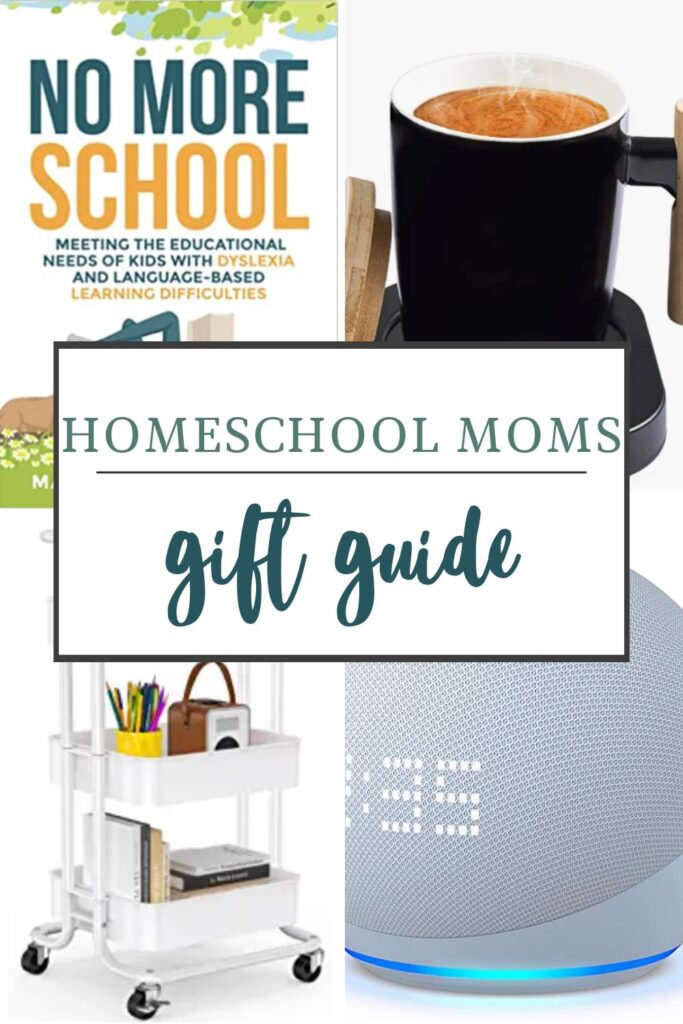 Gifts for Homeschool Moms and Dads
This site exists to educate and support homeschooling families who have kids with ADHD, dyslexia, and other language-based learning difficulties. If the homeschool mom (or dad) you are shopping for has kids with dyslexia, here are some specific things from this site that will help them.
One of my books:
Dyslexia 101: Truths, Myths, and What Really Works. I call this book a parent's quick start guide to dyslexia. It also is one of the only dyslexia books of its kind that includes information on homeschooling.
What is Dyslexia: A Parent's Guide to Teaching Kids About Dyslexia. This is a book for kids but has a whole section for parents on why and how to talk to kids about their dyslexia.
No More School: Meeting the Educational Needs of Kids with Dyslexia and Language-Based Learning Difficulties. If you have to pick just one of my books, pick this one. This is my latest book and it cuts right to the chase of knowing what our kids need as far as education goes. You can probably tell by the title that it will rock your world a bit! If the homeschool mom in your life is worried about her kids with dyslexia, this book will fix that!
1-hour Coaching Session (50% off through the end of December with discount code WORKWITHME50) Get instant feedback on your unique situation in a coaching session with Marianne.
Here's what one recent coaching client had to say:
"Marianne is perhaps an angel in human form. Within minutes of talking with her, she helped me to step fully into my own sovereignty ~ not only as a homeschooling mom but as a woman finding my own beauty path in Life. Her words and guidance were like a soothing balm for my heart. She legit gets it on so many levels. After our call together I felt so free and as if so much weight had been lifted from me. Her consulting calls are more than just a consult. They are expansive, authentic, and powerful. I now feel more confident and inspired than ever with how I am homeschooling and walking through life. Thank you Marianne from the bottom of my heart. You truly are a blessing!"
~ Alexandria ~ homeschooling mom to two and small business owner
---
Gift Cards They'll Love
Coffee gift cards
I don't frequent coffee shops (I like my own coffee better.) but if I have a gift card, I'll treat myself to a coffee on one of those days when I seem to be out and about driving kids around, waiting at lessons and practices, or doing pick up and drop off.
Smoothie gift cards For the same reasons as above but for the non-coffee drinker. Are there people who don't drink coffee?
Mug Warmer for Coffee or Tea.
Speaking of coffee, imagine that cup of coffee or tea not needing to be reheated repeatedly throughout the day!
Here's an inexpensive one with good reviews.
Restaurant gift cards One of the most common struggles for homeschool parents is getting dinner on the table after a busy day of lessons, outings, laundry, cleaning, and let's not forget all the character training we do every day! I know I would love to have the option to order out for dinner when it's just one of those days!
Amazon, Kindle, and Audible
Our family uses all three of these services every week in our homeschool.
Amazon Gift Card
Two things that homeschool moms and dads love are saving money and saving time. Amazon does both of those. An Amazon gift card is a quick and easy gift that just about every homeschool mom will love.
An Amazon Prime Membership
Speaking of saving time and money, if the homeschool mom in your life doesn't have an Amazon Prime Membership, this makes a perfect gift.
Not only do they get free, fast shipping, but they also get access to:
Watch thousands of movies and TV shows with Prime Video
Stream millions of songs and thousands of playlists
Also get free Kindle e-books, unlimited photo storage, exclusive access to deals, Twitch, and much more
Kindle Paperwhite
This Kindle looks just like a book, thus the name Paperwhite. For the mom who loves to read and have access to books on the go. Kindle e-readers all sync perfectly with Audible audiobooks.
An Audible Audiobook Membership
Reading good books is probably one of the most common homeschool activities. The value of good literature is immense. Audiobooks make listening to good literature easy for the busy mom. Audible has the best quality audiobooks around. My kids and I have cultivated a huge library with Audible, sharing books and authors we love and enjoy.
Amazon Echo
While I'm talking about Amazon, I may as well mention the Amazon Echo device. These are also very helpful in that they can play music, Audible audiobooks, and answer any and all questions that your kids may have. My kids regularly ask Alexa how to spell words which makes our Amazon Echo worth every penny!!
Gift Ideas for Help Around the House
I know for me that I don't want or need many things, but what I always need is some help!
House cleaner. My mom paid for a house cleaner for me after my 7th baby was born. He's 15 now and we have been cleaning the house ourselves for many years but I LOVE to hire cleaners once or twice a year to give my house a deep clean. I go on the NextDoor app and ask for recommendations.
Babysitting. If the homeschool mom in your life is in the season of having lots of littles, the gift of a few hours to have lunch with a friend or even go grocery shopping alone is a real treat!
Meal Box Subscription. I used to be skeptical about these services. However, over the years I have used several different services and for some reason, they make preparing an amazing meal super easy.
Large Family Meal Planning Resources from Jamerril Stewart. I've known Jamerril since my early days of homeschool blogging. Her meal planning resources are next level. My family loves every recipe of hers that I have tried. At the very least you have to check out her YouTube Channel.
Gym, yoga, or other exercise membership. Exercise has been one of my saving graces as a busy homeschool mom.
Cute and comfy exercise clothes to go with the gym or exercise membership. 🙂
Robot Vacuum. Since homeschooling family homes are in constant need of vacuuming. This one even works with Alexa!
Gift Ideas to Make Mom (or Dad) Feel Comfy
Since homeschool moms and dads are home a lot, here are a few ideas to help make them comfier around the house.
Slippers
Blankets
Non-Toxic Candles
Essential Oils
Homeschool Gear
A Rolling Cart to store all the homeschool paraphernalia; pens, pencils, crayons, paper, workbooks, etc.
Dry Erase Magnetic Calendar. Honestly, these things are gold. They help keep Mom organized, help kids to know what's happening and when, and can be updated easily.
Fun Homeschool Teaching T-Shirts For the sassy homeschool moms in your life!
What gift would you like to receive as a homeschool mom?
Looking for Gift Ideas for Kids With Dyslexia?
I've carefully curated a list of gift ideas that specifically target areas of weakness in our kids with dyslexia and ADHD. Check them out here!