How can the remarkable story of Gillian Lynne transform how parents see their outside the box kids?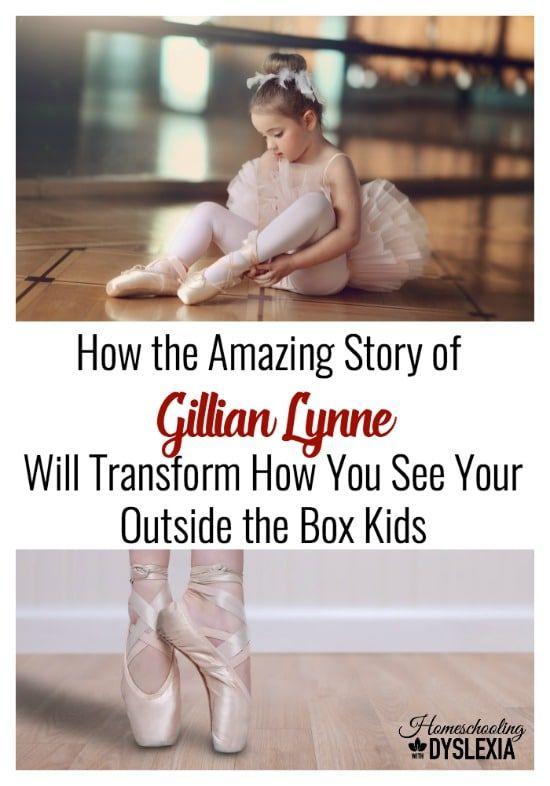 The Remarkable Life of Gillian Lynne
Growing up in England in the 1930s,  Gillian Lynne was 7-years old when her mother took her to the doctor because her school was concerned that she had a learning disorder.
Unable to sit still, Gillian had earned the nickname Wriggle Bottom. Gillian felt hopeless, her teachers were exasperated, and her mother was at the end of her tether. The idea of ADHD had not been born yet.
What happened at that doctor's office radically changed Gillian's life and provides a lesson for all parents who are seeking answers to how to raise their outside the box kids.
After listening to Gillian's mother explain the teachers' concerns about Gillian's disruptive behavior, the doctor and Gillian's mother stepped outside the office to speak privately. Before leaving the office, the doctor put some music on his tiny office radio.
From the hallway outside that office, Mrs. Lynne and the doctor peered in and observed Gillian jumping and twirling around the room, enraptured by the music.
The doctor turned to Mrs. Lynne and famously said, "There is nothing wrong with your child. She is a dancer." After which he recommended Gillian be enrolled in dance school.
Can I just stop here for a minute and say, "Hallelujah!" I mean seriously, who was that doctor?
Gillian's mom did enroll her in dance school about which Gillian remarked later, "Everyone was like me! They needed to move to be able to think. It was wonderful!"
Gillian went on to have a wonderful career at the Royal Ballet. She eventually graduated from the Royal Ballet School and met Andrew Lloyd Webber. She's been responsible for some of the most successful theater productions in history such as Cats and Phantom of the Opera.
Not only has she given pleasure to millions,  she's a multimillionaire!
Takeaways From the Story of Gillian Lynne
I am often encouraging homeschool parents to keep tabs on their expectations of their lives as homeschoolers, especially if they are teaching outside the box kids with dyslexia, dysgraphia, dyscalculia, and ADHD.
Our kids don't do many things in the same way as the majority of kids who are more traditional learners. They learn at a different pace, with different methods, and often are interested in real life learning – easily becoming bored with traditional learning.
What would have happened if young Gillian Lynne grew up in our schools today? She surely would have exasperated her teachers and parents. However, it is likely that any medical help that she received would have resulted in testing, diagnosis, and medication.
I'm in NO WAY judging parents who go this route. Not a bit. Our family is right there with you.
What I am suggesting is to step back from our ideas of how things should be and ask ourselves how our expectations may be hindering our kids.
What does it mean to be educated? What are our goals in educating our kids? Why?
Are we teaching them so that they can achieve goals that make us look good as parents? Because for some reason, our kids seem to be born with all of these gifts and talents that are the polar opposite of our own!
How can we let the amazing success story of Gillian Lynne change the way that we look at education? How can we change our expectations for our kids?
If this post has moved you and you would like to learn more, read this series on Multiple Intelligences. 
There is more than one way to be smart and if you've read to the bottom of this post, it is likely that you are related to someone who, like Gillian Lynne, marches to the beat of a different drum. Not a weaker drum with less value than others. A beautiful, unique song that by writing can bring them great fulfillment and bless many others.
How does the amazing story of Gillian Lynne change the way you look at your outside the box learners?