How our kids react to learning plays a huge part in how effective our teaching is. When our kids are discouraged learners, our teaching is ineffective and this is one of the biggest reasons we lack confidence as we homeschool our kids with dyslexia.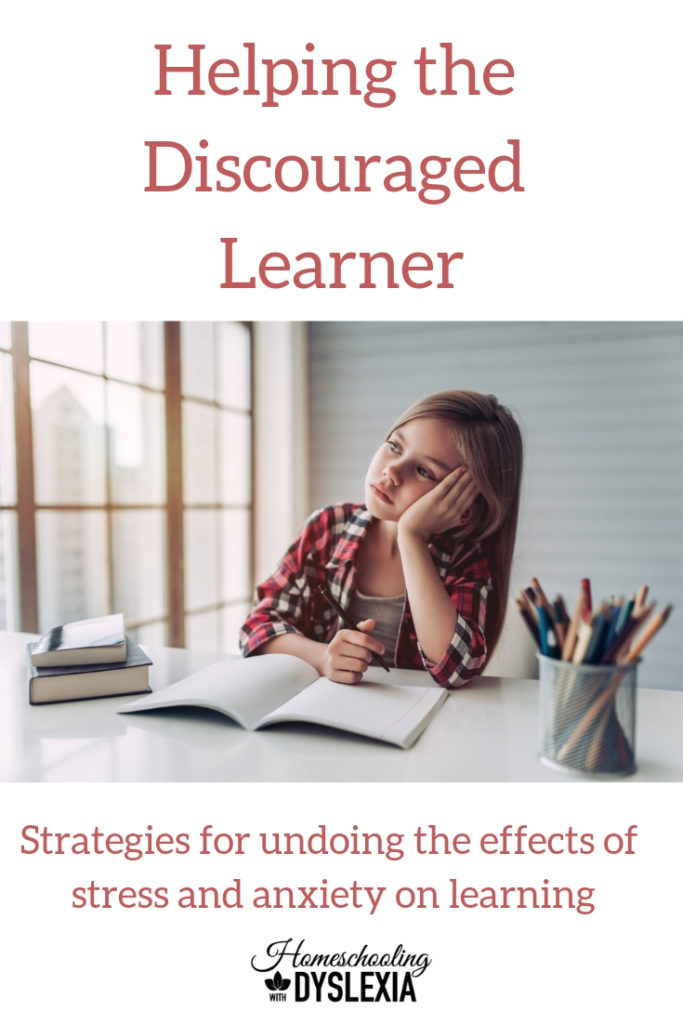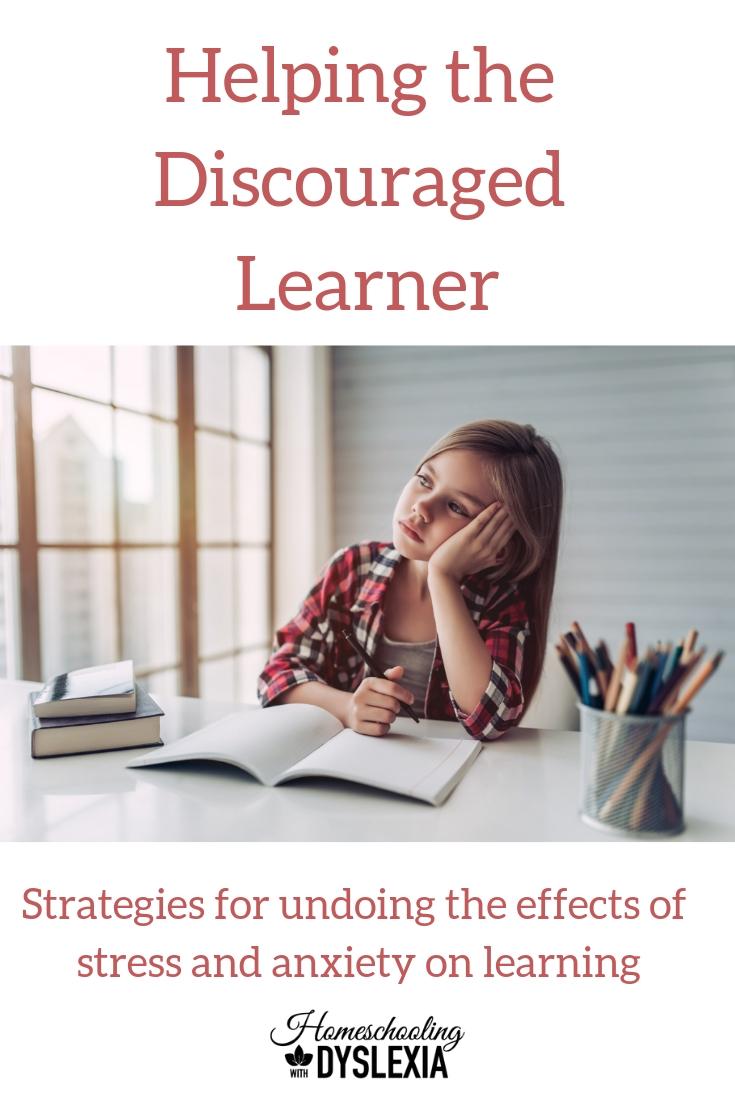 Yesterday we started a short series on how to have more confidence in our homeschools. I'm not going to lie, homeschooling our kids with dyslexia can be difficult. Take some time this week to build in some confidence building strategies. Read the series from the beginning here.
The Discouraged Learner
If your child screams and falls to the ground when it's time to start school, you're not going to get much done. Likewise, if your child shuts down when things get difficult (which – dyslexia… hello – lot's of things are difficult) again you're stopped in your tracks.
All homeschool families struggle from one degree to another with their kids behavior and attitudes.
How many of these issues are you facing with your kids?
– A lack of motivation?
– Kids who are easily frustrated?
– Kids who are frequently discouraged?
– Kids who are perfectionists or afraid to try new things?
– Poor attitudes in general?
– Focus, attention, and organizational struggles?
I've always said that character training should be considered a school subject. Then at least we could check it off our lists every time our teaching is interrupted by behavior issues!
It's important to note however, that sometimes these issues we are facing with our kids are not character issues.
They can also be a result of stress. Studies have shown the negative impact of stress and anxiety on learning.
All kids experience their struggles differently. Some will be more resilient than others, even within the same family.
We hear a lot about this kind of anxiety and worry from parents whose kids are coming out of the public school where they are chronically behind, struggling, and completely misunderstood.
The truth is that it is easy for us even as homeschoolers to create this same sort of negative atmosphere.
To learn more about the connection of dyslexia and anxiety, read this.
A persistent sense of failure can result it what is often called learned helplessness.
This can cause kids to:
Give up easily

Lack motivation
Have low self-esteem
Have depression and anxiety
Stop trying when work gets difficult
Seem passive about school work
Procrastinate
Or experience extreme anxiety and frustration
Overcoming Kids' Negative Attitudes Towards School
If your child is resistant to learning, try one of these strategies for reducing stress.
Options for reducing the load are:
use accommodations like narration instead of writing answers
use assistive technology to help complete assignments
hiring tutors for time-consuming or stress-producing subjects
breaking teaching times up into smaller chunks (highly effective for kids with focus or attentions issues)
consider using a timer (ie. do handwriting for 10 minutes instead of a complete page)
letting your child choose which subject to complete first
reduce the amount of writing, math problems, or other work required
offer rewards for completed work
Consider a Time of Deschooling
Another way to reduce the pressure in your homeschool is to consider a time of deschooling.
Deschooling is when you take a break from academics for a set time to give kids a chance to decompress and develop better attitudes about learning and relationships. I know what you're thinking. "Take a break from academics?! We're behind. I can't possibly take a break."
I get it and we're going to talk about the myth of being behind tomorrow.
For now, here's how and why to set up a time of deschooling:
Stop and Assess: Which subjects or activities does your child do eagerly or enjoy? Which subjects or activities do they resist? Which classes offer flexibility and which don't.
Switch Your Focus: The point of deschooling is to replace your current school routine with things like:
doing the things they like
reading out loud – especially stories of people who overcame obstacles
go places that they enjoy – zoos, museums, airports, construction sites – what ever is of genuine interest to them
TALK! communicate and enjoy each other's company
The goal of the break is to:
reduce anxiety and habits of resisting school
rebuild areas of your relationship that have broken down
to reassure them that you see them and care about them
spark new feelings of confidence in learning – without reading, writing, and spelling
Oftentimes, after a few weeks off, our school days are much more productive. We're more relaxed and at peace which makes learning easier. Don't dismiss the idea of doing a little school in the summer to 'catch up' and to keep kids from forgetting what they've learned.
Download this deschooling planner to help you plan a short academic break.
Tomorrow I'm going to be writing about the myth of being behind and suggest a more positive way to look at our kids' academic progress.
How will you work on reducing stress in your child's day? Share in the comments below!