Would you like to have a more confident homeschool?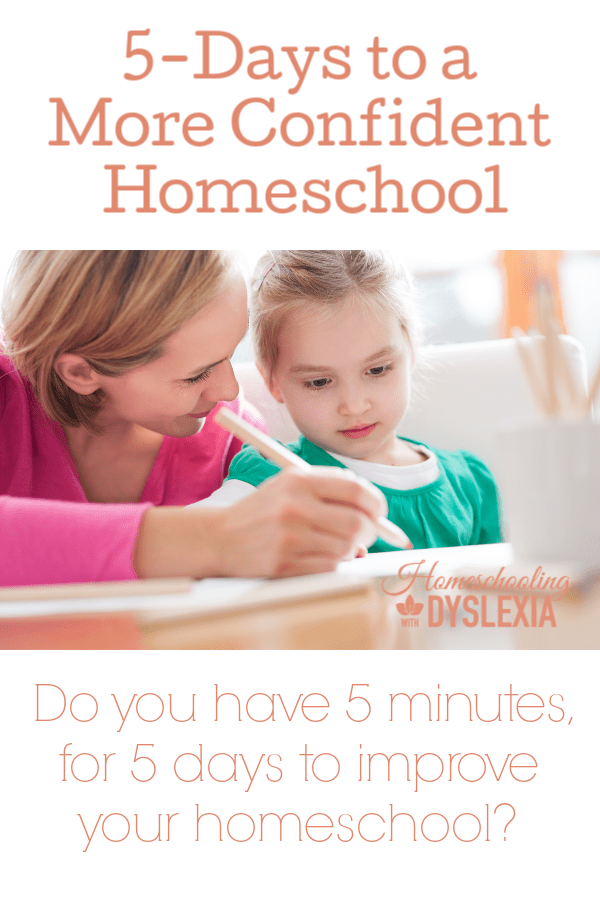 When we first started homeschooling 20+ years ago, I had big plans. Yup, my kids were going to be the super kids whose knowledge and educational excellence would set me apart from others.
Education had been very important to my family as I grew up and I wanted to show my slightly concerned family members that we had this homeschool thing!
It wasn't long before I was crying in my coffee and sweeping up my shattered vision for my kids' homeschool experience. In a nutshell, my kids were not learning like I did, like I thought they would, or (apparently) like any other kids in our homeschool circles. Two months into first grade and I was stumped. Confused. Overwhelmed. I was at a complete loss for how to teach this clearly very bright child so that the information wouldn't leak out of his ears in the night!
The Recipe for Homeschool Overwhelm
Teaching kids with dyslexia is tricky. On the one hand our kids are smart. They can understand anything and often excel at understanding concepts and ideas. On the other hand, when it comes to reading or writing about those very same concepts, it's like some wall goes up and they are unable to learn.
Homeschool parents are a savvy bunch. They do their research and take seriously the responsibility for teaching their kids.
So when our award-winning curriculum produces less than ideal results, we end up confused. Are we doing something wrong? Maybe I'm not cut out for homeschooling.
Learning struggles are frustrating for our kids too. This can result in a resistance to doing school which results in more confusion. Am I doing too much?
Then when our kids aren't making significant progress, we begin to question if we're doing enough!
Gaining Confidence in Your Homeschool
I struggled for years to figure out how to teach my kids with dyslexia and made a lot of mistakes.
I've learned a lot since those early days of homeschooling.  I'm going to share some of that with you in this series. I'll detail some knowledge, strategies, and mindsets that I learned that made the biggest difference in my homeschool.
We'll be talking about:
Kid's attitudes towards learning
The myth of being behind
Putting academics in their place
My simple formula for success
And so you feel better, four of our kids with dyslexia have graduated from our homeschool and are doing very well despite my teaching disability and their academic challenges!
Start Here
Before we begin this journey, it's important to assess where we're starting from.
What's going well?
What isn't?
What would you like to change in your homeschool?
If you'd like some guidance here, download the quick assessment form below and I'll see you here tomorrow where we'll get started by talking about our kids' attitudes towards learning.
Download the homeschool assessment form here.
Fill out the simple assessment and come back tomorrow where we'll talk about how to address kids' limiting beliefs about learning.
Leave a comment below and let me know in which areas you are lacking confidence. You are not alone!