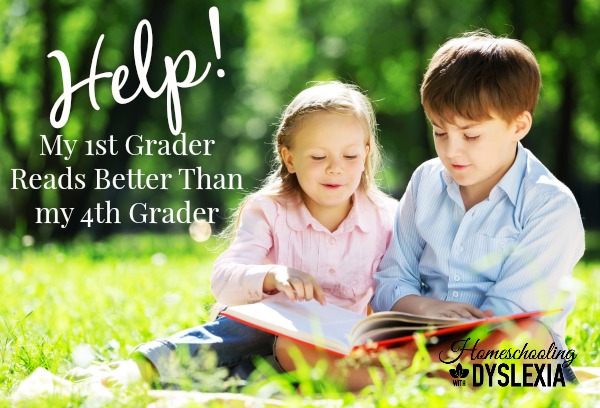 It's bound to happen in families with dyslexia.  If there is a younger child who is not dyslexic who is close in age to an older child with dyslexia, the younger child will likely surpass the older in reading ability.
This can be confusing and upsetting for the older dyslexic child.
Although this scenario is far better than your dyslexic child being in a classroom full of kids who read better than him, it still can cause some confusion for your older child.
As with all difficulties in life, we can stay in bed, covers pulled up over our ears and hide, or we can get up, have some courage and deal with it.  Trials are opportunities to grow.
Two Lessons Learned
The lesson in this situation is twofold.
The younger child has an ongoing opportunity to learn humility and patience.
The older child now begins to learn about his or her dyslexia and how to live with it.  Remember that dyslexia is not outgrown and will be your child's lifelong companion.
What we Did in Our Home
In our home, we have two daughters very close in age – just 18 months apart.  The younger one (my only traditional learner out of eight kids!) is a very good reader, learns most everything with very little effort and is super organized.   Enter her older sister – dyslexic with moderate ADD, who is a decent reader now, but takes twice as long to learn most subjects, has trouble staying focused and tends to invade her sister's space on a far too regular basis.
The one daughter is easy to teach, completes chores with little fuss and is for the most part self-motivated.  The other requires lots of review, constant reminders and coaching to keep going.
When the girls were younger, we made a point of praising each kid's effort rather than their achievement.  Praising effort puts the emphasis on trying, not on succeeding and encourages kids to keep trying despite outcomes.  For more information on the powerful effect of a parent's words on a child's mindset, read this post on Understanding Mindsets.  Fascinating stuff.
Also, we looked for the less academic daughter's gifts and talents and made sure that those things were as valued as being a quick and organized student.  Whether it is cooking a meal, raising animals for the fair or the child's cheery disposition, regularly acknowledge the good things they are doing.

Handling Academic Differences
If, for example, you are teaching your advanced first grader alongside your dyslexic fourth grader and the first grader is quick to pick up on the material and finishes her assignments quickly and accurately,  she can go and move the laundry out of the dryer and begin folding it while you finish up with the fourth grader who needs more practice and help completing the assignment.
Several things are going on here.  One, the younger student is not getting too much attention for her academic prowess – after all, it is what she is capable of and should be expected for the most part.  The older child doesn't have the feeling of 'being kept in at recess' as the younger child skips off merrily to play. You as the parent will be the best judge of how to handle these specific situations.  If the older child had a bad attitude or was wasting time, you could allow the younger child some blessing for being finished early.  In certain situations this can be very motivating for the dyslexic/ADD child.
Teaching Kids About Dyslexia
Our younger daughter is learning about patience and humility.  Who doesn't need more of that?  It is also an opportunity for her to learn about dyslexia. In our home, dyslexia is considered a learning difference – not a learning disability.  With eight kids, it is easy to see that we are all different, bringing a variety of strengths and weaknesses to the family dynamic.
At the same time, our older daughter must begin to become more acquainted with her dyslexia.  This means understanding what dyslexia is and isn't and how it affects her on a day-to-day basis.  This self awareness can then be cultivated into self-advocacy.  Self-advocacy is simply being able to tell others about your strengths and weaknesses in any particular situation in an understandable way.
A New Resource to Teach Your Kids About Dyslexia
I am happy to announce the release of my new book, What is Dyslexia:  A Parent's Guide to Teaching Kids About Dyslexia!
Kids are just as susceptible to believing the many erroneous myths about dyslexia as adults.  Too many dyslexic kids believe that there is something wrong with them, or that they really are just lazy or stupid.
Part of the mission here at Homeschooling With Dyslexia is to educate parents so that they can properly and effectively educated their kids.
Teaching kids about dyslexia is a big part of that.
Many kids with undiagnosed dyslexia suffer from poor self-image and doubts about their abilities .  On the other hand, children who are taught the truths about dyslexia begin to own their unique giftings and with a parents support, begin to grow in confidence.
What's Inside the Book
What is Dyslexia: A Parent's Guide to Teaching Kids About Dyslexia includes:
64 beautifully  illustrated pages
Parents Section: Ideas for using the book and tips for teaching and encouraging kids with dyslexia
Facts About Dyslexia:  You and your child may be surprised by how many of the myths you believe.
Things That Are Hard For People With Dyslexia:  Dyslexia can affect more than just reading and spelling.
What it Can Feel Like to be Dyslexic:  Acknowledging the different feelings our kids have is an important part of helping kids understand dyslexia.
Cool Things That People With Dyslexia Can Do:  The structural brain differences that cause a person with dyslexia to struggle with the written word also result in some little-known and unique strengths.
Available in Paperback or Digital Download.