Finding a simple, daily homeschool rhythm makes school days go smoothly.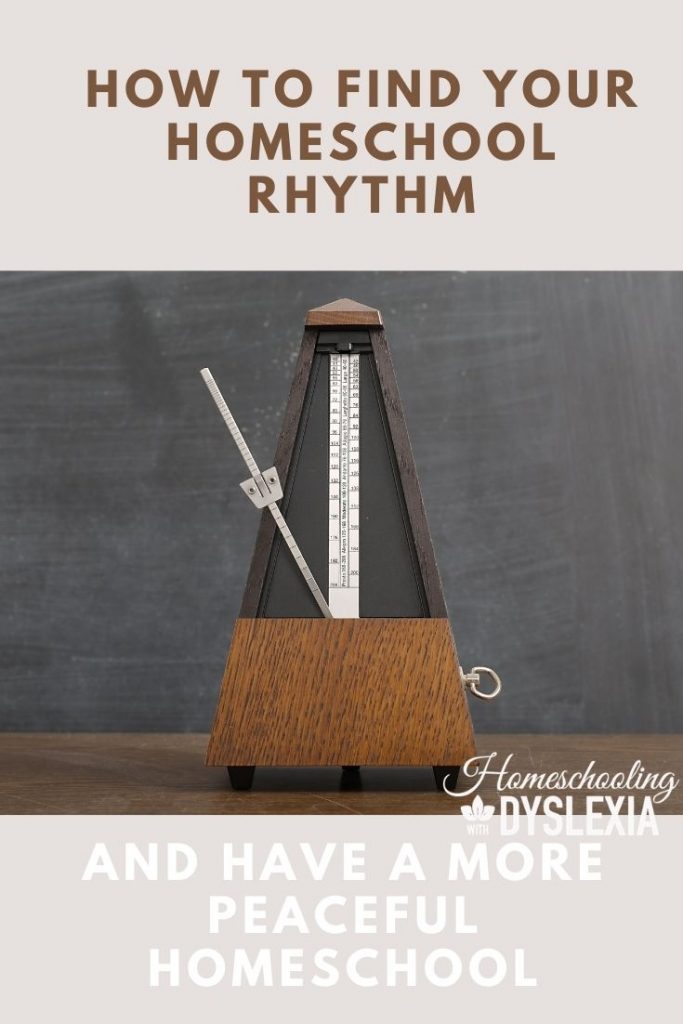 I stepped out of my bedroom on Monday morning with what seemed like a thousand things on my mind. Oh yeah, and don't forget to homeschool the kids!
And then we got started with our routine and school just happened. It was as effortless as homeschooling can be. How did this happen?
You see, we have been in the habit of doing school every day and so when 9:00 am rolled around, we all hopped on the habit train and got it done. It actually made an otherwise chaotic week feel normal.
This is sometimes referred to as getting in the groove of homeschooling or finding your homeschool rhythm.
Have you found your homeschool rhythm yet?
After 25 years of homeschooling, we've become more like life-schoolers. We're always learning, but between the months of September and June, these are the things that have helped us get into a homeschool rhythm.
Once school becomes a normal part of your daily routine, there is way less brainpower needed to get things going. You just show up and get started.
Here are some of the things that have helped us find our homeschool rhythm this year:
Have your materials ready. I'm no Pinterest queen and our school area is more functional than beautiful, but having your stuff reasonably organized makes a huge difference. I have a few drawers in our dining area where we do the majority of our school where our school materials live. I pull everything out at the beginning of our school day and put them back as we complete them.
Keep notes. I make notes of what we got done and what I want to get done in a cheap spiral binder that holds half of my brain. I make notes of library books I want to order, web sites to visit, and any other brilliant ideas I may have that I don't want to forget!
Start slow and add more gradually. We started our year with history (because my kids love it), math (because we haven't finished last year's curriculum), and tutoring (because, dyslexia). We've been adding in more subjects bit by bit. Both of my youngest (10 & 13) are reading so we're focusing on spelling (with All About Spelling) and haven't added reading instruction in at this point. I may not add explicit reading instruction at this point. Each time I add something, I give it a week or two to become routine and see if it's working. For example, my kids are so in love with history, I'm putting science on the back burner for now. At this pace, we'll finish our history curriculum early so we can then switch our focus to science.
Anchors. Anchors are things that happen every day at specific times. For example, after breakfast and morning routines, we start our day with exercise, have online tutoring at 10:00, watch World Watch News for current events while we eat lunch, and end the day with 30 minutes of quiet reading. I let the kids decide what order we do our subjects in between those anchors. Right now they are all loving our Story of the World: Medieval Times history study. Even my older kids will come to sit with us while I read. 🙂
One thing after lunch. Years ago I learned of the idea of doing one thing after lunch from a wise homeschool mom – Tricia from Hodgepodge. 🙂 Having this mindset helps me know that I have that block of time to get one last thing done.
Our routine looks like this:
9:00 am: Bible and exercise
10:00 am: Equipping Minds (online Working Memory and Cognitive training)
11:00 am: History, Grammar, Spelling, Handwriting, Elephant Learning
12:30 pm: Lunch and World Watch News
1:00 pm: Teaching Textbooks or whatever we want to do that day.
Sometimes our one thing after lunch will be a project, an online No Sweat Nature Study class, a Chalk Pastel class, an Outschool class, or more likely, just getting our math lessons finished.
2:00 pm: Quiet reading.
2:30 pm: Afternoon chores and free time
It's not about a strict schedule, it's about a routine. This is our basic routine. Sometimes life happens and we start our schoolwork after lunch and go a bit later into the day but it's always in the same order.
Having this routine/rhythm helps my kids know what to expect so I don't have to keep nagging them. They know what the drill is and come to school with mostly reasonable expectations.
They still complain at times but once we get started, it's like riding a bike, we just know what to do and work at it until we're done.
I hope this was helpful. Having simple daily habits and routines has been a game changer for us!