I loved going to school everyday as a kid. I loved the tidy rows of desks and the matching textbooks and workbooks. I loved completing assignments and checking of all the boxes. When I first began homeschooling, I set out to create this same environment for my own kids. It wasn't long before I  understood that if I wanted a peaceful, happy homeschool, I needed to make some pretty major mindset shifts if I was going to teach these struggling learners.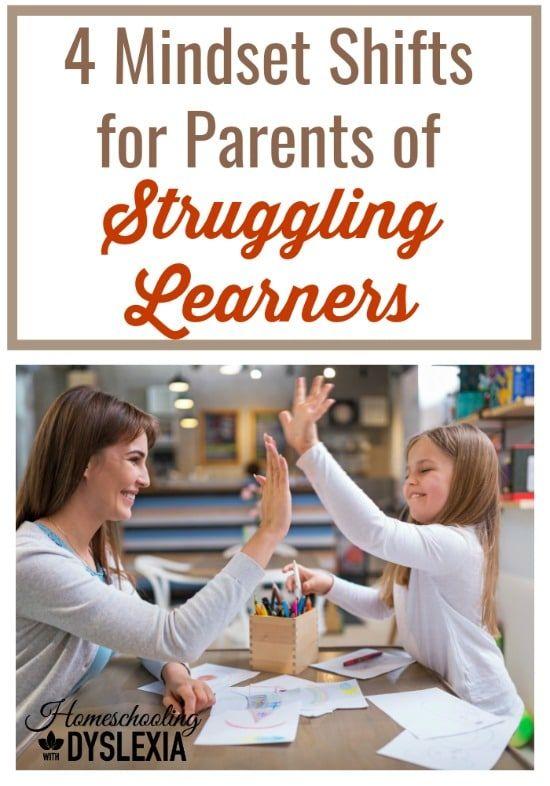 How a Growth Mindset Can Change the Tone of Your Homeschool
A growth mindset begins with understanding and believing that minds are always able to grow and change.
I can learn this if I keep working, asking for help, or learning new or different strategies. Having a growth mindset is believing in your potential or the potential of your kids.
I'm not going talk a lot about what a growth mindset is. If you're unfamiliar with the idea of mindsets and want to know more, read these posts:
Mindset Shifts for Parents of Struggling Learners
Over the course of my past 20+ years of homeschooling, I have made 4 mindset shifts that have helped me to teach my struggling learners with more confidence and joy.
Teaching struggling learners is a marathon not a sprint – the power of YET.
The first mindset shift for parents of struggling learners is to remember that this is a marathon, not a sprint.
80% of kids will learn to read, write, and spell pretty quickly without a whole lot of trouble.
The 20% of kids who are like yours and mine, learn on a different schedule. Concepts need to be introduced, played with, practiced, talked about, noticed in the world, taught again, and practiced more. It takes our kids longer to master topics relating to print but once they have it, they really have it.
How long will it take? Every child is different. And so the KEY to teaching our kids is to consistently teach them with the right methods at their level until they master all of those language based tasks.
And relax.
Too much focus on 'getting them to grade level' is going to burn everyone out and steal their love of learning and your love of teaching.
The Power of Yet
Try tagging that 3-letter word onto the end of your sentences.
My child isn't reading fluently – YET.  My child isn't spelling accurately – YET. And so on…
Apply the same growth mindset strategies that you are teaching your kids to your thinking.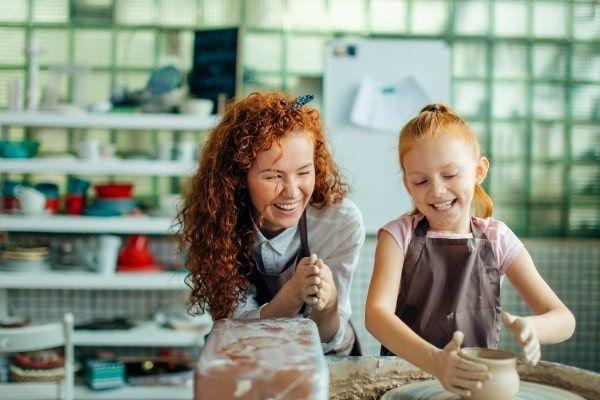 Learning differences require teaching differences.
The 2nd mindset shift for parents of struggling learners is to understand and embrace the fact that learning differences require teaching differences. The brain-wiring differences in kids with dyslexia and ADHD mean that they learn differently. Traditional school environments often fail our kids so why would we recreate that environment at home? Teaching outside-the-box thinkers requires outside-the-box thinking!
It's not as hard as it seems. As one of the most inside-the-box thinkers I know, I am able to figure out what works and what doesn't by understanding a bit about how kids with dyslexia learn and being a little creative.
I get emails from parents with dyslexia, doubting their ability to teach their dyslexic kids. Interestingly, dyslexic parents are often the best at knowing what will work and won't work because they've been there and remember how they learned.
Pursuing interests is more valuable than you think.
The 3rd mindset shift for parents of struggling learners is to accept that pursuing interests is a valuable part of every child's day. Completing a standardized education – following the standard material required by schools –  is okay. However, as the parent of 4 adult kids, let me remind you to keep your eye on the big picture as well.
It is important to learn to read and write and do math, but what are they going to do when they leave school?
This is where pursuing interests comes in.
When we had 8 kids running around the house, we were not all sitting around the school table all day learning. That would have been impossible with all those different ages and personalities and needs.
No, my kids played. A lot!
And as they played, they discovered things that they were interested in. As they pursued what they were interested in, they learned – a lot. I can see now, even though I was worried about how much time they spent playing and pursuing non-academic interests, that these interests had a big impact on their love of learning and on them finding and pursuing their careers.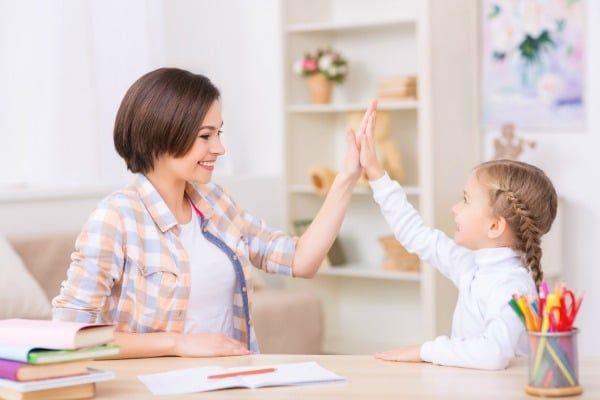 Cultivate an attitude of gratitude.
The 4th mindset shift for parents of struggling learners is to cultivate an attitude of gratitude. It 's easy to get caught up in the difficult things that are going on in our lives. As responsible parents, we want what is best for our kids. We want them to achieve all the good things in life and a lot of that starts with a good education.
When we see our kids struggling with what seems easy or basic (like when your 9-year old can't read the word 'the' after practicing for years) it's easy to get overwhelmed with negativity.
Stop for a minute though and look for the good. There is always something – many things – to be thankful for.
When education seems impossible, look how far they've come. There is always progress and that needs to be celebrated.
Remember why you are doing this and believe in your kids.
What mindset shifts have you made as you have homeschooled your kids with dyslexia?