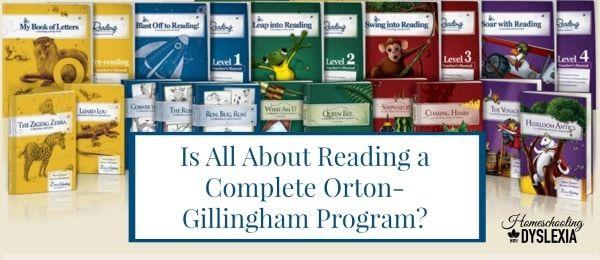 Last week I received another email from a concerned parent questioning whether All About Reading, the reading program that we use in our homeschool with our dyslexic kids, is a complete Orton-Gillingham (O-G) Program.  There seems to be some confusion in this area.  As a trained O-G reading tutor, I thought I would share what I learned in my training with what I see as I successfully use this program at home with my dyslexic kids.
What is the Orton-Gillingham Approach?
I'll give a brief overview of the O-G approach here.
Orton-Gillingham Instruction is:
Explicit:  The rules and patterns of decoding and encoding are explicitly taught.
Systematic & Structured:  Systematic instruction teaches new concepts in the exact same way every time.
Sequential & Cumulative:  There should be specific steps and a clear plan to teach all the rules one at a time, building from the simple to the more complex.  One step builds from the previous step.  This is why it is extremely important to follow the program exactly as it is presented in the curriculum.

Multisensory:  As many of the senses as possible should be used at the same time in order to help the information to be stored in long term memory.
Individualized: Although there are specific techniques and the program must be followed as it is presented, a student should move through the program at a pace that allows the student to develop fluency and automaticity for each step of the program. Students only move from one step to the next as they build fluency for each level of language skills.
Diagnostic & Prescriptive:  The tutor/teacher monitors skill development with each step. The instructional practices are built upon what was observed in the previous lesson and what is judged to be necessary to move the student forward in the next lesson.
For a more complete look at the Orton-Gillingham approach to teaching reading, including some pretty impressive research about the effectiveness of the O-G approach with dyslexic learners, read this post: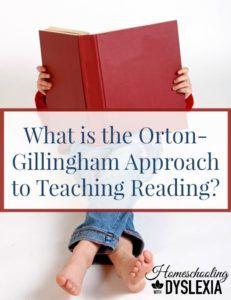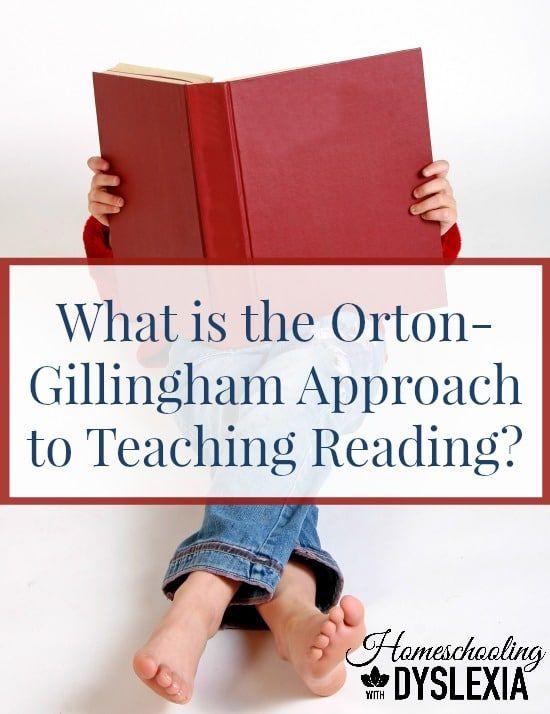 Is All About Reading a Complete Orton-Gillingham Reading Program?
According to the definition of the O-G approach above, All About Reading (AAR) certainly meets all of those standards.  Here are some areas where AAR is different from other O-G reading programs available for homeschool parents today:
Separating reading and spelling: An important difference in the All About Reading program is that reading and spelling are independent of each other so students can move as quickly or as slowly as they need to with each skill. Kids generally move ahead more quickly in reading, and  separating the two subjects avoids the potential of holding them back with spelling. They will still get all the reinforcement of learning the spelling rules, but they don't have to wait for mastery in spelling before moving on in reading. For more information, check out this article on Why We Teach Reading and Spelling Separately. This allows your student to work at spelling more slowly, at his pace, and to gain confidence as he sees successes.
No prior training needed: With AAR and AAS (All About Spelling), parents don't have to go through a seminar or watch training videos to learn how to teach the programs. Everything you need is right there in the book as you go through the lesson, so it's very open and go.
The materials are child-friendly and age-appropriate: The short stories are fully illustrated and age-appropriate. There are no adult themes or "dark" topics included, and the stories are uplifting and positive. The rules in AAR and AAS are worded so they are as easy for children to remember as possible.The activity sheets in AAR hold the learner's attention and provide additional motivation and reinforcement.
Customizable review: AAR and AAS both include customizable review as well. This way, parents and teachers can easily track what students have mastered and what needs ongoing review.
Mastery-Based: All About Reading is a mastery-based program that builds confidence because just one new concept is taught at a time. This benefits dyslexic students especially, who struggle with learning many things at once and then trying to organize and master that material in their minds. Read this report called,  Help Your Child's Memory that you may find very helpful
Includes reading comprehension activities: A unique feature of AAR is the strong focus on comprehension. This article details six ways their lessons actively develop reading comprehension.
Is All About Reading Intense Enough for Dyslexic Learners?
It is true that for reading instruction to be effective with dyslexic students, it needs to be intense.  It needs to push kids to remember and apply the rules they are being taught using all of the components of the O-G approach. It is important to remember that dyslexia can be mild, moderate or profound.  If your child is profoundly dyslexic, they are going to need more practice and review with any O-G program.
Read more about what to do if your child isn't making enough progress with reading.
Why we Use All About Reading With Our Dyslexic Kids
I sometimes joke that since we began homeschooling our kids with dyslexia some 20 years ago, we've used just about every reading program on the market.  You could say that we've test-driven them for you!
We have been using All About Reading and All About Spelling for the past four years.  As I become more familiar with the program and as our kids move up into the higher levels I am continually impressed by how well this program is thought out and how it is truly tailored for the unique needs of students with dyslexia.
From the variety of hands on games, to the beautifully illustrated and highly-engaging readers to the fluency sheets and warm up pages, I feel that I have a plethora of resources at my fingertips to teach my kids the way they learn best.
The open and go format of the program makes it easy to use which has been a lifesaver for this busy homeschool mom of many!
I have finally found peace as I teach reading in my homeschool using AAR.    Teaching kids with dyslexia to read isn't easy but having the right tools means that even when its 'one of those days' I still have confidence in what I'm doing.