It can seem overwhelming to add yet another goal to your dyslexic student's plate, however, teaching him or her the vital skill of self-advocacy will give them greater confidence, self-awareness, and success.  Having raised 3, going on 4 now adult kids with dyslexia – I have first hand experience on how empowering this skill can be.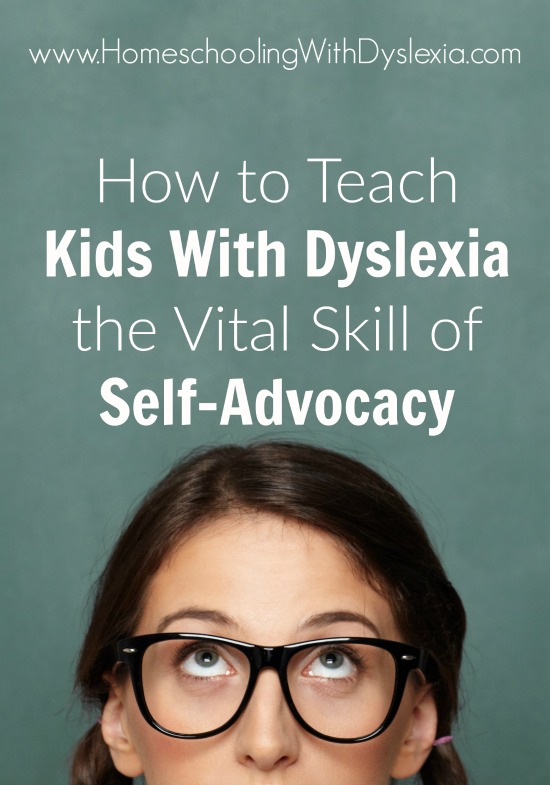 What is Self-Advocacy?
Self-advocacy is the skill of being able to:
understand your diagnosis
know your learning needs (both strengths and weaknesses)
know your legal rights
being able to confidently express these things to teachers, bosses and others that may benefit from knowing
This skill is especially important for students with dyslexia.  Dyslexia is often called a hidden disability because it is not detectable to the eye and its weaknesses are unexpected considering the level of intelligence people with dyslexia have.  In other words, teachers, coaches and tutors are not going to know that you need help unless you tell them!  Since dyslexic kids will become dyslexic adults, learning how to advocate for their unique needs is a critical skill.
Teaching Self-Advocacy
Teaching self-advocacy can be accomplished through meaningful conversations with your child.  Over time, discuss the following topics with your child, asking one or more of the following questions.
What is dyslexia?
How do you think your dyslexia affects you in all areas of  life?
How do you think you learn the best?
Are there any strategies that seem to help you?
Are you familiar with your goals and accommodations?
Do you know where to go for learning support?
Do you know your legal rights?
Take some time to discuss your child's understanding of these areas.  Teaching self-advocacy is ultimately about helping your child to become more self-aware, therefore it is counter productive to tell him or her what you think the answers to these questions are.  Ask questions and take the time to gently guide your child into understanding.  This is also a great time to point out areas where your child is doing well.
Knowing what dyslexia is.  Your child should be able to describe dyslexia in his or her own words. They should know that while many people have heard of dyslexia, many also believe many of the myths about dyslexia such as that it's just reversing letters. Be prepared to share your definition of dyslexia and then help your student to come up with their own definition in his or her own words.
Your child would likely benefit from reading through the list of Dyslexia Myths and Facts.
Try role playing what your child might say to explain dyslexia to a teacher or coach. When you are self advocating, you might say, 'I have dyslexia, a language-based learning disability, that affects 5-10% of the population. My brain is wired differently, which means that I have trouble with reading and spelling.'  If your child is confident enough, they can also add an area in which they excel here.   The idea is to have your child be able to describe their dyslexia quickly, confidently and accurately.
Take some time after going through this to talk with your child about which specific areas he or she is most affected by dyslexia.  No two people manifest dyslexia in exactly the same way.  Understanding their own unique learning profile is critical.
Knowing how I learn best.  Most parents begin to understand their kids' learning preferences by observing over time how their kids best complete their schoolwork.  Begin a discussion with your child about how they prefer to learn.  Encourage them to think about what has helped them in the recent past with their math, history, writing, and other assignments.  Do they need to write things down?  Do they need to watch someone else do it first?  Consider taking an online learning styles profile test together.
Use this list of common accommodations and strategies to see which ones your child feels are the most helpful for them:
Alternative ways of completing assignments (e.g., oral presentation versus written paper)
Assistive technology such as speech-to-text, text-to-speech, audio books or electronic graphic organizers
Note takers, lab or library assistants, readers, interpreters
Video-based curricula
Test modifications (someone to read the questions to you)
Study skills and strategies training
Time extensions
Audio lessons
Highlighted textbooks
Computer aided instruction
Rearranging class schedules
Modifications to the environment (music playing vs quiet, separate from group or with group, chair or balance ball)
Academic tutoring
Preview what you will learn about
Look at an example of what you will do
Break down long directions into smaller parts
Highlight the main idea and important vocabulary in your textbook
Use manipulatives to move around for problem solving
Select projects based on interests
Participate in a study group (especially if you are an auditory learner)
Opt to complete a project rather than take a test
Make sure that your child understands the role of accommodations.  Although some people will say that they provide an unfair advantage, they are actually meant to 'level the playing field,' and provide a way for students with learning difficulties to perform at their actual intellectual ability.
After discussing these accommodations and strategies, have your child summarize what he or she has learned about themselves.  You can start the discussion by talking about your own learning style and needs and then ask them to so the same.  For example,  "I'm a visual learner who learns best when I can write things down and read them later.  I do well with highlighting and having good notes."
Finding support.  For kids who are homeschooled, this will likely primarily be a parent.  If a parent isn't properly advocating, maybe there is a teacher or a friend's parent who will help.  In school and during the college years, students with dyslexia will need to know where the office of student services is and get to know which services are available at their school.  College is much different than high school in that the student will need to ask for accommodations, not the parent.
Day-to-day advocacy.  While the school setting is an essential area for your student to use self-advocacy, there are other areas where it is needed. Set aside some time to talk about your child's role in advocating at the doctor's office, at soccer practice or at work.
You might introduce the topic in the following manner: "You need to be able to explain to others what supports you need to be successful on the job, in college or training environments, and when you're living independently.
Legal rights.  There are a wide range of legalities surrounding the issue of dyslexia.  From education, to employment and everything in between, the best source for legal and advocacy rights for people with dyslexia is Wrightslaw.  College students may be able to gain valuable legal information at their college's Student Center.
Start Teaching Self-Advocacy Now
Teaching a child with dyslexia this important skill – self-advocacy – can be done gradually over time through discussion, role playing and your support.  The more you have these discussions, the more confident your child will be when the time comes to talk to others.
If you are the parent of a younger child, you can start the self-advocacy process by talking to your child about what it means to be dyslexic.  Read this post for more ideas for how to talk to your child about being dyslexic.
How have you taught your child with dyslexia to learn to advocate for themselves?  Please share in the comments section below.