The way I choose a homeschool Science curriculum is very similar to the way I choose a homeschool History curriculum.
Following the guidelines I shared in my previous post, Choosing Homeschool Curriculum: A Grade-by-Grade Guide, I focus on different priorities during each different grade range.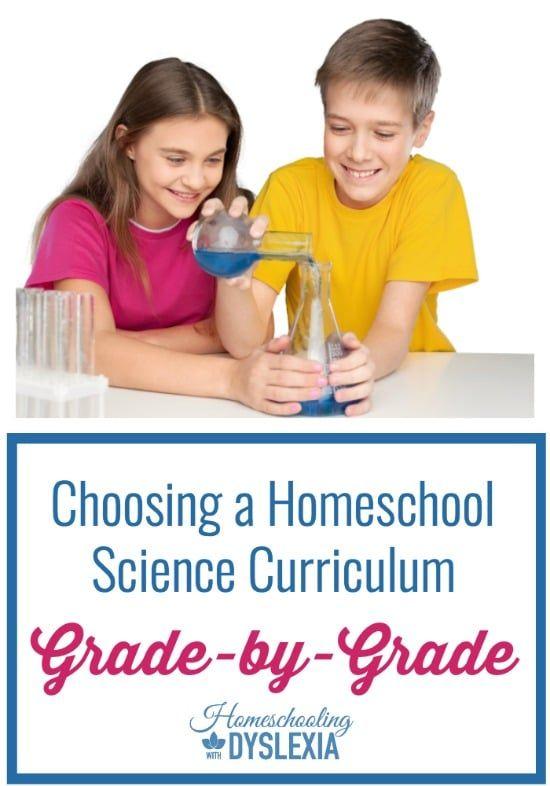 Choosing a Homeschool Science Curriculum in the Elementary Grades
I hear from a lot of homeschool moms who are maxed out trying to teach the basics and worry that they don't have time for subjects besides Reading, Spelling, and Math – like Science and History. Teaching kids who struggle to read and write takes a LOT of time.
Your priorities when choosing a homeschool science program for your kids in grades K through 5 is to look for ways to expose your kids to science, without the burden of trying to work through a complete Science curriculum.
While Science texts can be colorful and inviting, they often end up collecting dust on the shelf because there isn't time to schedule one more thing into your day.
Simple Ideas for Teaching Science in the Elementary Years
read living science books
get outside and study nature
get a book of simple science experiments to do at home
visit a science museum or zoo
watch a science documentary or educational show
read biographies of scientists
unit studies that combine other subjects with science
Two resources that we currently enjoy for Science are:
Mystery Science: (Secular) An online program for grades K-5. Begin with a short video that reveals the mystery. Do a hands on project that helps solve the mystery. This is literally open and go with hands-on projects that make learning meaningful. New homeschool members can get a year subscription and receive the first 2 lessons from each unit for free.
Science Shepherd: (Christian) This is also online. Short video based lessons with a hands-on project with each unit. Student workbooks are simple and don't require a ton of writing.
Choosing a Homeschool Science Curriculum for Middle School
In middle school, as my kids with dyslexia get more fluent with reading and writing, I like to add a bit more to their plates. My not so long term goal is to prepare them for high school level Science without taking a ton of my already limited time.
Choosing a Science curriculum for middle school involves finding a program that is a bit more demanding, yet does not overwhelm. Remember, there is no perfect curriculum. Most programs will need to modified at least some to accommodate schedules, abilities, and learning styles.
It's also a good idea to offer your middle school students opportunities to get used to using accommodations like:
audio books
curricula with audio and video components
text-to-speech apps
speech-to-text apps
spell checking apps
allowing narration of papers (in the absence of speech-to-text apps)
Read this list of assistive technology that works well with dyslexic learners.
Middle School Science Curriculum Suggestions
Science Fusion Homeschool: Includes interactive features, embedded video, clickable write-in responses, and more. A full online science curriculum, including digital lessons, virtual labs, Video-based Projects, animations, simulations, and access to science eTextbooks. For grades K-8.
Switched on Schoolhouse: Online program with a decent speech-to-text function that allows students to highlight test and have it read aloud to them.
TOP Science: Tons of hands on science activities for all ages.
Real Science 4 Kids: Offers grade-level kits as well as unit study materials for a wide range of subjects geared for the middle school crowd.
For more information on homeschooling your middle schooler, including setting goals and priorities for this age and curriculum suggestions, read this post.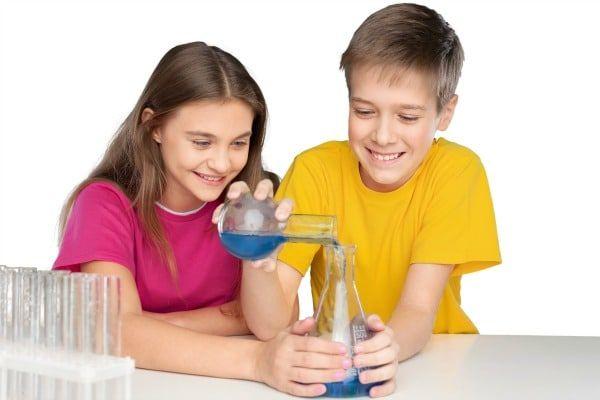 Choosing a Homeschool Science Curriculum for High School
Hopefully, we have had at least one year of using a full Science curriculum during the middle school years. High school aged students with dyslexia should have some solid experience with using assistive technology and be somewhat independent.
High school requirements vary by state. Contact your state homeschool organization or Homeschool Legal Defense for more information for the laws in your state.
Generally, high school Science requirements include at the minimum, 1-year of Physical Science and 1-year of Biology. Kids planning to go straight to a 4-year University may need additional Science such as Chemistry and Physics.
High School Science Curriculum Suggestions
Apologia: This college prep level science curriculum is taught from a Christian worldview and includes an mp3 recording of the text for free to students with documented learning disabilities like dyslexia. Includes labs.
Time 4 Learning: A high school membership to T4L includes up to 4 courses for $30/month. Our high school aged kids liked this program because it was a nice mix of video instruction without a ton of independent reading required. Includes a nice set up of record keeping for parents. No labs.
Houghton-Mifflen Harcourt: Our family has never used this resource but other families homeschooling kids with dyslexia have recommended it. Online secular science courses by the publishers of Saxon programs.
Please share! Which homeschool Science curriculum have you enjoyed! Add it to the comments below.
Other posts in this series:
Choosing Homeschool Curriculum: A Grade-by-Grade Guide
Choosing a Homeschool Math Curriculum
Choosing a Homeschool History Curriculum
Choosing a Homeschool Science Curriculum