I remember the days when my oldest child was still not reading fluently or independently at 11-years old. I had a houseful of little guys – 9, 5, 4 soon followed by 4 more beautiful children. It was super stressful because I didn't understand what this homeschooling kids with dyslexia business looked like at all. This post is an introduction to what is important to focus on at each grade and how to choose the best homeschool curriculum.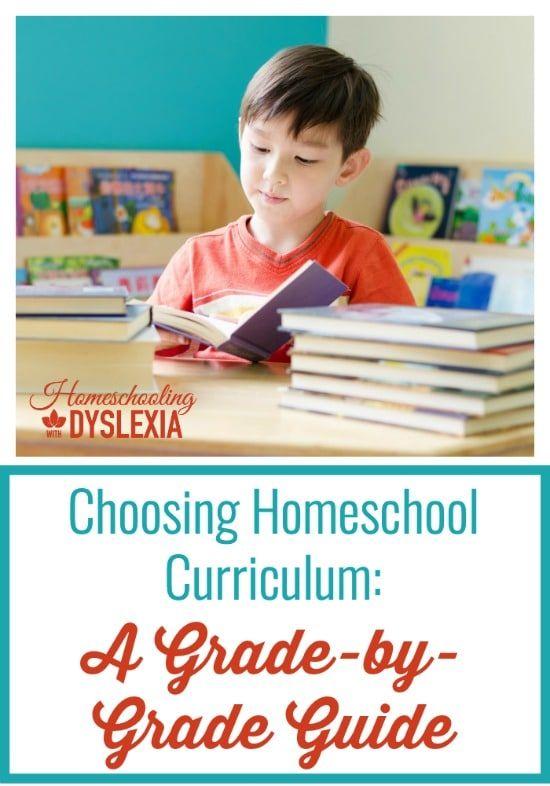 When I talk with parents who are having trouble getting it all done, I know exactly what they're talking about. It is a struggle for ALL homeschool parents but especially parents of kids who are not YET able to learn independently because of a delay in reading.
This post will guide you to have a better idea of what areas to prioritize at each grade level so that you can allocate your limited time in the most efficient way possible. We'll talk more about choosing specific curriculum later in this series.
IMPORTANT: Now no one can tell you exactly what to prioritize in your unique homeschool. There are too many variables to consider – ages, personalities, specific learning needs, mom's teaching style and energy level, time, finances, etc. Use this guide to help you craft a unique plan for your family.
Two Kinds Of Teaching: Remediation and Accommodations
You'll need to understand these two terms before we get started because you will be focusing on them to different degrees during different stages of homeschooling.
Remediation is building a strong foundation of learning – remedying the areas of need. So for reading this would be working on an OG-based reading program 4-5 week, reviewing sight words and phonograms and things like that. Kids with dyslexia take a longer time to build a strong foundation so you will likely be doing this type of teaching with your dyslexic kids for longer than with your traditional learners.
Accommodations are tools and modifications to curriculum that help a student learn at their intellectual ability despite remaining weaknesses in their foundation. An example of this would be allowing a child to listen to their science text book or literature assignment instead of reading it because, while they are completely capable of understanding the content of the assignment, their difficulty in decoding (reading) it would take much longer and comprehension would be compromised.
Choosing Curriculum for Kids in Kindergarten – 5th Grade
During the Kindergarten though 5th grade years, your primary focus will be on remediation. You are building the foundation of your childs learning. This includes things like structured reading, spelling, and writing instruction, and grade level math instruction.
Priorities during this age range should be on building a foundation of reading and math skills.
Kids with dyslexia – even with early intervention – can have a slower growth rate than their peers. This is normal and to be expected.
Many families come to me overwhelmed with the time it takes to teach their young dyslexic learners. How do we fit it all in? The simple answer is that at this age – we don't!
The learning of history, science and the arts can be approached with the primary goal of gaining exposure vs mastery.
While there are many wonderful history and science curricula available, they are, as Charlotte Mason famously said, your tools – not your master. So yes, if you want to study Anatomy with your elementary aged kids, do it!
But you do not need to follow every chapter of an anatomy text book, or administer tests, quizzes and other assessments. Your focus can be on exposing your elementary aged kids to new concepts, talking about them, perhaps drawing them, or making some kind of presentation on them if time permits. Look for supplements to enhance their learning that isn't teacher intensive such as relevant field trips, documentaries, or short unit studies that can be done with all of your kids.
Introducing Accommodations With Basic Assistive Technology
Simple forms of assistive technology can be introduced during these years when needed. This includes things like audio books, multiplication cheat sheets, and simple speech to text apps that convert the spoken word into the written word.
See this post on the best forms of assistive technology for kids with dyslexia.
Something to remember during these early years when our kids are mastering the basics so much more slowly is to really try not to compare your homeschool to others. When we compare ourselves to what traditional learners in public, private, or homeschool are doing it can be easy to get anxious and think that that can't possibly be enough.
Remember, your kids are keeping their confidence in tact and pursuing meaningful, relevant learning. Simple, meaningful, even play-based, learning is very good. Don't compare yourself!
In the years K – 5 the primary focus is on:
building the foundation of reading – phonics,
building the foundation of math – relationships of numbers, hands on, learning facts with strategies or song and lots of repetition
lots of time for creative unstructured play – outside is a plus
Curriculum Choices for Elementary School
Read this post to learn what to expect, how to set goals, and the best curriculum choices for homeschooling kids with dyslexia in Preschool.
Homeschool Curriculum for Preschool
Read this post to learn what to expect, how to set goals, and the best curriculum choices for homeschooling kids with dyslexia in Kindergarten.
Homeschool Curriculum for Kindergarten
Read this post to learn what to expect, how to set goals, and the best curriculum choices for homeschooling kids with dyslexia in grades 1 – 3.
Homeschool Curriculum Grades 1-3
Read this post to learn what to expect, how to set goals, and the best curriculum choices for homeschooling kids with dyslexia in grades 4-5.
Homeschool Curriculum Recommendations Grades 4-5
Choosing Curriculum for kids in Grades 6 – 8
These are the years when kids are beginning to gain mastery in reading and math. UNLIKE their peers that learn traditionally who learned this much earlier.
Although they may not be reading independently at grade level in the early years – most kids with dyslexia will get there during this stage.
You may be surprised at how quickly they are able to 'catch up' with their peers during the middle school years. They have the vocabulary from years of listening to audio books or being reading to, they have a basic knowledge of science and history, and now they are equipped to put it all together.
Academic changes in middle school
The middles school years are marked by an increased academic load. Organized writing becomes important. Higher levels of math computation. They are also continuing to develop a sense of world history and general science concepts.
Remediation in Middle School
This will vary depending on your unique child. Some kids still aren't reading with great accuracy. Some are reading with accuracy but lack fluency. Many will be able to read but still not enjoy it.
If reading accuracy and fluency is not strong, your will need to keep remediating. I often recommend hiring an experienced, licensed dyslexia tutor or educational therapist for kids this age who are still not reading fluently.
Read more about the older struggling reader here.
Increasing Accommodations With Assistive Technology
During these years you will likely need to add assistive technology in order for your child to keep up with their studies. One example is the use of text-to-speech. As the level of writing increases in middle school, the writing style of kids who struggle to spell will be vastly different than those that don't. What do you do when you can't spell a word? Choose a different word!
By allowing kids access to speech-to-text apps and programs, you give them the ability to compose at their creative and intellectual ability without the help of mom as spell checker and scribe!
Kids should begin to use and become fluent with assistive technology during the middle school years.
Other forms of AT that are helpful:
math mod – for dysgraphia
live scribe pens for note taking
Pursuing interests – I cannot emphasize enough how important it is, especially at this age, to help your kids find something they are good at. Kids who may not be excelling in academic pursuits should have something that they are gaining mastery in at this age. It could be raising animals, any form of music or the arts, sports, science, scouting, speech and debate, etc.
Primary Focus in grades 6-8:
continued remediation in reading and math, if necessary
building writing skills – involves how to organize ideas – use their natural bent for argumentation for choosing topics – choose topics of interest to them to motivate
more focused study of history and science – consider creating a timeline of history and using Quizlet to study science vocabulary
developing areas of strength
Homeschool Curriculum Choices for Middle School
Read this post to learn what to expect, how to set goals, and the best curriculum choices for homeschooling kids with dyslexia in middle school. Please note that the post is titled for 7th graders, but the information is relevant to all middle school-aged children.
Homeschool Curriculum Choices Middle School
Choosing Curriculum in Grades 9 -12
These are the years when a lot of parents of kids with dyslexia begin to really stress out. It feels like the clock is ticking. Even if we have successfully created a unique learning environment for our kids as elementary and middle schoolers, we feel compelled to jump back into the box with our kids in high school.
This is a natural thing and the decision is a very personal one – unique to each family.
Some of our kids will naturally take to whatever studies we put before them. Others, however, will buck the traditional academics of the high school years .
High School Homeschool Requirements
Each state has their own high school graduation requirements. You can visit the Homeschool Legal Defense Association (HSLDA.org) to learn more about your state's specific requirements.
Deciding on a high school plan will depend on your child's plans for after high school. Will they go straight to a 4-year university? Community college? Trade school?
Read this series on Homeschooling in High School to understand your options and how best to prepare your high school aged child for life after high school.
Accommodations and Remediation in High School
The balance between accommodations and remediation switches in high school to more accommodation than remediation. Older students should be focusing more and more on becoming independent learners. What that looks like will be unique for each family. Some of our more profoundly dyslexic kids were still seeing tutors in high school, but most of them were learning to master assistive technology to help them with spelling, grammar, and reading school materials.
Curriculum choices included courses with audio components or online classes that had video lecture-based instruction.
Interests + Ability = Calling
It is very important to have conversations with your teens about where their interests and abilities intersect. What are they interested in? What do they talk about all the time? What do they spend their money on? What do they skip math to do instead?
What are their strengths? What skills come naturally to them? Are they naturally inquisitive? mechanical? artistic? good with animals? athletic?
Where these interests and abilities intersect will likely point you and them to what their calling or future work may be.
Educational focus during grades 9 -12:
becoming fluent in assistive technology
becoming increasingly independent learners
setting up systems for organization – planners, calendars, etc
setting a course of study – junior college, university, or trade school
providing opportunity to expand interests with meaningful work experience
hire tutors for subjects that they need to improve
Homeschool Curriculum Choices for High School
Read this post to learn what to expect, how to set goals, and the best curriculum choices for homeschooling kids with dyslexia in high school.
Homeschool Curriculum Choices for High School
Expectations in Your Homeschool
I hope this guide to what to expect and what to prioritize each year as you homeschool your kids with dyslexia has been helpful
Other posts in this series:
Choosing Homeschool Curriculum: A Grade-by-Grade Guide
Choosing a Homeschool Math Curriculum
Choosing a Homeschool History Curriculum
Choosing a Homeschool Science Curriculum