Teaching writing to my kids with dyslexia has always been a struggle in the elementary years. Their difficulties with reading and writing have a huge impact on their ability to write sentences, paragraphs, and stories.
My goal for teaching writing to my dyslexic elementary aged kids is to teach them writing skills in an engaging way so they really learn while accommodating their weaknesses with handwriting, reading, and spelling.
WriteShop Junior has helped me to do that!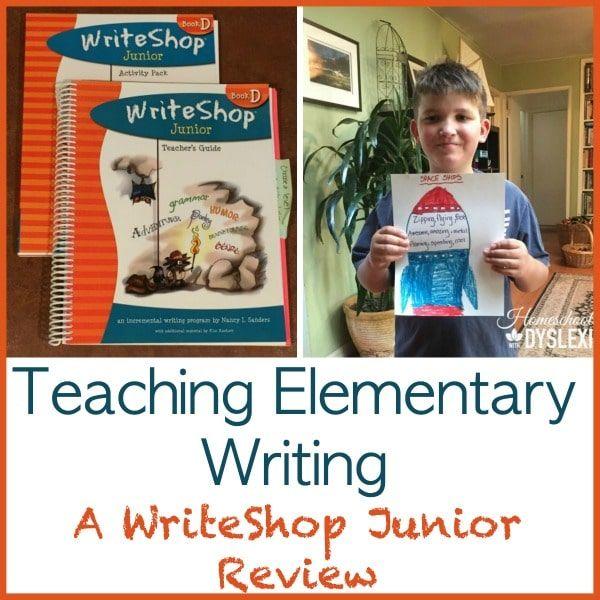 This is a sponsored post on behalf of WriteShop.  All opinions are my own.  I was not required to write a positive review and as you know, I never recommend any product or service that my own dyslexic kids have not used and loved. This post also includes affiliate links. I earn a small commission on any product you buy through those links.  Thank you for supporting our work here at Homeschooling With Dyslexia!
My main goal here at Homeschooling With Dyslexia site is to teach parents how their outside-the-box kids learn so that they can teach them in ways that are more interesting and effective.  I have already written about how WriteShop Junior fits the learning style of many dyslexic kids because it teaches writing explicitly, systematically, sequentially with multi-sensory methods that are easily individualized. Today I'll share the details of this fun and effective homeschool writing program.
Overview of WriteShop Junior
Who:  WriteShop Junior is for kids in grades 3-6.  The WriteShop website has a guide for knowing on which level to start. I chose Book D for my 9-year old dyslexic, reluctant writer and it was an excellent fit even though we did much of the work orally.
What:  The core of the WriteShop Junior program is the Teacher's Guide. It is an impressive resource for teaching how to teach writing to every kind of learner, whether writing comes easily or not.
The Teacher's Guide contains:
ideas for how to schedule your teaching
ideas for organizing your materials
lists of all the supplies you'll need
a nice list of additional (optional) books to read with each lesson
lots of tips on how to scale the lessons for reluctant writers, and
a detailed description of how to teach each lesson with the reasons why each step is important
As I said, it is an excellent resource that will help you feel more confident as you teach your kids how to become more independent writers.
I also highly recommend purchasing the accompanying WriteShop Junior Activity Pack with preprinted worksheets needed for each lesson and the colorful Fold-N-Go Grammar Pack.  We also purchased one of the suggested (optional) grammar supplements Grammar Manipulatives Kids Love! for some extra hands on grammar practice.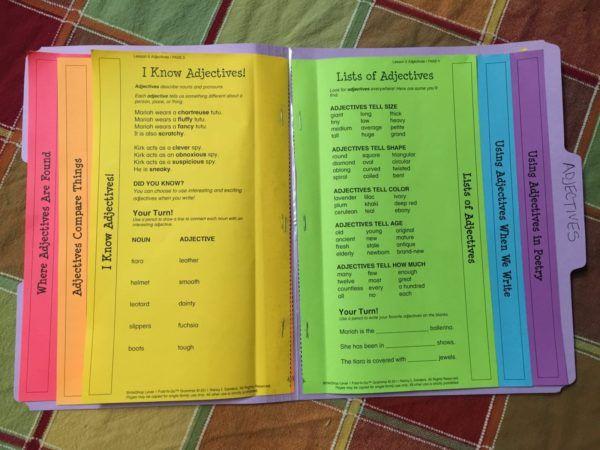 How: Each lesson includes the same series of eight activities.
Pre-writing which introduces the new writing concept
Model and Teach which demonstrates writing techniques
Skill Builders introduce and practice new writing skills
Journal Writing for practicing writing skills independently
Brainstorming for generating lists of ideas and getting them organized
The Writing Project where the student creates a story, poem, article, or short report using their newly learned skills
Editing and Revising for learning how to proofread and self-edit
Publishing the Project in a fun or creative way
What I Liked About WriteShop Junior
I felt equipped. I've never felt confident to teach writing to my kids.  Ironic isn't it since I am a writer? I know that many other parents feel this way as well. The many tools and tips in the Teacher's Guide gave me tons of ideas for how to implement and individualize each lesson.
Uses the same eight steps for each lesson.  This systematic approach to teaching not only makes it easier for mom to organize and teach, it also was nice for my son who began to anticipate the steps for each lesson.
Teaches different genres.  Each lesson teaches different grammar and writing concepts using different genres. Because of this, we covered a lot of material and my son, prone to boredom (ADD anyone?) enjoyed the variety.
Genres and concepts taught in each lesson:
Letter of Invitation with a focus on punctuation
Humor with a focus on narrowing a topic
Adventure with a focus on adding details to a story setting
Science Fiction with a focus on adding details to the middle of a story
Mystery with a focus on choosing strong verbs
Haiku with a focus on choosing strong adjectives
Folktales with a focus on developing voice through emotions
Historical Fiction with a focus on developing a strong voice
Personal Narrative with a focus on using emotion and sensory detail
Expository Writing with a focus on learning to use references
Games and multi-sensory activities. All brains are wired to learn through multiple senses, but for kids with learning challenges, this is all the more important.  For example, in Lesson 6, how to choose strong adjectives, the Pre-Writing activity recommends going on a nature walk, collecting items, and taking turns describing each object to teach what an adjective is.   My son, who could never remember his parts of speech totally understands adjectives now!
Smaller Steps and Flying Higher. Each lesson contains a 'Smaller Steps' box with suggestions for adapting lessons to kids individual needs and a 'Flying Higher' box with activities for making the writing project more challenging.  Both sets of tips helped me tailor the lessons to my son's unique interests and needs.
Brainstorming. Brainstorming has been a lifesaver with my dyslexic kids to help them organize their thoughts.  My 9-year old was eager to brainstorm and was able to complete what I thought would be a complicated assignment (Haiku) with little effort by referring to his brainstorming sheet. I did scribe for him since he is full of great ideas but very dysgraphic.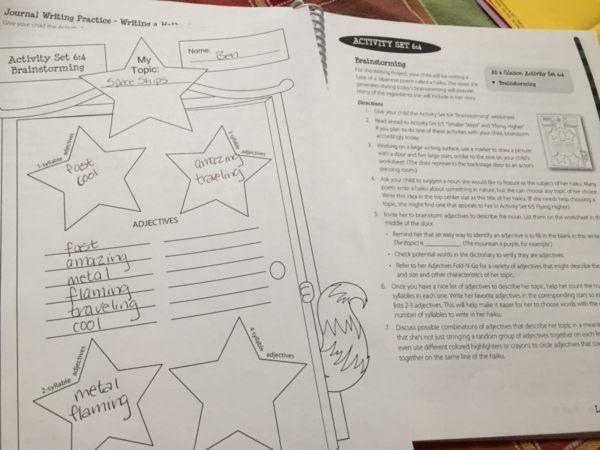 How we Modified WriteShop for Kids With Dyslexia
For my profoundly dyslexic son who also struggles with writing and spelling, we did most of the lessons orally with me scribing.  This is all that was necessary for him to complete the lessons with enjoyment and ease.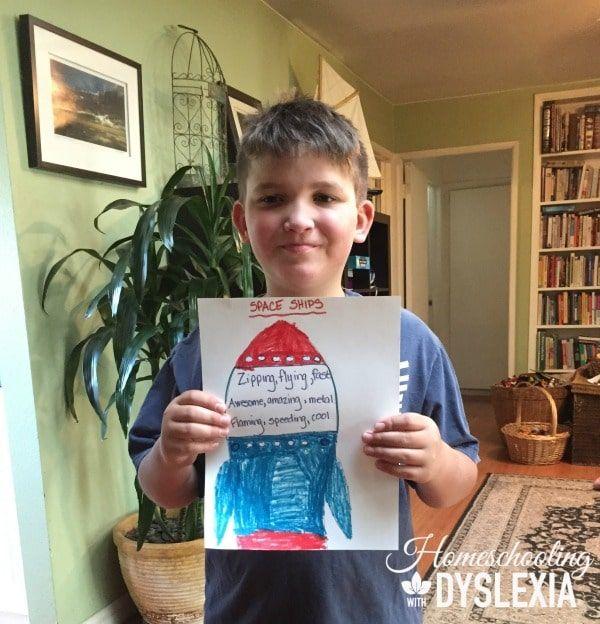 More Posts About WriteShop Junior
Teaching Writing to the Reluctant Writer  More details on the 8 activites in every WriteSHop Junior lessons and why they are beneficial for a teaching a reluctant writer.
How I'm Teaching my Child With Dyslexia and Dysgraphia to Write: Why the WriteShop Junior program matches the learning style of many kids with dyslexia and dysgraphia.
More About WriteShop
Visit the WriteShop website and follow them for teaching tricks and tips on: