There are an abundance of theories about how to teach writing.  There is also a ton of research about effective methods of teaching writing. But somehow, when the rubber hits the road, teaching a child with dyslexia and dysgraphia to write can get a bit, pardon the pun, messy.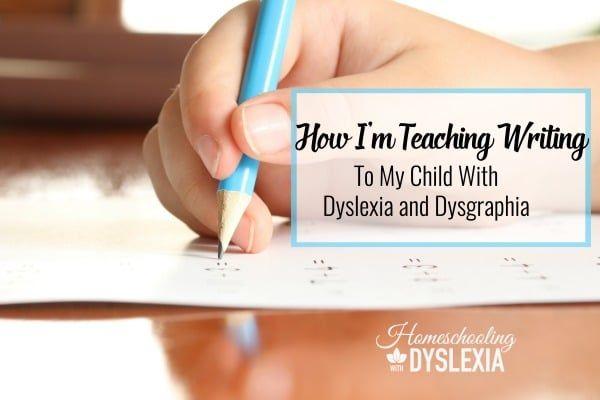 This is a sponsored conversation on behalf of WriteShop. All opinions are my own.
How dyslexia and dysgraphia affect writing ability
Kids with dyslexia often become fluent readers at a much older age than traditional learners.  This can also have a profound effect on their ability to write. What do you do when you're not sure how to spell a particular word?  Choose a different word!
About 40% of kids with dyslexia will also have dysgraphia, which can cause difficulties with organization, planning, as well as the physical act of writing.
Remember though that dyslexia and dysgraphia are in no way related to intelligence.  Quite the contrary.  Most kids (and adults) with dyslexia and dysgraphia have average to above-average intelligence.
A perfect example of this is when I recently asked my 9-year old son with dyslexia and dysgraphia to tell me what he knew of world history.  His narration was beautifully told with elaborate sentence structures and plenty of strong verbs and quality adjectives.  Had he been required to write that narrative, the outcome would have been vastly different.
Elements of a research-based, effective writing program
Research on how to teach kids with dyslexia and dysgraphia to write says that the instruction should include the following elements.
Instruction should be:
explicit – explaining each concept clearly
systematic – following the same teaching procedure for each new concept taught
sequential – starts out simply and builds on concepts previously taught
multi-sensory – teaches using as many of the senses at once as possible
individualized – can be adapted to the specific needs of the student
This makes a lot of sense since these are the same methods of teaching that have been proven to work exceptionally well to teach reading to kids with dyslexia.
Our writing story
If you've been around this site for long, you know that our homeschooling family of dyslexics has been thriving in the Classical Conversations homeschool program for three years now. Our two daughters went through the upper elementary Essentials program with little struggle.  This is a fairly rigorous writing and grammar program that has equipped them both very well for middle school writing.
Because of his profound dyslexia and dysgraphia, our 4th-grade son just isn't ready for the challenge of Essentials yet. His limited reading, spelling, and consequently writing ability makes it a poor fit  – at least for this year.
Teaching Writing With WriteShop Junior Book D
I used WriteShop Junior with great success before our two daughters entered the Classical Conversations writing class.  I remembered the fun, research-based instruction from when we used the program a few years ago, so we're pulling it out again and so far, our little guy is loving it.
Elements of an Effective Writing Program
I'll post my full review of WriteShop Junior next month after my son has more time to use it.  For now, here is how WriteShop Junior fits the needs of my son with dyslexia and dysgraphia:
WriteShop teaches explicitly. Each WriteShop Junior lesson begins with a 'Model and Teach' pre-activity.  All new ideas and writing tools are introduced by the parent/teacher.  Parents will write, modeling the correct way to write, while the student observes.
WriteShop teaches systematically.  Each lesson is divided into 8 Activity Sets with several exercises. These activity sets are the same with every lesson and provide a comfortable and predictable routine for teaching for both teacher and student.
WriteShop teaches sequentially. Beginning with writing a simple invitation to friends, WriteShop Junior teaches new concepts and writing tools gradually, building on concepts previously learned.
WriteShop uses hands-on, or multi-sensory, teaching methods. All pre-writing activities are hands-on games that help kids explore new concepts such as voice, genre, and descriptive vocabulary without writing.
WriteShop can easily be individualized.  The WriteShop Teacher's Manual encourages parents to help their children learn to enjoy the writing process and to allow a child to dictate whatever he or she cannot write on their own.  Each WriteShop lesson also includes suggestions for adapting the lessons for both a struggling writer and an advanced student.
The folks over at WriteShop didn't create their program specifically for teaching writing to kids with dyslexia and dysgraphia. They did create it to be a fun, interactive program that builds a solid foundation in writing skills for all kids.
Visit the WriteShop website and follow them for teaching tricks and tips on:
With the right teaching methods and appropriate accommodations, kids with dyslexia and dysgraphia can not only enjoy the writing process but can also learn to excel in their own writing.