I'm often asked by parents what to do when they can't afford dyslexia tutoring. Here are some ways to find a free or inexpensive dyslexia tutor.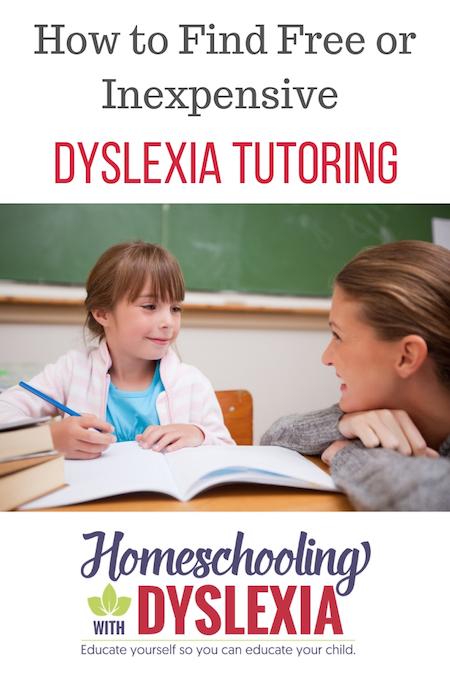 While parents certainly can teach their dyslexic kids at home using a quality research-based reading curriculum, there are times when hiring a tutor can be a better solution:
 An older child who is not making sufficient progress.  Having the help of an experienced Orton-Gillingham trained tutor can help your child get the exact kind of help he or she needs.
There is a lot of tension between the parent tutor and child.   It can be hard to be the parent and the tutor at times!
Read more about how and when to hire a dyslexia tutor here.
So what is a parent to do if they cannot afford to pay $50-75/hour for a professional tutor?
Sources for Free or Inexpensive Dyslexia Tutoring
The Children's Dyslexia Centers were created by the Masons and Massachusetts General Hospital to serve dyslexic children who couldn't afford the help they needed to succeed in school. The Children's Dyslexia Centers currently have 50 Centers in 13 states.  Centers provide tutoring by instructors trained in the Orton-Gillingham approach at no charge to children from early elementary through high school who have been diagnosed as dyslexic.
Reach out to local colleges. This is a common source of low-cost tutoring. College students studying to be teachers may charge less than certified teachers do. One way to find these students is by posting help-wanted ads in college newspapers or online.  Local colleges are also a good place to find free or inexpensive dyslexia testing.
Look for group tutoring sessions. This is another way to keep costs down. Search online for local group tutoring sessions. Parents in our Homeschooling With Dyslexia Facebook Page might know of some in your area.  The groups are usually small, consisting of three to five students.
Decoding Dyslexia is a network of parent-led, grassroots movements across the country whose purpose is to raise dyslexia awareness, empower families to support their children and inform policy-makers on best practices to identify, remediate and support students with dyslexia.  Visit your state's Decoding Dyslexia site for information on local services that may be available to you.
International Dyslexia Association (IDA) – visit the IDA website to find a chapter near you and ask for any referrals they may have to free or affordable dyslexia tutoring.
Learning Disabilities Association (LDA) of America for referrals for local providers.
LD OnLine's Yellow Pages service and LD Resources section have a great deal of helpful information. Search by state for organizations, or find a parent advocacy group near you.
Wrightslaw Special Education Law and Advocacy has a useful nationwide search tool. Use it to locate tutors and other professionals in your area.
Eye to Eye is a national LD/ADHD movement that pairs students with LD with caring, knowledgeable mentors with similar experiences.
Your local homeschool support group.  Although I never found free dyslexia tutoring near me, by talking with other parents in my local homeschool support group, I was able to find reputable and reasonably priced tutoring near me as well as some much needed emotional support for my journey!
Don't have a local homeschool group?  Visit Homeschool Legal Defense web site for a listing of organizations by state.
How about you?  How have you been able to afford dyslexia tutoring for your family?