Teaching kids with dyslexia to read at home has never been easier thanks to the development of more and more user-friendly Orton-Gilligham programs. The programs in this comparison of the top 4 Orton-Gillingham reading programs were chosen because they are affordable and designed to be used by parents at home – and because I have used all of them!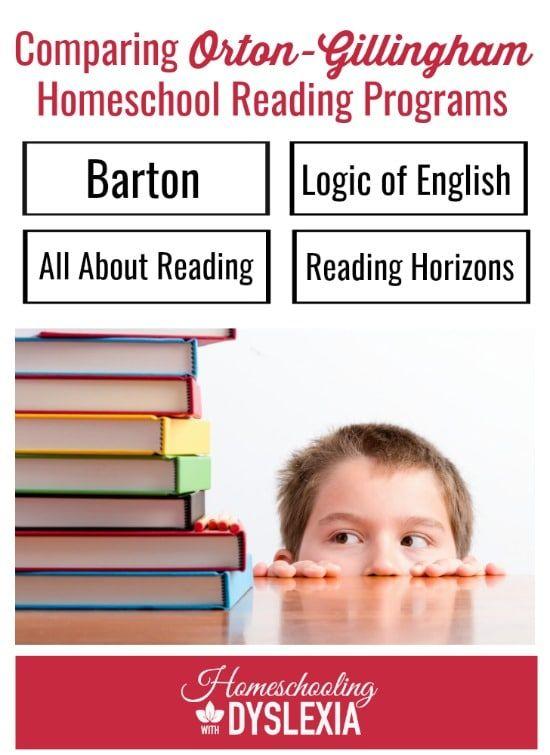 This post contains affiliate links. I earn a small commission on purchases made through these links. You are not charged more and all purchases are private. As you know, I never promote any program or service that I have not personally used and loved. See our privacy policy for more information.
What to Know About Orton-Gillingham Reading Programs
What is Orton-Gillingham?
Orton-Gillingham is an approach to teaching reading. Some, but not all, reading programs are based on this approach.  The reading programs in this comparison are ones that are most frequently used by parents teaching their kids at home.
Read more about what the Orton-Gillingham approach to teaching reading is and why it is the most highly recommended and effective approach to teaching kids (and adults) with dyslexia.
How to Choose the Best Orton-Gillingham Reading Program for Your Family
There is a lot of discussion about which Orton-Gillingham (OG) program is the best. The answer to this question will be different for each unique family. Factors like the age of students, the degree of dyslexia, family size, finances, or native language all play a big role in determining which program will be the best fit for each unique family.
There are even times when an OG reading program on it's own, may not be enough. You can read more about that here.
The factors that I rated each program by are:
Cost per level and number of levels
Materials included with the program
Any extra materials needed
Any optional extra materials
Format – whether digital or print
Ages the program is appropriate for
Whether the program covers spelling
Whether the program covers phonemic awareness
The level of customer support
Any money back guarantees
A Comparison of the Top 4 Orton-Gillingham Reading Programs for Homeschoolers
These four programs were selected for comparison for three reasons:
Based on the Orton-Gillingham approach
Affordable
Easy to use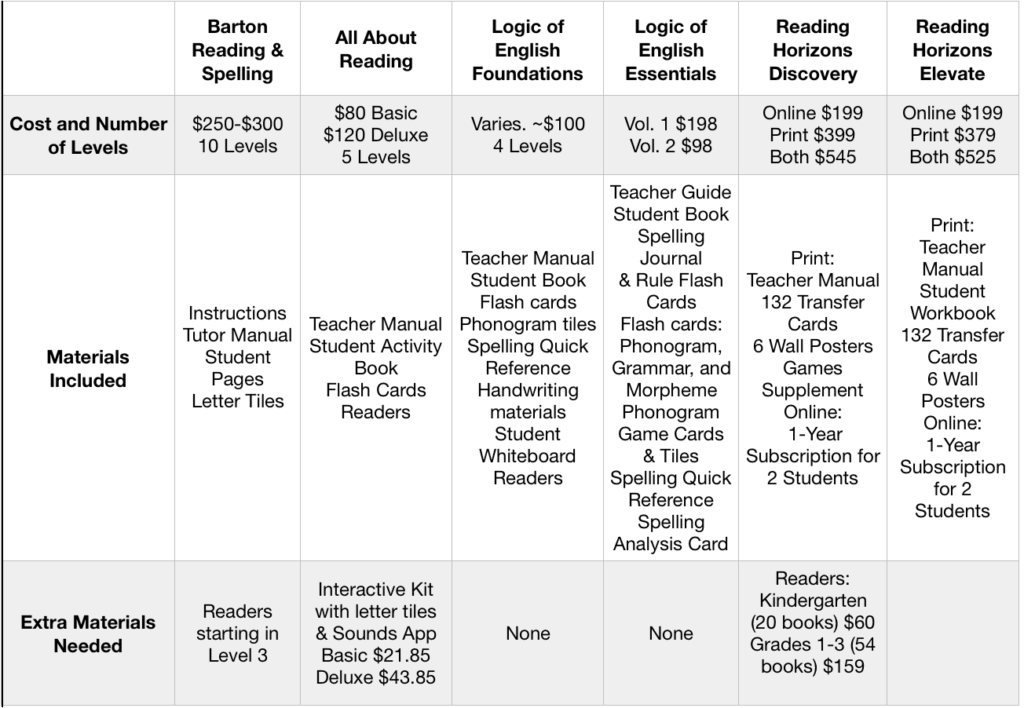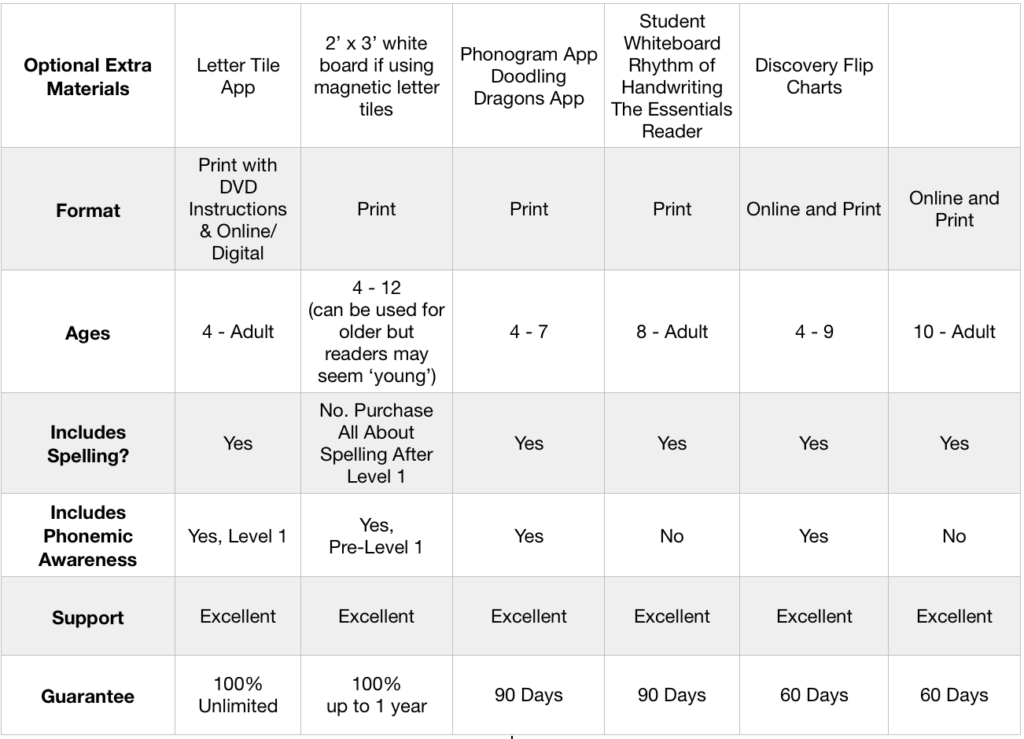 Want to download a copy of the comparison guide?
Download the Comparison Chart
Get the guide and subscribe to our weekly newsletter.
What Other Parents Are Saying
Here are some comments from HWD readers about each of the programs, both pros and cons.
Please note that when I say that all of these programs are affordable, I am comparing the price for the program to the price of paying a professional tutor to teach your kids. Professional tutors can charge between $50-$100/hour and need to be seen 2-3 times per week for several years.

Barton Reading & Spelling
Pros
Excellent training and support
Very thorough program
Easy to use – little prep
Can be used with older kids and adults – not childish looking
Cons
Price – although levels can be sold easily (or purchased used) when finished to help pay for next level
Can be boring – not enough variety

Pros
Easy to use – little prep
Price – not as expensive as other programs
Engaging for kids. Lots of games and hands-on materials make the program more interesting for younger kids (under 12 years old approximately).
Spelling is taught separately so kids can progress with reading more quickly.  When spelling and reading are combined, reading progress can be slowed down significantly because kids master spelling much more slowly than they master reading.
Readers are excellent. Kids love the beautifully illustrated stories in the readers that are included with each level.
Cons
Spelling is taught separately. I know this was on the 'Pros' list.  Some people felt that teaching spelling separately was a hindrance. It takes more time each day and it costs more to buy an additional spelling program (All About Spelling).
Posts I've written about our experience with All About Reading:
Pros
Very affordable
Includes a lot of extra materials
Includes a wide variety of games
Includes tons of phonemic awareness exercises
Colorful student books
Student workbooks are very affordable ($15) which is nice for more than 1 child
Handwriting is included
Composition is included in Essentials (for ages 10+) levels
Cons
Read my complete review of Logic of English Foundations (for ages 4-7) here.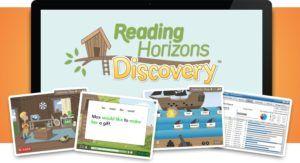 Pros
Online program is colorful and fun
Readers have beautiful illustrations and stories
Very thorough with lots of games
Excellent parent/teacher training and support
Cons
Price
Online program moves quickly (may not be best for more profoundly dyslexic kids)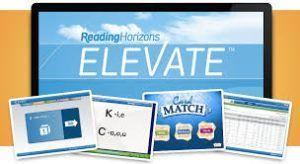 Many reports of kids using Elevate online version loving the program and making significant progress
Helpful for ESL parents teaching their kids
Good refresher course for kids finished with AAR, Barton, or LOE
Reading passages included with the program are excellent
2 kids can use 1 subscription
Read my complete review of Reading Horizons Elevate here: Help for the Older Struggling Reader
Orton-Gillingham Programs not on This List
Wilson: Wilson is an excellent OG reading program but it isn't user-friendly and requires some kind of training to be able to use proficiently.
Spell to Write and Read: This is a highly regarded OG program but is definitely not user-friendly.
Nessy: Nessy is a fantastic program that is OG based but is best used as a supplement to one-on-one teaching.
What Would You Add to This List?
I'd love your feedback. Are there any Orton-Gillingham programs you would like to see added to this comparison? Which programs and why? Let us know in the comments.