Are you wondering how to teach history? I am sharing how we teach our dyslexic kid's history. Learn tips and methods that can help you teach history in your homeschool.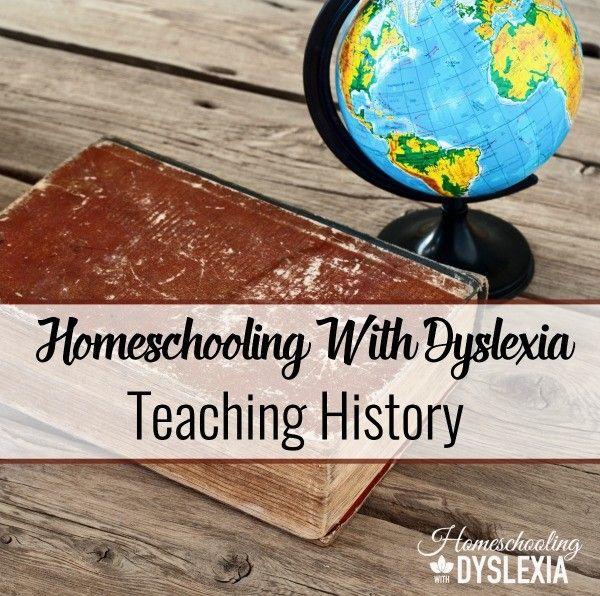 Thanks for joining me for day 4 of the 5-day series on Homeschooling With Dyslexia by the Subject. So far we've covered How Dyslexics Learn in General, Language Arts, Math, and Science. Today's subject is History.
In my post on how dyslexics learn, I pointed out that in most cases, dyslexic learners, who are very bright, just learn differently. This is, by the way, why you will often hear me calling dyslexia a learning difference rather than a learning disability. It is important for parents, especially homeschooling parents, to understand the strengths and not just the weaknesses of their kids. In general, you want to teach to the strengths of your student.
In my experience, my kids generally learn better by hearing. If they are asked to read for history, they understand and remember less than if they hear their history lessons. If I ask them to write down their thoughts, they will struggle to organize their thoughts and then once they are organized they will lack the ability to spell half the words. (This is not to say that we never assign reading and writing, just not during history!) Using a traditional textbook approach, where the child reads their lesson for the day and then answers the questions at the end of the chapter, is going to cause some friction in a homeschool with dyslexic learners. Ask me how I know!
The way we study history has changed dramatically for the good since we began homeschooling some 18 years ago.
History Curricula That Work With Dyslexia
There are many excellent history resources out there. Since there is a good chance that for at least most of the elementary grades you will be reading the text aloud, you may as well make it interesting, no? We do have a history textbook or two around still for reference, but for the most part, we are using living books to study the lives and events of each period of history.
This is a secular history program that is chronologically based; History of the World starts with the beginning of time and runs through til modern times. History of the World has the main text that is story based and a collection of student activity pages that include map making, crafts, coloring pages, recipes and many other hands-on resources and ideas.
Listening and Narrating
What we like about the program is that we can purchase the main text on CD to listen to as a family. The student guide includes narration questions which I ask after each chapter. The kids take turns answering, which often ends up in discussions of what we are learning.
Using this method, it is not unusual to find a 2nd or 3rd grader who can narrate a good portion of history if asked. These are the same kids who, if asked to write this information, would fail miserably.
We follow this up, time permitting, with an activity from the student book. Many of these pages can be stored in a notebook that makes an excellent source for reviewing and remembering what was learned.
Using this method, history has become my kids' favorite subject.
Other curricula that we have used with success are:
This is a complete, literature-based curriculum that branches off, in large part, the time of history being studied. Useful for multiple ages, it is an excellent curriculum for teaching multiple ages at once.
Another literature based history program full of wonderful living books and ideas for a simple notebook included in the Study Guide.
In a homeschool with dyslexic students, one of the main problems with teaching history (or any 'elective') is finding the time. Since the study of language arts takes so long, it is hard to find the time to teach the 'extras'. When our kids reach middle school age, around 7th grade really, we bought this computerized history program from Switched on Schoolhouse (SOS). Although this uses the traditional textbook approach, it does have a text-to-speech function that allows the text to be read aloud to the student. I found this program to be an excellent transition from our more relaxed methods of teaching in the elementary years to the more structured study methods of the high school year.