I talk to a lot of parents nervous to homeschool their kids with dyslexia in high school. After graduating 5 teens with dyslexia, here are 10 things you need to know!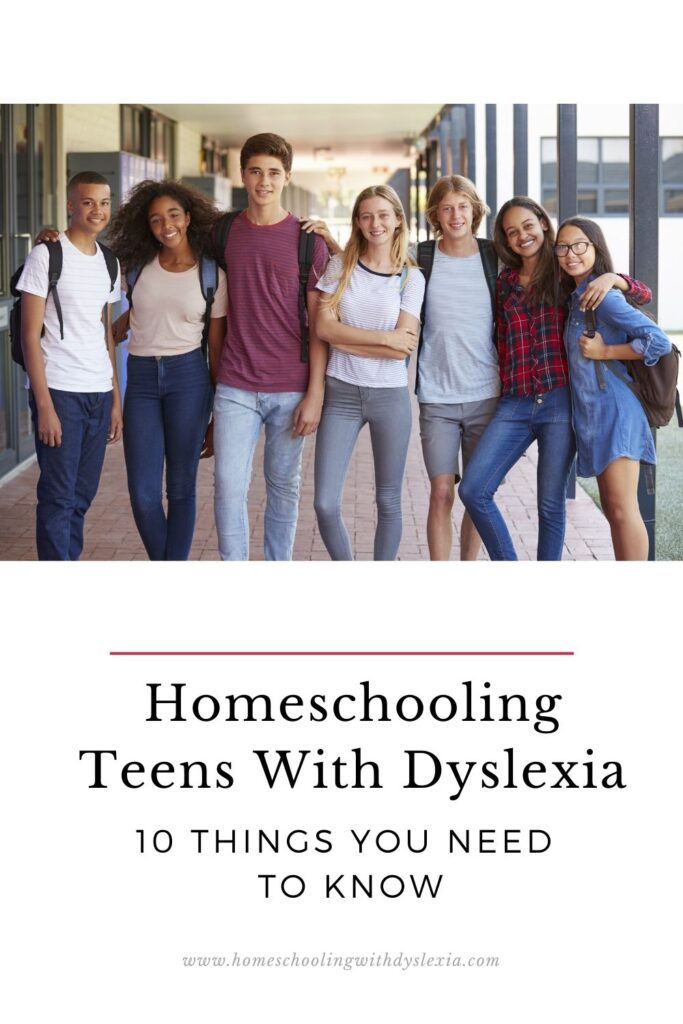 If you prefer to listen to this post, click on the player below:
Teens with dyslexia often take off with their learning in high school. I talk to lots of parents of middle schoolers who fear their kids will never be able to handle high school-level courses. More often than not, as kids reach the teen years, their ability to read, write, and spell improves significantly. While it is still important to allow the use of assistive technology as an accommodation, you will likely see your teen becoming more and more independent.


Alternative styles of education still work in high school. Interest-led learning, self-directed learning, and unschooling are all excellent options for kids of all ages and high school is no exception. Giving teens a voice in what they learn increases motivation and feelings of competency. Teens are known for wanting to be set apart and to express their individuality. They want to be part of something meaningful. It's part of the developmental stage of adolescence. Allowing some degree of self-directed learning, whether you're a full-blown unschooler or use interests to satisfy elective requirements, increases engagement and an enjoyment of learning.


All high school students with learning differences like dyslexia should be using assistive technology as an accommodation. All of my dyslexic, adult kids use assistive technology every day for their work and school. Spelling remains a weakness for many dyslexics throughout their lives and mastering the use of simple assistive technology like phonetic spell checkers or speech-to-text can make a huge difference. (Pro Tip: Give your high schooler an elective credit for Technology Systems for their time spent learning how to use different assistive technology apps and programs.)


High school students with dyslexia can get credit for requirements even if they're working 'below grade level'. Remember that struggling students, as well as functionally disabled students, are given high school credit and graduate from public high schools all the time. Therefore, unless the case is unusual, we can apply these same criteria to homeschool students who have a documented learning disability. You are your child's resource teacher and it is your call as to what is required to pass a class.


Be on the lookout for where your teen's interests and abilities intersect. This is where their calling or career will likely be found. As an adult reading this post, you know that you find much more enjoyment when you are working doing something you are good at. Talk to your teens about their interests and abilities and look for ways to help them find mentors to help them grow in those areas.


College isn't for everyone. I know this smacks of heresy for some of you. It did for me too once upon a time. That all changed when over the years I witnessed how the unique strengths of people with dyslexia work together to allow them to become astute business people, creative entrepreneurs, and highly skilled tradespeople.


Our kids don't need to go to college to be successful or get a good job. College is one of many ways to get career training. Check out this article on 42 Up and Coming Careers That Don't Require a 4-year Degree. There are many excellent options for our kids for after high school aside from a traditional 4-year degree; whether it's community college, trade school, starting a business, or getting work experience.


College is 100% attainable for students with dyslexia. With the right preparation, people with dyslexia and other language-based learning difficulties can go to college and do very well. Read this series on Preparing Your Dyslexic High Schoolers for College Success.


Kids who do poorly in high school can get into college. Community colleges can be an excellent starting point for kids who have struggled in high school but have the desire to go to college. Community Colleges offer a low stress entry into college level academics. With no ACT or SAT requirement and a variety of remedial level courses, kids who struggled in high school but want to go to college can start here and build up the skills they need to complete college level coursework – all without the high cost and pressure of a 4-year university.


Kids who do poorly in high school can do well in college. Where there is a will, there is a way. If your child wants to go to college and has the motivation to succeed, they 100% will! Studies have shown that success in college has less to do with academics and IQ and more to do with determination, perseverance, and grit. If you have a struggling learner who wants to go to college, they absolutely can do it and do it well!
More posts of interest about homeschooling in high school with dyslexia:
Getting Started with Assistive Technology
Teaching Kids With Dyslexia to be Independent Learners
Preparing Your Child With Dyslexia for College Success
6 Attributes of Dyslexic Success
Learn more about what is really important Homeschooling Through the High School Years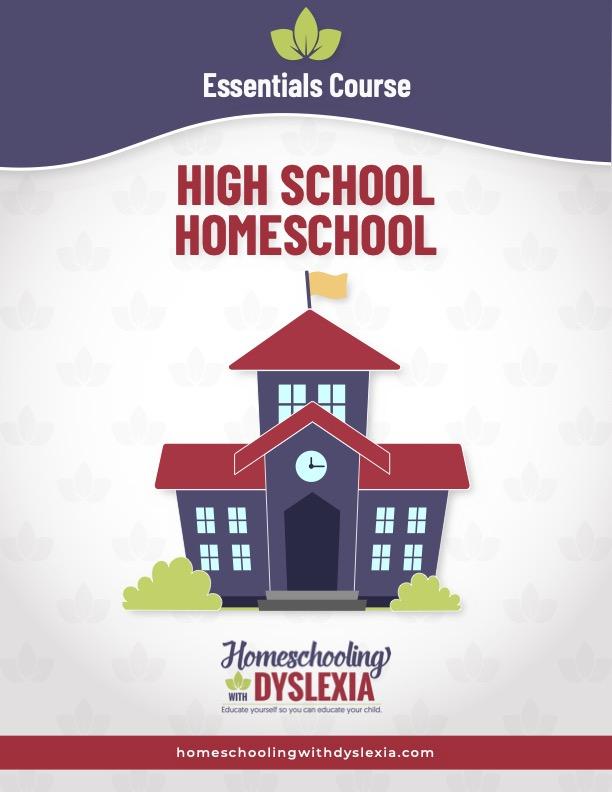 The High School Homeschool Essentials Course is what I want every parent who is homeschooling their kids with learning differences to know about day-to-day, year-by-year homeschooling. Parents who have taken the course consistently share how much more confident and equipped they feel.
Kids who learn differently need to be taught differently! The Homeschool Essentials Courses will help you to know what to expect, how to teach, how to overcome obstacles, and how to plan and prioritize for your unique family's needs.
In this course we look at:
1. Learning Expectations.
2. Teaching Needs and Methods.
3. Overcoming Learning Obstacles.
4. Putting a Plan Together.
This is course is completely online and immediately available after purchase. Get started learning today!