My goal is to show parents how to teach kids with dyslexia to read.  There is a lot to know about teaching kids with dyslexia to read. Let's break it down step by step.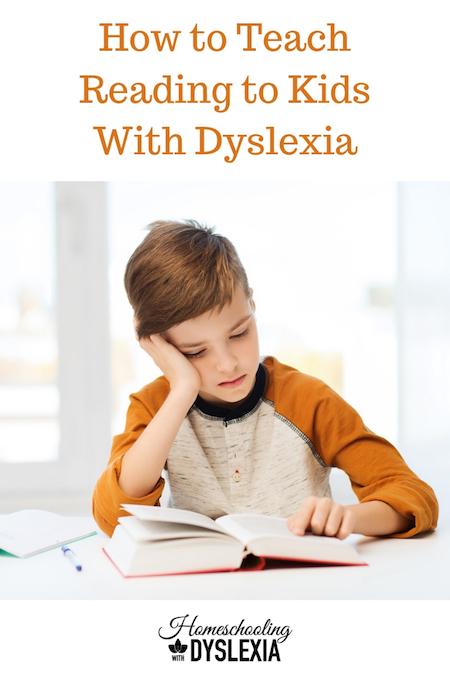 If you have been around the Homeschooling With Dyslexia web site for any length of time, you know my passion for helping parents of kids with dyslexia.  We have been navigating the seas of dyslexia since our oldest son was diagnosed some 16 years ago.  It was a steep learning curve and we made lots of mistakes along the way.  Learn more about our family story on my About Page.
There is a lot to know about teaching kids with dyslexia to read. This week, I'll be breaking this important subject down into 5 days of learning.  The links below will go live as each individual article is posted beginning Monday January 12.
Teaching Kids With Dyslexia to Read
1. Is it Dyslexia?  Signs and Symptoms of Dyslexia
Let's start at the beginning and look how you can know if someone you know has dyslexia.  From preschool to adults, we'll look at the obvious and not so obvious signs of dyslexia.
2. How Dyslexics Learn:  Teaching to the Dyslexic Strengths
Starting by dispelling the number one myth about dyslexia, we'll look at the inherent strengths of the dyslexic mind.  Having this understanding is imperative if you're going to teach dyslexics in the way that they learn best!
3. Reading Methods That Work With Dyslexia
So we know what dyslexia is and how dyslexics learn, now lets look at how we teach them to read.  This post will share the fundamental things that you need to know to teach anyone with dyslexia to read, write and spell.
4. How to Teach Sight Words to Kids With Dyslexia
We looked at reading methods that work but what about all of those words that don't follow the rules?  Remember, people with dyslexia need a different method to learn in a way that sticks.  I will show you one easy and amazingly effective way to teach your kids sight words that they will never forget!
5. Building Fluency in Dyslexic Readers
Fluency is reading smoothly with understanding.  If you are helping kids with dyslexia learn to read, you already know how elusive this skill can be.  This post will teach you the truth about building fluency (and her sister – comprehension) in a way that really works.
Get Educated
If you are looking to get educated about dyslexia and how to educate, encourage and empower your kids with dyslexia, you have come to the right place.
For more information on getting started homeschooling your child with dyslexia, consider downloading my free ebook that covers things like understanding learning styles and teaching methods, how to create a positive learning environment and schedule, or how to set goals and get it all done.
For more information on specific strategies to teach your dyslexic child the way he or she learns, consider taking one of our Parent Dyslexia Classes.  Classes now available are:
Teaching Reading:  Methods That Work
Building Fluency and Comprehension
Or buy all 5 classes in our Foundation Bundle and receive a free download of my book, Dyslexia 101:  Truths, Myths and What Really Works.
Stay in Touch
We have quite an active Facebook community where I frequently post articles of interest and encouragement.  I also have a growing Pinterest Page with a wide variety of teaching tips for all subjects.