After homeschooling kids with dyslexia for over 20+ years, I have seen just about every reading curriculum on the planet! And before I learned about the kinds of reading programs that really work, I tried just about everything on the market too.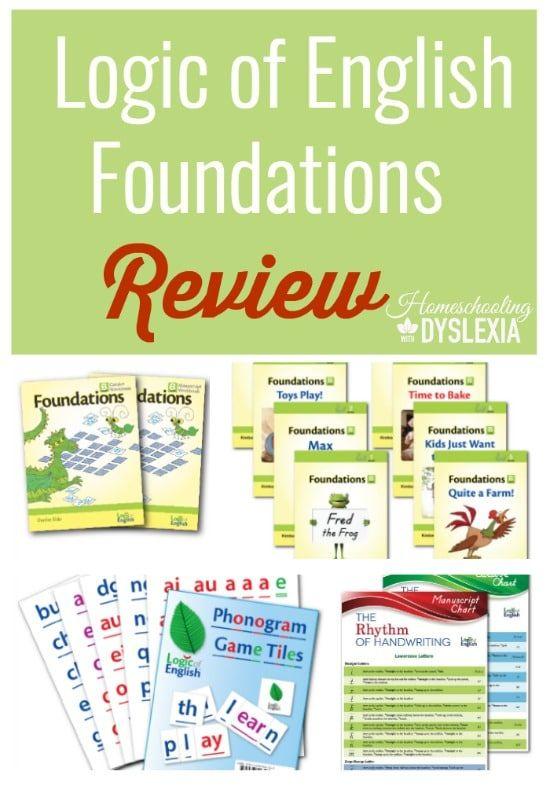 This post contains affiliate links. I earn a small commission on purchases made through these links. You are not charged more and all purchases are private. As you know, I never promote any program or service that I have not personally used and loved. See our privacy policy for more information.
Today, as a certified Orton-Gillingham (OG) dyslexia tutor, I only recommend OG-based reading programs to parents teaching their kids with dyslexia.
For more information on why I only recommend Orton-Gillingham based reading programs, read this.
One program that I can get behind 110% is Logic of English (LOE). The creators of LOE have a mission to improve literacy around the world and their products are more than capable of doing that.
This post is a review of the Logic of English Foundations program for kids ages 4-7. A review the LOE Essentials program for kids ages 8+ is coming soon! Scroll to the end of this post for a video of all of the components of the program.
What is Logic of English Foundations?
LOE Foundations is a complete multi-sensory Phonics, Reading, Handwriting, and Spelling program geared for kids ages 4-7.
There are 4 levels of Foundations:
Level A covers basic phonemic awareness to short vowel words.
Level B covers s

hort sentences, long vowels, schwa sounds, and multi-letter phonograms.

Level C covers p

aragraphs, new spelling rules and phonograms, and multi-syllable words.

Level D m

aster basic phonograms, deepen spelling skills, and read children's books!
If you want help to decide which level is best for your child, see the Help Me Choose page.
A typical schedule is A & B in kindergarten and C and D in 1st grade. Some choose to start A in pre-K, or to spread A-C over kindergarten and first grade and teach D in second grade. These schedules will work fine as well!
Why We Love Logic of English for Teaching Reading to Kids With Dyslexia
LOE is super easy to use!
All lessons are completely scripted meaning, they tell you exactly what to say, so there is little prep time for teacher.
There are really useful teaching tips scattered through the entire Teachers Manual.
The variety of hands on activities and games is amazing and gives you an arsenal of ideas for review and practice that you can use any time.
The Teacher's Manual contains a supply list for every lesson so I can be prepared before we start.
All pages in both the Teacher's Manual and the Student workbook are in full color.
The entire Logic of English curriculum is intelligently laid out and taught in an explicit, systematic way that makes sense of learning to read.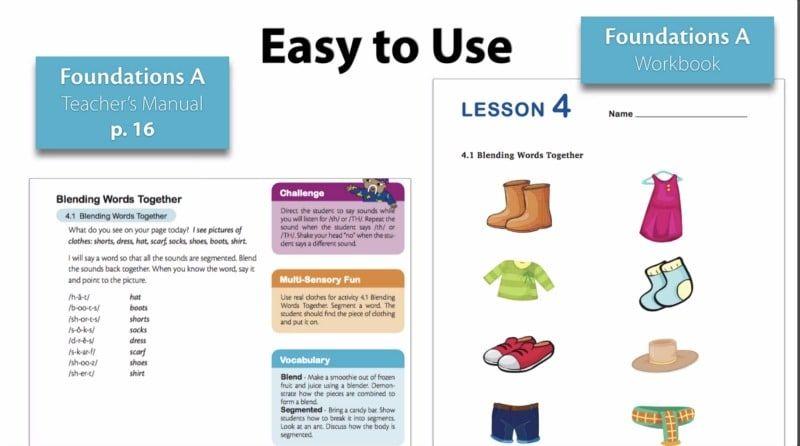 A Typical Lesson in Logic of English
The main components of the program are the  Teacher's Manual and a consumable Student workbook.  Since LOE is also a handwriting curriculum, you will need to choose a Student Workbook that is either manuscript  or cursive.
Phonemic Awareness In Logic of English
In Foundations levels A & B phonemic awareness is taught in every lesson.  In levels C & D phonemic awareness is taught less frequently but is always practiced during the spelling section of each lesson.
Fluency in Logic of English
Fluency is practiced using a variety of engaging games. Kids will get a ton of practice with high frequency words which are taught very systematically so they are decodable.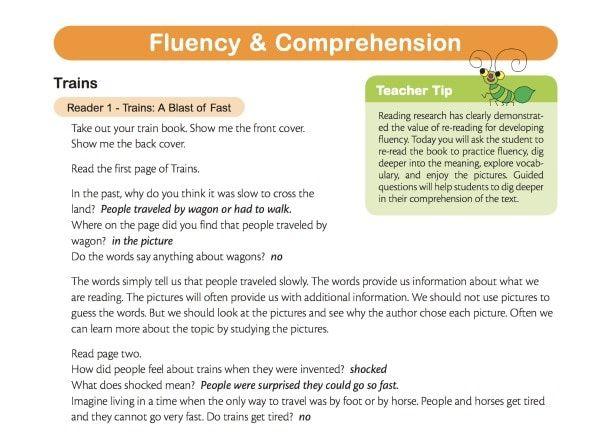 Vocabulary and Spelling in Logic of English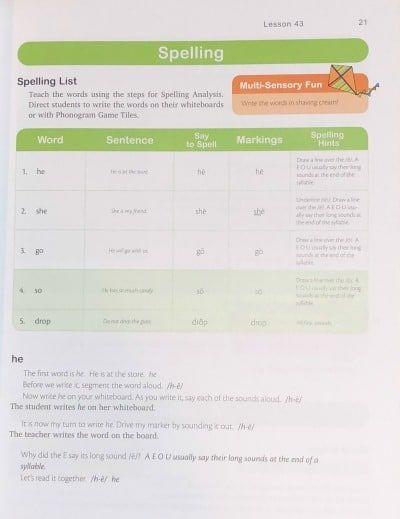 Spelling begins after lesson 21 in Foundations level A. A word is dictated and used in a sentence. The student repeats the word and, using phonemic awareness skills, breaks the word into its phonemes before writing each letter or group of letters. This instruction includes vocabulary tips and ideas which are practiced through games and other engaging activities.
Level D uses real books (not readers) and includes vocabulary related to the story.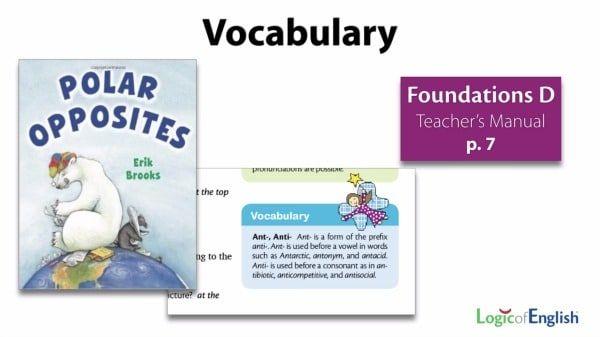 Comprehension in Logic of English
Comprehension is taught systematically with the readers that are included with every level. Again this is taught through games and lots of practice. See the comprehension activity below for example of the colorful, hands on nature of Logic of English.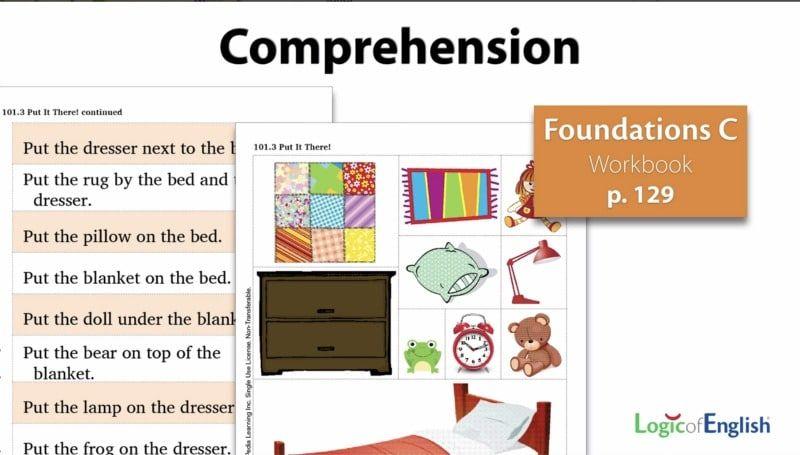 Assessments
After every 5th lesson there is an assessment. These are exactly like the activities the kids have already been doing in their workbooks and give teachers an idea of where they may need more practice. Every assessment is followed by a lost of Practice Ideas for the any review needed on the concepts covered.
Handwriting inlcuded
Handwriting is taught in every lesson. Level A teaches lower case letters. Level B teaches upper case letters. Levels C and D use copywork and introduce basic composition. It is recommended to begin handwriting instruction with cursive. To learn why this is so, read this.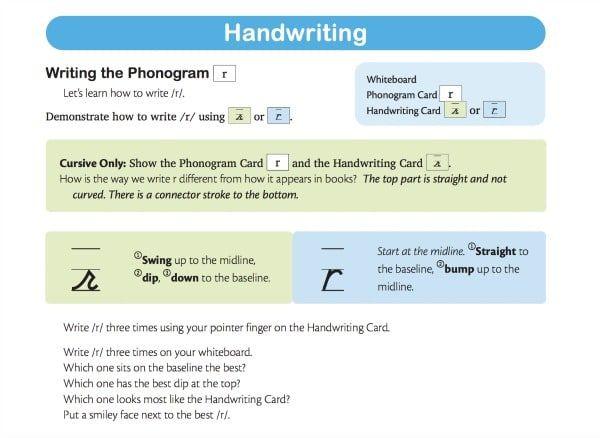 Materials Needed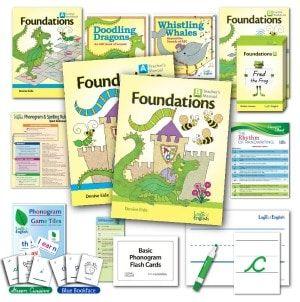 The supplemental materials provided by Logic of English are high quality and affordable. The easiest and least expensive way to purchase the program is by buying the preassembled sets. Levels A and B (pictured to the left) includes everything you need to teach both levels. Later, when you need levels C and D, there is a preassembled bundle that includes the remaining supplemental materials as well as the Teacher's Manuals and Student Workbooks.
A Video Overview of Logic of English Foundations
There are some awesome supplemental materials that go along with the LOE program. Get a close up look in this overview video.
All in all, the Logic of English Foundations program is an excellent, effective, and affordable reading program that works very well with struggling readers.
More posts of interest:
A Comparison of the Top Four OG Reading Programs for Parents
Homeschool Reading Prep for the Best Year of Reading