Description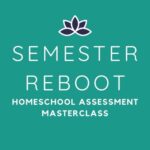 Work alongside Marianne to get organized for the coming semester!
Whether it's summer break and you're tackling planning for the new school year or it's the semester break and you're looking to reorient your plan, this Semester Reboot Master Class will help you to:
Reflect on where you have been by looking back at the previous semester
Assess what's working and what isn't
Actively troubleshoot problem areas (with Marianne's help)
Project into the future by looking forward to what you want your unique homeschool to look like
Brainstorm ways to prioritize your ideal homeschool so that you are staying focused on what is most important right now
BONUS SESSION: Establishing routines and healthy homeschool habits
Class will meet LIVE via Zoom on Wednesday, January 5th from 10:00- 2:00 Pacific. Recordings will be made available.