Having trouble with productivity in your homeschool? Become more consistent thanks to the best homeschool hacks from a veteran homeschool mom of eight!
It is not uncommon for homeschooling parents to get overwhelmed from time to time. I jokingly refer to February (and sometimes March as well) as National Homeschool Burnout Month. The reality is that there are days when it seems like everyone has a bad attitude, the laundry is piled to the ceiling and the toilet overflows because your toddler stuffed an entire roll of toilet paper in it while you were teaching your reluctant 3rd grader. We've all been there. We've all had one-of-those-days!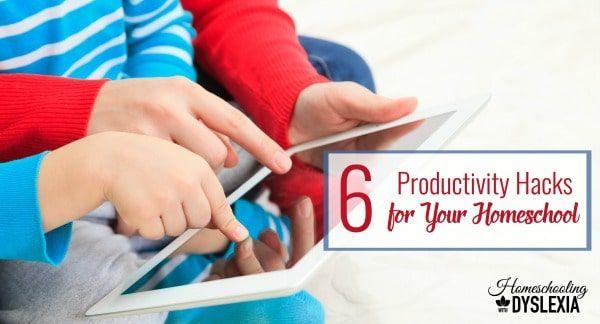 Getting It All Done in Your Homeschool
Having realistic expectations about homeschooling your kids is an important part of being able to press on through those difficult days.
I do have some homeschool productivity hacks from my nearly 20 years of homeschooling.
All of these tips are effective for teaching any type of learner but more so for homeschooling the dyslexic child. Kids with dyslexia often need more one-on-one time with mom (or dad) and become independent learners later than kids without dyslexia.
For tips on teaching kids with dyslexia to become independent learners, read this post.
6 Productivity Hacks for Your Homeschool
Start Earlier
 By setting your alarm and getting out of bed a bit earlier, you can accomplish more. This is especially true if you are homeschooling more than one child. Teaching one child early in the morning can provide a quiet environment and add a few extra hours to your day. This may not be an option if you have infants or young children who aren't sleeping through the night yet.
Combine Teaching
 Although a typical course of study may suggest that 1st graders study American History, 4th graders study State History and your 6th grader study World History, this is not necessary in the homeschool – or recommended if you value your mental health! It is okay to teach all of your kids one subject each year in subjects like science, history, and the arts. Math and reading may require more of your time but by combining your other subjects you will save time and have a better chance of staying sane.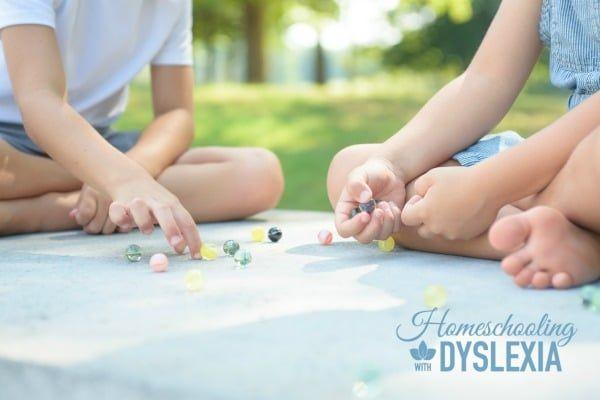 Delegate Inside the House
Children are amazingly capable people. Six-year-olds can keep an eye on the baby in her bouncy seat while the 10- year-old reads to the toddler. Older kids can prepare meals and help with the house keeping. There is no way that you can homeschool your kids, cook, clean, do laundry and drive everyone to practice and clubs. You can't do it all! Delegate!
Delegate Outside the House
 Sometimes you just need to get some professional help. Whether you hire a house cleaner once or twice a month or hire a certified dyslexia tutor to help with reading instruction, if you are struggling to achieve your priorities in your homeschool, consider delegating outside the home.  A few years ago we hired a tutor to help one of our kids with Algebra.  Oh my – total game changer!
For more information on hiring a dyslexia tutor, read this!
Online or Computerized Curricula
 I've mentioned before how all of our kids switch to Teaching Textbooks as their main math curriculum in 3rd grade.  It truly is like having the good math teacher every year!  Another computer program that has been a huge help on busy days is Nessy Reading and Spelling.  If I'm busy with the older kids or have some other interruption, my two emerging readers hop on Nessy for reading practice.  They really do love it!  I'm amazed at how motivating the games are and how hard they will try to read.  One more program that we have used and loved is Reading Horizons Elevate. This is an online Orton-Gillingham reading curriculum that is fantastic! Read my full review of Reading Horizons here.
Take a Break to Build Productivity
It can be easy to get caught up in all of the details of assignments and commitments as a busy parent, whether you homeschool or not. If our family is struggling with poor attitudes, irritability and lack of enthusiasm, we will take a break for a day or two.
Sometimes we will head outside for the day. My favorite place to unwind and find peace is at the beach. Even if it is cooler outside, we still enjoy the wide open space, the lack of electronic stimulation and the fresh air. Other times we will go on a field trip to an event, museum or show. It is amazing how having a little fun together as a family can reset everyone's clock and help us get back to work with the right attitudes.
How about you?  What tips or tricks have helped make your homeschool more productive?