Setting homeschool goals for kids with dyslexia is different than setting goals for traditional learners. Let's take a new look at setting homeschool goals for students with dyslexia.
The first step in planning your homeschool year is usually to set some goals.  Setting goals for kids with dyslexia is a little different than setting goals for traditional learners.  What I'm going to teach you today will free you up from a lot of stress and dramatically simplify your homeschool planning.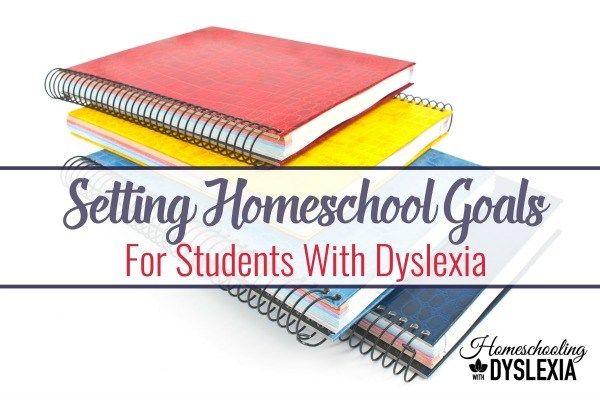 A Word About Grade Levels and Being 'Behind'
Before we get started, I'd like to discuss grade levels for a minute.  You know those 'What Your 3rd Grader Needs to Know' books?  They contain lists of what kids in each grade level are learning in public school.  Standardizing what kids will be taught each year is helpful so that kids aren't studying early American History year after year and never getting to World History.  They give a structure and order to institutionalized school settings.
Graded curriculum are also based on what a typical child is able to do at each grade.  However, as many of you know, no two kids progress at the same rate and kids with dyslexia often progress slower in the younger years.
Grade Levels in the Homeschool
If you talk to a burned out homeschool parent of a dyslexic child (I talk to lots of them!) it is pretty common that their educational goals for their kids – goals to be at or above 'grade level' – are making them crazy.
It isn't until they begin to move from an achievement mentality to a progress/mastery mentality they begin to find the freedom and enjoyment of homeschooling.
What do I mean by a progress/mastery mentality?
Most homeschoolers need to shed the 'school-at-home' mentality in order to create a home learning environment where their kids can thrive.  This is never more true than for the homeschool family teaching kids with dyslexia.
It wasn't until my dyslexic husband observed this chasing of the wind in our own homeschool that I became aware of how ridiculous it actually was.  Keep it simple he would say.  If the only kind of book the 4th grader can read independently is Frog and Toad, let them read Frog and Toad!  Huh?  You mean let them learn at their own level?  How revolutionary!
It doesn't really matter how much you, or any well-meaning family member, wants your child to be reading at his or her 'grade level'.  If they aren't able to do it – you have to teach them, faithfully, at their current level until they get there.
This translates to 5th graders doing 4th grade math or 1st grade reading or wherever they are able, and working towards mastery until they catch up.  Most kids with dyslexia will catch up with a combination of consistent teaching and appropriate methods by the middle school years.
Read more about homeschooling with dyslexia in middle school.
Studies have shown that it is much harder to learn in a stressful environment. Many dyslexic kids and adults already struggle with anxiety.  Creating a safe and relevant atmosphere for learning is the primary reason most of us homeschool anyway, right?
Setting Homeschool Goals for Your Child With Dyslexia
Now that we've cleared that up, here are my best tips for setting goals for your kids homeschool year.
1.  Grab a spiral notebook.  I just stocked up on these at the grocery store of all places.  Yay for back-to-school sales!  For our kids I have 3 primary areas for setting goals:  physical goals, academic goals and spiritual goals.  Fold one page of the notebook into thirds (or how ever many areas you're setting goals for) and label each column.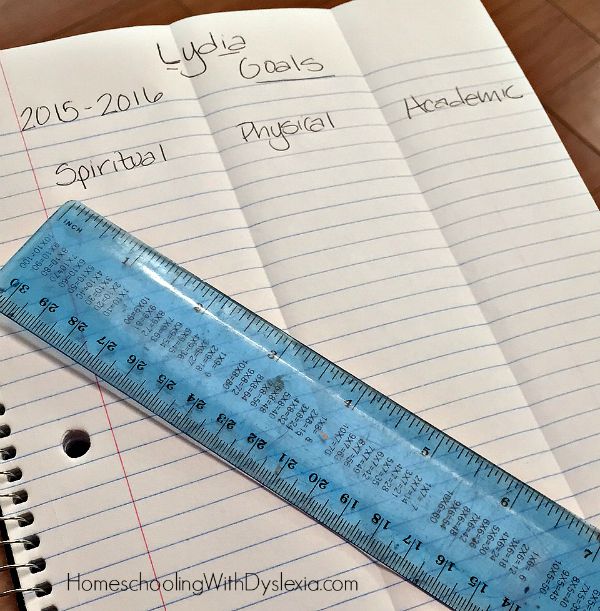 2.  Write down all of the goals that you have for your child. This is your brainstorming sheet.  Never mind that your 3rd grader is reading at a first grade level for now.  We know we are going to cover reading.  Write that down under Academic Goals.  We'll talk about how to find time for reading instruction in my next post on Creating Homeschool Schedules That Really Work.  
For now, we're trying to flesh out all of those ideas that are swirling around in your head (and mine), capture them on paper and begin to organize them.  Disclaimer:  Just because you wrote something down here does not mean that it will be done every day or even at all.  Don't stress just get your thoughts on paper!
3.  Make a list of daily tasks for each child.  Get out a clean sheet of paper in the same spiral binder.  This can include morning routine items like getting dressed, brushing teeth and feeding the chickens if you want.  I like to create set morning, afternoon and evening routines for all of my kids because I rely on them doing their chores to keep the house running.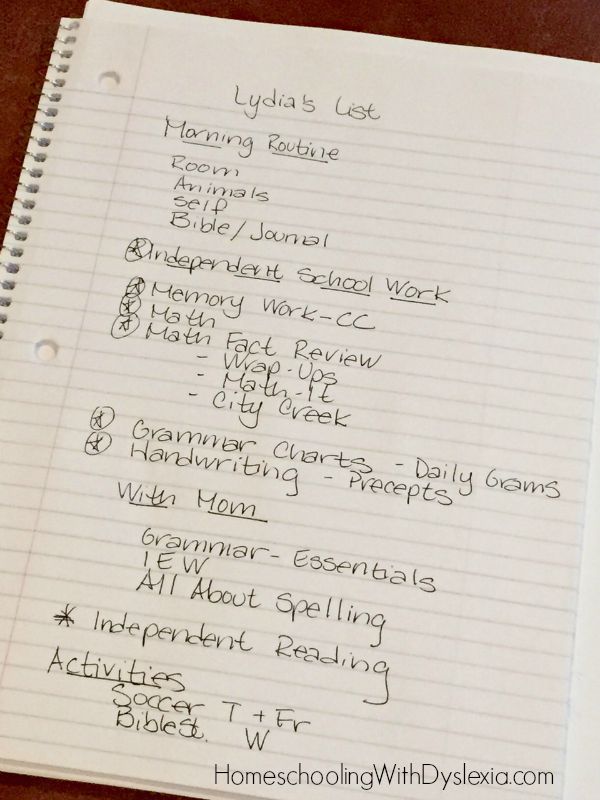 This list should also include academic subjects such as Bible, History, Science, Handwriting, Art – or whatever subjects you are covering this year.  Make a note, either with an asterisk or with a highlighter pen, next to everything academic that your child can do independently.  This is important for scheduling.  We want our kids to keep working as much as possible when mom is working with another child, making lunch or taking a bathroom break!
Lastly, add any classes, tutoring sessions, sports commitments, etc. to the list.
Take Some Time to Prioritize
Once you're finished making lists for all of your kids, hopefully your head is no longer swimming and you can begin to take each goal and activity and begin to prioritize them.
Take some time to look over your lists.  Think carefully about each item and ask yourself:
How much value will this book/curriculum/assignment add?
Is it going to add enough value to be worth the time it will take to engage with?
The Truth About Homeschooling With Dyslexia
I'm going to be very honest with you about something.  Homeschooling kids with dyslexia is unique in its challenges.  For a season, your main priority is going to be teaching your kids to read, write and spell.  The length of this season varies from family to family and depends on how many kids you have, but during this time there may not be time to do much else on your list – and that is okay!
When I say that it is okay, here is what I mean.  You can only do so much and you have to give priority to what is the most important.  Letting go of things that are going to make you and your family crazy is necessary.  You will have time to fit in more of the extras in time.
One Activity You Can't Live Without
We'll talk more about integrating subjects like science, history and art in my next post on scheduling but I want to share with you one activity that should be a priority every day in your home.
The read aloud.
Reading aloud to your children has so many benefits – it is hard to count.  Let me list a few here:
creates a strong family bond
fosters a love of the written word, reading and books
encourages deep thought about a wide variety of issues
can teach character (with the right books, of course)
teaches vocabulary and complex sentence structure
gives children ideas to ponder throughout the day
teaches history, science and art in context
Some resources for finding the best books for reading aloud:
Some other great places online to find good free book lists:
Simply Charlotte Mason's literature suggestions –great for all families, regardless of where your kids do school or what methods you use to to teach them
Ambleside Online –high quality recommendations, though you have to wade through the site to find them, as they are somewhat buried
1000 Good Books List

Storyformed Booklists
Okay, that is enough for one day!  Work on your lists and check back here tomorrow for my post on Creating a Homeschool Schedule That Really Works.  As always, if you have any questions or comments, drop us a note below!