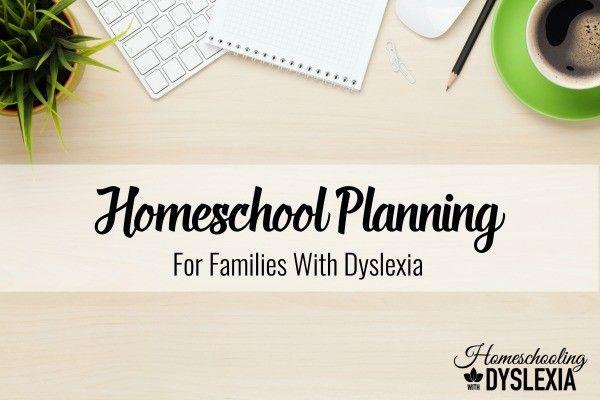 I love the planning phases of the homeschool year but, after 20 years of teaching my kids at home, I know how often my plans have been completely overrun by real life!
In this post, I'll share with you some of my best tips on goal-setting, prioritizing and creating a schedule that really works.  Families with kids who learn differently have different needs when it comes to all of this planning – especially in the expectations department.  No, most of us can't just hand our younger kids a grade-level book and assign them to just read and fill in the workbook.
We're going to talk about that and lots of other nuances to homeschooling our smart and creative kids with dyslexia!
For All The New Homeschoolers
If you are just getting started homeschooling your kids with dyslexia, head over real quick and download my free ebook on Getting Started Homeschooling With Dyslexia.  That book covers a lot of the questions new homeschoolers have.  Then head back over here for some planning advice!
Keys to Successful Planning
As with any big project, it is helpful to break things down into smaller chunks and tackle those mini-goals one at a time.  I'll be writing a post on each of these areas.  Here's a little over view of what each post will cover.
When I plan for my homeschool, I break things down into the following categories:
Setting goals: If you own one of those, "What Your Child Needs to Know When …" books, donate it to a thrift store.  Those kinds of books aren't going to help you.  They are going to make you feel like a big, fat failure – every year.  In this post, we'll look at how to set individual goals for each of your unique kids and also how to plan to get there.  Click here to read, Setting Goals for Your Dyslexic Homeschooler.  
Creative scheduling:  Who said that you need to do every subject every day?  Who said that you have to use text books?  Who said that interest-led learning doesn't count?  Not me!  This post will talk about creating a flexible, realistic schedule that really works.  Click here to read, Creating a Homeschool Schedule That Really Works. 
Prioritizing: No day actually ever goes to schedule.  The key to a successful homeschool year is to be able to find time for what is important.  That will look different for every family.  Families teaching dyslexic kids to read, write and spell will have different priorities and time constraints. I'll share my tips on getting more done each day so that you can reach your goals.  Click here to read, Finding Time for What's Important in Your Homeschool.
Expectations:  For years I thought that as a homeschooler, I'd have all this extra time to do really awesome hands-on projects and go for long, mind-stimulating nature walks, but really we don't.  Teaching, feeding, cleaning and correcting your kids is time-consuming.  Learn about how to have realistic expectations, an attitude of gratitude and you will be better able to avoid homeschool burnout and have joy in your homeschool.  
Still Need Curriculum?
If you are still not sure what curriculum you'll be using, you may find these posts helpful.
Everything You Need to Know About Choosing Curriculum
Curriculum Choices Guide by Subject:  History, Science, Math & Language Arts
Curriculum Choices by Grade
The following are posts with teaching tips and curriculum choices by grade:
Preschool Homeschool Curriculum Choices
Grades 1-3 Homeschool Curriculum Choices
Grade 4 Homeschool Curriculum Choices
Middle School Homeschool Curriculum Choices
High School Homeschool Curriculum Choices
And some ideas on how we teach each subject:
What are your biggest hurdles when planning your homeschool year?