Thank you for joining me on for this 10-day series on Preparing Your Student With Dyslexia for College Success.  To read the whole series, click here.
We've taken a good look at getting ready for college, acquiring the skills needed, understanding the different kinds of programs available, and how to find a good college fit for your student.  Today we're looking at the college application process.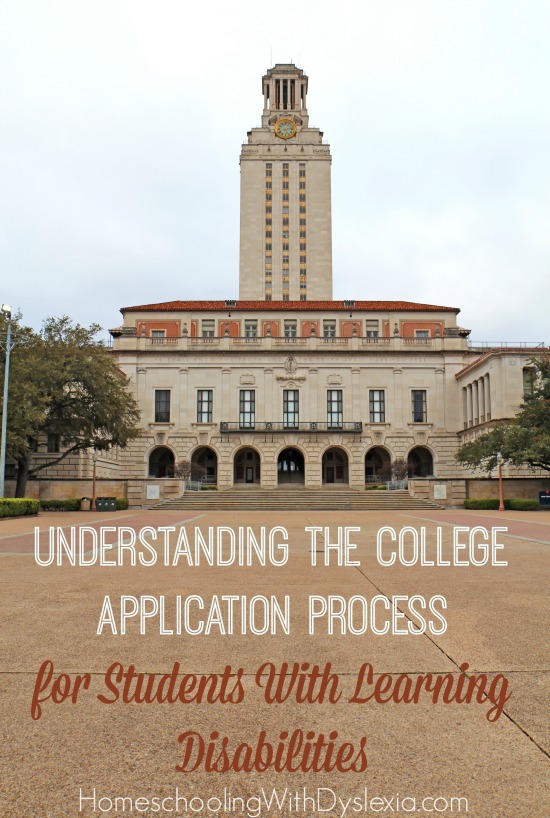 General Tips for Applying to College
Much of the application process takes place the summer before your senior year.
Create a folder for each college you are considering.  Put a checklist of what you need for the application on the front of the folder.
It is recommended that all students applying to college choose between 5 -8 schools and include safety (sure to get in) reach (not so likely to get in) and matches (college is a good fit for your student's profile).
Consider using the Common Application.  It is a standardized application used by more than 900 colleges.  Instead of filling out eight different applications, you can fill out one and submit it to each college.  You may need to submit additional or separate documents to some colleges.
Think beyond admission.  Sure, it is impressive to get into a 'great' school, but if it is not a good fit for you or your student, how much success will be found there?
Should I Disclose a Learning Disability on my Application?
You are not required to disclose your dyslexia (or any other disability) at any time and the college is prohibited from asking.  However, if you believe that your disability has had a negative impact on your grades and test scores and that those scores don't accurately reflect your ability to do college-level work, then it might benefit you to explain that to an admissions officer.
Once a student is accepted, the college will give all incoming students information regarding the office that provides services to students with disabilities.  It will be your responsibility to contact the appropriate officials and request the services you feel you need.  Please see the post College Readiness:  What Successful Students Do to learn more about self-advocacy and other skills your dyslexic student will likely need in college.
Identify Key Messages you Want to Convey
As you apply to colleges, you want to make sure they know who you are and what they will get if they admit you. Selective colleges are very deliberate as they choose students with an eye toward assembling communities that include talents, interests, and perspectives that range the spectrum. What do you have to offer? Leadership? Cultural sensitivity? Inventive curiosity? Compassion for the less fortunate? Begin thinking now about how you will convey key messages regarding your potential "gifts" as you apply for admission.
The College Essay
Many colleges do not require an essay for admission.  Check with your college of choice for their particular policy.  The essay should be in your student's own words and may even touch on their learning struggles and how they have overcome them.  Statistics show that GPA and quality of the college essay are better indicators of college success than a student's SAT or ACT score.  Make sure your kids are learning good writing skills and put forth their very best effort if a college requests an essay.
Should I Apply to Colleges if my Admission Test Scores are Lower Than Their Published Ranges?
Yes. The admission scores and grades that colleges show on their websites are averages or ranges — not cutoffs. There are students at every college who scored lower (and higher) than the numbers shown.
Remember that colleges consider many factors to get a more complete picture of you. For example, they look at the types of classes you take, your activities, recommendation letters, your essay, and your overall character. Colleges are looking for all kinds of students with different talents, abilities, and backgrounds. Admission test scores and grades are just two parts of that complete picture.
Brag Sheet and Letters of Recommendation
Letters of recommendation are another indicator of college success.  During the middle and high school years, keep a 'brag sheet' listing your child's volunteer or service projects, club memberships, reading lists, and any other meaningful information.  This simple list can be provided to whomever you ask to write a college recommendation letter.
Preparing for a College Interview
The key word here is to prepare!  Students must be comfortable talking about themselves.  Try writing down key points that you want to make on 3 X 5 cards for practice and consider bringing them into the interview with you.
A combination of preparation and focusing on the big picture, beyond admission to success, will help you and your student find and get accepted to the right college.