Do you have a child who fails to follow directions despite repeated instruction, has difficulty staying on task, has a poor attention to detail, or often looses track of their belongings? Weak working memory may be at the root of their struggles.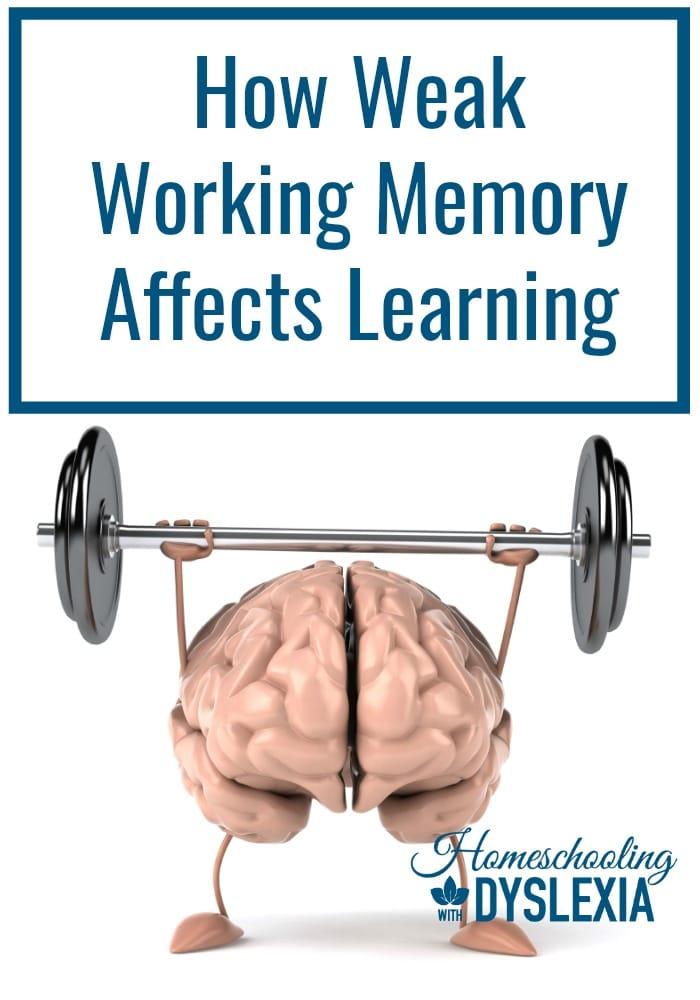 What is Working Memory?
Working memory is an executive function that plays a major role in how we process, use, and remember information on a daily basis. Remembering a phone number, recalling directions, remembering how to use grammar or spell, writing an essay and applying mathematical formulas are all mental tasks that use working memory.
It's keeping in mind anything you need to keep in mind while you're doing something." Whereas long-term memories stay with us even when we're not thinking of them, working memory is an active process — a mental scratchpad where we hold and process information we need to access to complete a particular mental task.
Working memory is often referred to as being like your brain's task list or sticky notes. As information is coming into your brain, you are both processing it and, simultaneously, storing it. It's necessary to learn, reason, and remember.
Signs of Working Memory Weakness
Kids with working memory weakness may:
Have difficulty remembering facts and procedures, such as new vocabulary words or mathematical procedures
Have slow retrieval of information
Fail to follow directions despite repeated instruction
Demonstrate poor attention to detail, such as beginning to write a sentence and then struggling to remember all of the words in the sentence, skipping words within sentences, and writing shorter sentences (to reduce demands on working memory)
Make place-keeping errors such as losing track of steps completed or steps yet to be completed and either repeats steps needlessly or constantly has to start over which can result in
Abandoning tasks midway through
Have difficulty starting work
Have difficulty staying on task
Lose track of belongings
These difficulties have an impact on both day-to-day life skills as well as on core academic skills of reading, writing and math.
Weak Working Memory Can Look Like Disobedience
One of the challenges kids with working memory issues face, is that their forgetfulness can easily be misinterpreted as bad behavior. When they repeatedly fail to follow what appears to be simple instructions, they can seem to be unmotivated or even oppositional which can lead problems with teachers and parents as well as accusations of not trying hard enough.
Working Memory and Dyslexia
Everyone struggles with the limits of working memory sometimes — forgetting an item from a shopping list, or drawing a blank when you're trying to remember the rules of a new game.
But for kids with actual learning disabilities, working memory is often a more significant problem.
Kids with learning struggles often overload their working memory capacity because they are adjusting for the additional difficulties that come with their particular learning disability — like dyslexia, or processing issues.
Because they need to consciously break down and perform processes that other kids do automatically, a large amount of their "cognitive workspace" is occupied.
For example:
• If a child has auditory processing issues, she has to work much harder to listen, recall and apply what's being said in class.
• A child with a dyslexia has to actively work to accurately interpret sounds and letter patterns in words, while remembering each word read previously.
This extra work means more clutter on the "table," which leaves less space for new information and often translates to a slower processing speed overall.
How to Help Kids With Working Memory Weakness
An increased awareness of the negative impact of working memory difficulties on kids, has increased demands for targeted interventions in recent years.
There are currently 2 approaches:
Help kids reduce their memory load by adapting their environment.  Providing accommodations and implementing the use of assistive technology are two ways to do this.
Targeting and training working memory function directly through brain training programs.
Helpful Accommodations for Weak Working Memory
Reduce the student's working memory load by breaking tasks into smaller chunks and providing written instructions.
Encourage memory aids such as graphic organizers, and efficient lists.
Color-code information when introducing new information, use highlighters and sticky notes.
Create consistent routines, systems, and strategies.
Using a variety of targeted assistive technology apps and programs such as note-taking apps, speech-to-text programs, and online organizers.
Strategies to Enhance Memory
Mnemonics is a strategy used as a memory aid with the use of acronyms, acrostics, or rhyming for the purpose of remembering a more sophisticated sequence. An example of an acronym is the use of HOMES to remember the great lakes (Huron, Ontario, Michigan, Erie, and Superior), which takes away the need to remember each lake separately. Another example is the use of BEDMAS to remember the order of operations in mathematics (Brackets, Exponents, Division, Multiplication, Addition, and Subtraction).
Self Monitoring helps a learner analyze what they learned, how they know they learned it, and how else they can use what they have learned. This brings their learning to a metacognitive level, which means the learner is very aware of what they are learning, how they are learning it and how they can use it or need to change it to be effective in new situations.
Cheat sheets or "think sheets" are used to support memory of students during all stages of the writing process (planning, organizing, writing, editing, and revising). These sheets provide memory prompts for students during each stage of the writing process and can gradually be eliminated as the student internalizes the processes. "Think sheets" can be used for remembering mathematical procedures or any other activity that requires any kind of process.
There is a lot to know about working memory weaknesses. Start by getting to know the signs in your children, providing targeted ways to reduce their memory load, and strategies for building memory.
Learn More About Working Memory and Learning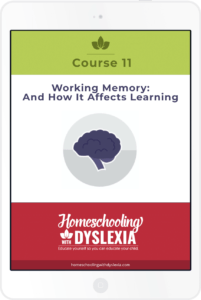 In this online parent course you will learn:
What working memory is
What working memory weaknesses are and how they affect learning
How working memory develops
What causes working memory weakness (and what doesn't)
Signs of working memory weakness
The connection between low working memory and other learning struggles like ADHD, dyslexia, and processing disorders
How working memory affects learning
How to test for working memory ability
How to help kids with working memory weaknesses
Accommodations that help with weak working memory
Assistive technology for working memory
Strategies for boosting memory and encouraging deeper understanding
Visit our Course Page for more information or our Shop to purchase.
How about you? How have you helped your child with weak working memory?