A roundup of my best Orton-Gillingham resources.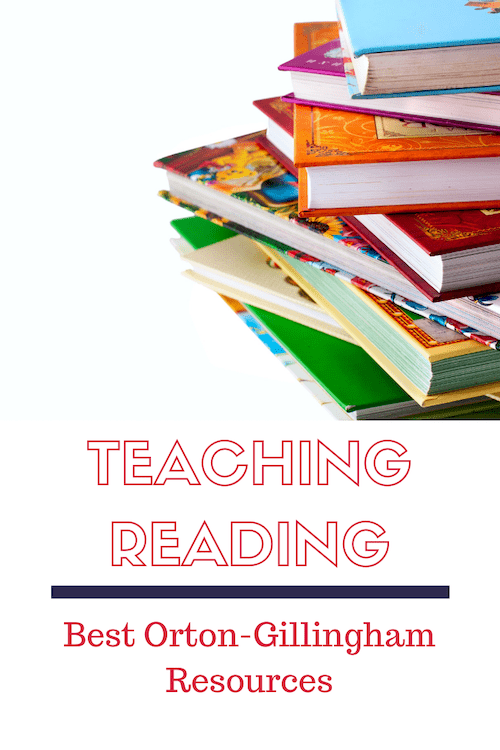 As the homeschooling mom of 7 kids with dyslexia I have tried just about every reading program out there. Once I discovered that the Orton-Gillingham (OG) approach was proven by research to be the best way to teach reading to kids with dyslexia, I was all in.
Once I started using Orton-Gillingham resources with my own kids I saw a huge improvement in their reading. I was so impressed that I became a certified dyslexia tutor.
Resources for Understanding Orton-Gillingham
What is Orton-Gillingham? Read this post of you're new to the world of teaching kids with dyslexia or want to know more about the OG approach. Learn how the approach was developed and the components of a true OG program.
A Comparison of the Top Four Orton-Gillingham Reading Programs for Homeschoolers Fortunately, we don't need to create our own reading programs based off the Orton-Gillingham approach. There are a variety of excellent programs designed with ease of use in mind. If you're looking for an OG program, read this comparison of the top 4 OG programs designed for homeschoolers.
How to Organize an Orton-Gillingham Lesson With a Free OG Lesson Planner. Kids with dyslexia need a LOT of review. One of the best ways to individualize your lessons is to keep a record of what you cover in each lesson and what you will do in the next lesson. This free downloadable lesson planner will help you stay on track.
Resources for Teaching Reading
What to do When Your Reading Program Isn't Working Read this post if you're using an OG reading program and feel your child is not making significant progress.
How to Make Teaching Reading Fun Teaching reading to kids with dyslexia can be hard. These kids need lots of review and quite honestly, this can be tedious for them. This post contains tips for how I make my kids' lessons more fun.
Teaching Sight Words I distinctly remember wanting to pull my hair out while trying to teach my kids to read sight words (words that don't follow rules). Their poor memory made it virtually impossible for them to remember these 'rule breakers'. Then I learned this amazing, multi-sensory method and learning sight words became easy and fun!
Homeschool Reading Prep: How to Plan for a Great Year of Reading Take the overwhelm out of teaching with an OG program by following these tried and true tips for organizing your reading instruction.
What to do When Reading Lessons Take ALL Day! One of the most common complaints I hear from my readers is that teaching kids with dyslexia takes a LONG time! Read this post for some of my best time saving tips. Get reading done and have time for fun.
8 Things I do With my Dyslexic Readers Everyday Aside from teaching with an OG program, these are some things I do each day with my dyslexic kids to help them learn better.
Do you use an Orton-Gillingham reading program with your dyslexic kids? What are your favorite resources?