Reading fluency is difficult for the dyslexic reader to attain because they are generally spending most of their brain power trying to decode the words on the page. Let's take a look at how we can build fluency in dyslexic readers. 
Thanking you for joining us here for day 5 of our 5-day series on How to Teach Kids With Dyslexia to Read.  Read the entire series from the beginning by clicking here.
Today we're talking about how to build fluency in dyslexic readers.
If you have been teaching a struggling reader how to read for long, you understand how elusive this ability can be.
Fluency is defined as "the ability to read connected text rapidly, smoothly, effortlessly, and automatically with little conscious attention to the mechanics of reading, such as decoding".
The reason why fluency is so difficult for the dyslexic reader to attain is because they are generally spending  most of their brain power trying to decode the words on the page.
In order for an individual to be proficient with reading he first must be able to read a word correctly, then he can read it fluently. Fluency develops gradually over time and through substantial practice.
Being able to read fluently usually emerges by the middle of second grade.  For a person with dyslexia, this can be much later even well into the teen or adult years or not at all.
Automatic and effortless reading is attainable for the dyslexic reader.
General Methods for Strengthening Fluency
The interventions that we use with our kids with dyslexia need to be systematic and intense. Intensity will provide the student with more exposure to print and therefore, increased opportunities to practice reading words.
We have long held that while our kids can listen to audio books at their intellectual level just about as much as they like (we have actually had to limit audio book consumption at times because they LOVE them so much, they'll listen all day long at times).
While listening to books is critical for our kids who have difficulties reading – to build vocabulary and a solid sense of grammar, our kids must read every day. Even if they are 10 years old and reading at a 2nd grade level, they must read what they can every day.
Continue to build their knowledge of phonetic principles with research-based reading curricula such as All About Reading, Reading Horizons, Barton or Logic of English.
Practice and repetition have been shown to increase fluency. Even for short periods (even minutes) every day. Remember to practice at a level that the student is already able to decode easily. The student should feel confident and comfortable with the text selected.
Focused Methods for Strengthening Fluency
Repeated Oral Reading
Repeated reading means that students read the same reading passages or texts repeatedly until a desired level of reading fluency is achieved.  Watch this short YouTube Video for a demonstration.

Paired Reading
In paired reading a capable reader and a struggling reader read in unison. The struggling reader indicates when they are ready to try reading alone. If the student makes an error, the capable reader provides the correct word. The pair then reads the sentence with that word in unison and continues reading. Different from repeated reading, Topping and Whitley (1987, 1990) found that paired reading can significantly improve reading fluency.
Choral Reading
Choral reading (where groups of children read the same text aloud in unison) is one of our favorite reading fluency strategies.
Echo Reading
Echo reading is another favorite of ours because it allows kids to practice proper phrasing and expression while building oral reading fluency. In echo reading, the parent reads one sentence or paragraph (length can vary) at a time while the student follows along in the text with their finger. Once the adult pauses, the student echoes back the same sentence or paragraph following along with their finger so that you can be sure the student is actually reading and not simply copying you. The guided practice and support of the echo reading structure instills confidence in students aiming to develop greater reading proficiencies.
Fluency Phrases
Another fun and easy reading fluency activity is practicing with short phrases.  Repeated reading of phrases gives students practice reading both decodable words and sight words with fluency. The short phrases may be written or typed on sentence strips. Use words that your child is currently mastering in his or her reading instruction.
Increased fluency results in increased comprehension as well as increased reading enjoyment.  Remember, it doesn't take much time each day to practice fluency exercises and the payoff is guaranteed!
I hope you have enjoyed and learned from this series.  It is my goal here at Homeschooling With Dyslexia to educate and encourage families with dyslexia.
Learn More About Building Fluency & Comprehension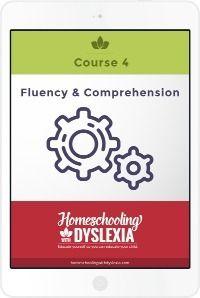 Course Four:  Building Fluency and Comprehension
Research is clear that when students with dyslexia receive explicit instruction with methods that work, they can learn to read and write and spell.
However, for some dyslexics, fluency is never reached, a fate that negatively affects them in many ways.
In this class you will learn:
what reading fluency is and how it develops
how fluency affects comprehension
nine of the most effective, research-based methods for increasing reading fluency
easy-to-implement methods to enhance your child's reading comprehension at home
plus links to resources to help you implement these strategies in your home
Visit our Dyslexia Parent Course page for more info and purchase options.
Stay in Touch
We have quite an active Facebook community where I frequently post articles of interest and encouragement.  I also have a growing Pinterest Page with a wide variety of teaching tips for all subjects.
You can also subscribe to receive blog updates via email below.

Join our newsletter
Subscribe to get our latest content by email.