One of the things that helped me along the path of teaching, understanding, and nurturing my kids with dyslexia was finding a dyslexia support group.  Have you ever felt alone or like no one else understood what you were experiencing?  I know I have and it is a terribly lonely place to be.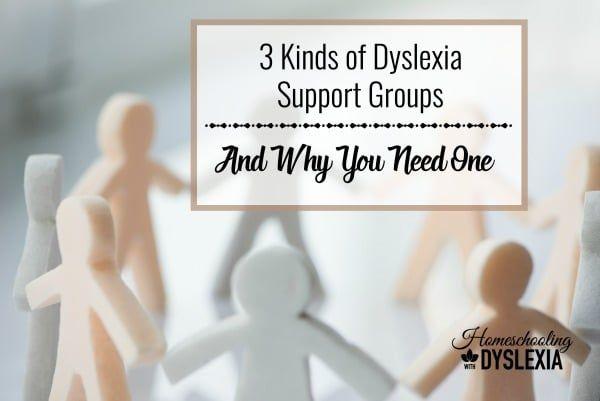 If you prefer to listen to this post, click the player below.
Why You Need Support on Your Dyslexia Journey
Growing up, I never even knew that there was such a thing as dyslexia. I never struggled much in school and wasn't aware that about 20% of my classmates had trouble with reading, writing, and spelling despite being fun-loving and perfectly intelligent.
So when our first born (and 2nd, 3rd, 4th, 5th, 7th and 8th) struggled to learn to read I was at a complete loss as to what to do or how to help them.  In fact, without realizing it, I believed most of the myths about dyslexia.
I'll never forget the day I met two other moms with kids my son's age whose families were also dealing with dyslexia.  We learned so much from each other – things like how our kids were awesome despite their reading issues, what curricula were working and which weren't, and how to find a tester and tutor in our area.
Most importantly, I didn't feel alone anymore.  
These ladies became trusted friends that I could call on when things got tough or if I had a question or concern.  Let's look at how you can find the support of like-minded families on the same journey as you.
Types of Dyslexia Support Groups
There are essentially 3 kinds of support groups that I have been involved with:
Local Dyslexia Support Groups
Local dyslexia support groups:  You can find local support groups on your local International Dyslexia Association website (not the main IDA website).  You can find the local branch of the IDA closest to you here.  These groups meet either monthly or quarterly and choose topics of interest to their attendees. The downside of these groups is that most, if not all, attendees are not homeschoolers and you may have to travel some distance to find a group near you.
Start Your Own Dyslexia Support Group
Start your own dyslexia support group.  Our homeschool group has a meeting once a month with speakers and activities for families with kids with all kinds of learning challenges.  I like this option because the members are truly local and can be a wealth of information on local services, tutors, and programs that work. These are the moms that you can call on the phone and meet for coffee or at the park when you need an ear.
Online Dyslexia Support Groups
Online support groups:  Online support groups are a terrific way to get connected with other families with kids with dyslexia.  They are missing the local aspect of the first two groups, but the benefit of these groups is that you have the experience of wide range of members with a variety of experiences.  You can ask the most random of questions and someone will be able to relate. There are a few groups that I frequent.
Best Online Dyslexia Support Groups
Homeschooling With Dyslexia Facebook Page:  This is my page so I am a bit biased.  😉  Everyday, this page shares articles on dyslexia research, teaching methods, inspiration and posts from the HomeschoolingWithDyslexia.com website.  Reader questions are posted once or twice a day for feedback from the community. There are nearly 40,000 families connected here!
Homeschooling With Dyslexia Facebook Group: Oh Facebook! When I first started this website, Facebook Pages were the thing. But Pages don't allow the awesome level of communication that Groups allow. So, join the Homeschooling With Dyslexia Facebook Page for articles of interest but join our HWD Facebook group for better interaction.
Homeschooling Dyslexic Kids Facebook Page:  This is a very responsive and active community.  Readers' questions post directly to the wall and members are quick to respond. This is a very supportive and knowledgeable group.
Dyslexia Support for Parents of Dyslexic Kids Facebook Page:  A large group with lots of activity and interactions.  Not specifically for homeschooling, but full of lots of great information.
Not the Former Things Facebook Page:  A super encouraging page with an emphasis on dyslexia, autism, sensory processing issues, chronic illness, complicated diagnoses, and the daily struggles and joys of homeschooling outside the box kids.
Beyond the Box Learning Community
Over the years, I have experimented with different ways to connect with more of you on a one-to-one basis. I started the HWD website to share what I have learned along my 20+ years of homeschooling. I have tried 1-on-1 consulting, group coaching, and group classes. They were all good but expensive.
Now I have combined my hearts desire to connect and educate you all without the cost. Welcome, Beyond the Box Learning membership. Each month, members receive one master class taught by an expert in the area of learning differences, one succes story taught by an individual with some kind of learning difference, and a live Q & A with me where you can ask anything at all that is on your mind.
A 1-hour consult costs $70 and a 1-month membership to Beyind the Box costs $15. For now. If you join now, you can be grandfathered in to our founding members price. As more content is added, the price will increase. Learn more and sign up here.
Please don't feel tha you need to travel this path alone. There ways to connect and find encouragement.
Where have you found support on your dyslexia journey? Please share in the comments below.