The goal of this post is to help you find the best homeschool curriculum for the unique learning needs of the high school student with dyslexia.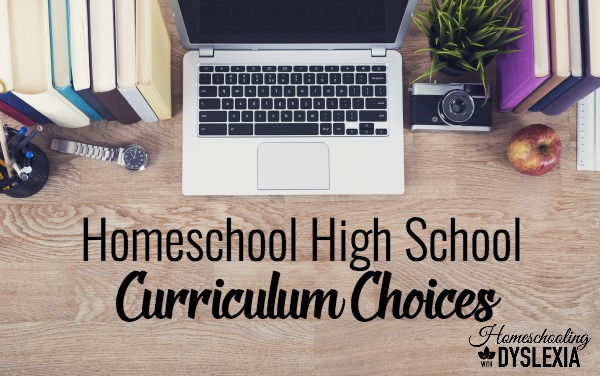 If you feel like you blinked and your babies are in high school, you're not alone!
It is common to feel nervous about high school in large part because there are more requirements in these last four years of school than in any other year. So while you may have hit your stride with your middle and elementary school-aged kids, high school often means making adjustments to your current homeschool approach.
Homeschool High School Requirements
High school graduation requirements will vary depending on where you live.  You can find your state's homeschool laws on the HSLDA website here or at your state's Department of Education website.  Requirements are also affected by college requirements.  For more information on preparing your dyslexic student for college – read this series.
Most high school students will take:
English:  3-4 years
Math: 2-4 years including Algebra, Geometry, Algebra 2, and Trigonometry or Calculus.  Consumer Math is also accepted in some states.
History or Social Sciences: 3-4 years
Science: 2-4 years including Physical Science, Biology, Physics, and Chemistry
Foreign Language:  1-4 years depending on whether the student is 4-year college bound
Electives:  The number of electives will depend on the total number of credits your state requires.
High School and Dyslexia
While high school has more rigid requirements, parents of dyslexic students are still encouraged to modify curriculum to best meet their student's unique needs and to allow as many accommodations as needed to allow their students to learn and communicate at their intellectual level.
Also, your kids with dyslexia will likely learn more efficiently with multi-sensory approaches so many of the recommended curricula below will have audio or video components.  As always, consider the use of audiobooks for as much required reading as your child needs to keep up.
We've got lots to cover so let's hop right in with the most complex subject in the high school years, English or Language Arts.
This post contains some affiliate links.  I earn a small amount from any purchase made through these links.  Please know that I never recommend or promote any product or curriculum that I have either used successfully or am confident of others using it successfully. My goal is to help my readers find reliable resources for their families.  Thank you for supporting Homeschooling With Dyslexia!
All in One Homeschool High School Curriculum
Although many of our kids will be reading more fluently in high school, reading isn't usually the preferred method of learning. Finding a curriculum with strong audio and visual components can be a huge help.
The following programs include every subject needed for high school delivered in an audio or video format:
Power Homeschool: Online, self-paced, video-based homeschool program. They have a wide variety of subjects from remedial to advanced.
Acellus Academy: An online, video-based, WASC-accredited homeschool program. Learn more about how they can support struggling learners here.  In my experience, the only place that requires an accredited diploma is cosmetology school. However, if accreditation is important to you, Acellus Academy is a good option.
Time 4 Learning:  A high school membership to T4L includes up to 4 courses for $35/month.  Our high school-aged kids liked this program because it was a nice mix of video instruction without a ton of independent reading required.  Includes a nice setup of record keeping for parents.
Homeschool High School English Curriculum
High school English or Language Arts is really 3 subjects in one:
Writing
Grammar or Vocabulary
Literature study
You can buy an all-in-one program or piece together your own program.  Some programs combine history with writing or literature with writing which is a nice, time-saving way to teach writing in context.
Writing: A typical high school writing course of study includes everything from learning the basics of writing, creating a thesis statement, and writing various types of essays and research papers.
Our family has first hand experience with these first three programs:
Write Shop I & II:  A systematic approach to teaching high school level writing.
Fortuigence:  Essay Rock Star:  If you're like me and struggled with teaching higher level writing, you'll love Essay Rock Star.  Students are taught how to write four different types of essay – Personal, Persuasive, Expository and a Textual Analysis (or literary review).  Instruction is video based (no reading required) and assignments, which are broken into small, manageable chunks, are emailed to the teacher for review.  Read my full review of Fortuigence:  Essay Rock Star here.
Essentials in Writing: An excellent online writing program for grades 1-12. (They also have a literature program that begins in Middle School.) With short, direct video-based teaching and short, clear lessons, many kids with dyslexia report building confidence in writing with Essentials in Writing. Sign up for a free week trial to see which level is right for your child. If your child is a struggling writer or without much writing experience, it is recommended to start with Level 7 and move to Level 9 the following year.
IEW:  The Institute for Excellence in Writing offers high school level courses in Communication, Essay Writing and a variety of online writing courses.
Other homeschoolers also love:
Write at Home:  Offers a variety of online, video based writing courses with teacher grading to make writing instruction easier on homeschool parents.
Bravewriter:  Bravewriter offers a variety of online writing courses for all ages including high school.
Grammar/ Vocabulary:  It is assumed that high school students already have a grasp of grammar concepts and many programs move on to vocabulary development in the high school years.
Our family has used and enjoyed:
Easy Grammar Plus:  EG Plus will give any student beyond Grade 6 a solid, basic understanding of grammar.  It's especially popular because the text is written at a fourth-grade reading level.  Therefore, students can focus on concepts.
Daily Grams:  Simple daily practice and review of grammar concepts.
Winston Grammar:  A more hands-on, multi-sensory grammar curriculum.
Wordly Wise:  Build vocabulary while strengthening reading, writing, and critical thinking skills.
Other homeschool families recommend:
Growing With Grammar: Technically only goes to 8th grade but concepts are advanced enough to be high school level if your child needs (and you want) this type of review.
Literature:
Beautiful Feet Books:  Combines excellent literature with history
EIW:  Excellence in Literature or Windows to the World: An Introduction to Literary Analysis
Movies as Literature: This complete, one-year high school English course uses classic movies on video to introduce and study the elements of literary analysis. Includes questions and essay assignments for each classic book/movie.
Excellence in Literature by Janice Campbell:  This is a literature rich reading and writing program; students read classics and write papers and essays for each work. There are nine units per guide, each lasting four weeks. The assignments all include reading historical context materials, such as the author's major influences and historical background of the novel. Does not include Poetry.
Teaching the Classics by Center for Lit:  An amazing training on how to apply the thought provoking Socratic Method to the study of classic literature.
Book List Sources:
Sonlight
Veritas Press
Ambleside Online
Comprehensive High School Language Arts Curriculum
Total Language Plus:  Students learn writing, spelling, and vocabulary through the reading of classic literature.  Sold in individual units for each book and also has a separate Poetry Unit.  (While literature selections are not specifically Christian, TLP guides are written with a Christian world view) A novel study-based curriculum that includes, grammar, spelling, vocabulary, parts of speech, and dictation. (So you can pick award-winning novels that sound interesting to your child.) The parts I love the most are the enrichment writing projects, research projects, and critical thinking essays that you can pick from.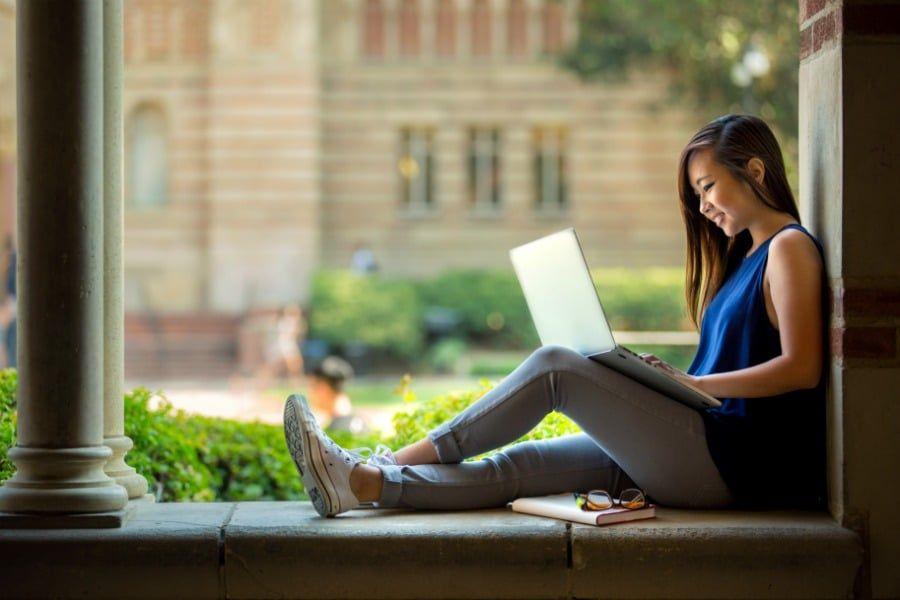 Homeschool High School Math Curriculum
Algebra, Geometry, Algebra 2, Trigonometry, and Calculus are the usual high school level math courses.  We've had kids soar with high school level math and others took Algebra twice and were 'done'.
Teaching Textbooks:  While we love Math U See for the early grades (K-2 or 3) and have used Math U See for Algebra in the past, after switching to Teaching Textbooks for Algebra and beyond some 10 years ago, we have never looked back.  Done on the computer, with video instruction and immediate feedback on students' answers as well as a powerful record-keeping section.
Read my complete review of Teaching Textbooks and learn why Teaching Textbooks is like having the 'good' math teacher every year!
Homeschool High School History/Social Studies Curriculum
A typical 3-year course of study for high school History, also called Social Studies, includes:
US History & Geography
World History & Geography
Government & Economics
Beautiful Feet:  A literature-based approach to teaching History. Our family likes Beautiful Feet because we can combine Literature study and writing altogether.
My Father's World:  The MFW high school History combines Bible, History, and English into one program.  Can be reading intensive unless used with audiobooks.
Notgrass History:  Combines History, Bible, and Literature in one program.  In addition to reading the historical narrative about events, issues, and people from around the world and across the centuries, students read original documents, speeches, poems, and stories. They also read classic literature that helps bring to life the time periods they are studying. A variety of writing assignments and hands-on project ideas help students engage in what they are learning.  This program is very reading intensive, therefore very mom intensive.  I mention it here because it is such a very thorough program.
Switched On Schoolhouse:   A computer-based course that follows a traditional textbook approach.  Students read, or have the text-to-speech function read, the content and answer comprehension questions on the computer.  A bit dry for our kids but it did get the job done during the years when I was busy with many younger kids!
Wondrium:  This a 'new to me' resource that includes online video lectures on subjects like History, Science, Literature, Language, Health, Travel, and more.  Video courses can be streamed on your iPad or iPhone, Android phones and tablets, Kindle, or Windows 10 devices.  Also available on Roku, Amazon Fire TV, and desktop or laptop computers via the Wondrium website.  Consider the monthly streaming option for access to all of the courses online.
Homeschool High School Science Curriculum
A traditional course of study for high school Science includes 2-4 of the following courses:
Physical Science
Biology
Chemistry
Physics
Landry Academy (online Science and Math classes)
Apologia:  This college prep level science curriculum is taught from a Christian worldview and includes an mp3 recording of the text for free to students with documented learning disabilities like dyslexia.  Includes labs.
Time 4 Learning:  A high school membership to T4L includes up to 4 courses for $30/month.  Our high school-aged kids liked this program because it was a nice mix of video instruction without a ton of independent reading required.  Includes a nice setup of record keeping for parents.  No labs.
Houghton-Mifflen Harcourt:  Our family has never used this resource but other families homeschooling kids with dyslexia have recommended it.  Online secular science courses by the publishers of Saxon programs.
Homeschool High School Foreign Language Curriculum
Studying a foreign language can be extremely difficult for a student with dyslexia.  Our kids have found that stretching their curriculum out over more than one year helped a lot with the information overload.
Rosetta Stone:  Taught with an immersion approach with lots of video instruction, this is hands down the best foreign language program my kids have ever used.  Be sure to buy the homeschool edition!
Sign Language:  Several of our kids took Sign Language in lieu of traditional foreign language.
Physical Education
Our family has never used a PE curriculum.  With community sports, dance, swimming, and family hikes and biking, we have never had a problem meeting this requirement.
Homeschool High School Electives
High school electives go beyond the core classes of English, Math, Science, and History. Electives supplement the educational years with classes that interest your teenager and prepare them for their adult lives.
High school is a time when your child should be exploring their interests in an effort to find a career path that is right for them. It is also a time when your teenager needs to learn to be ready for adult life. Therefore teaching life skills as high school electives is a good idea as we all need to be able to take care of ourselves.
For an extensive list of possible courses for elective credit in high school, see this downloadable pdf from HSLDA.
Okay, readers, I'm relying on all of you to share in the comments below what you're using for homeschooling high school with your dyslexic kids.  That is what makes our community here so powerful!
How about you?  What are you using with success in your homeschool during your high school years?
Other curriculum lists:
Homeschooling Kids With Dyslexia:  Preschool
Homeschooling Kids With Dyslexia:  Kindergarten
Homeschooling Kids With Dyslexia:  1-3 Grades
Homeschooling Kids With Dyslexia:  4th Grade (reader picks)
How to Homeschool Your Dyslexic 7th Grader
Visit our Resources Page for links to curriculum, assistive technology, websites, books, and more for the dyslexic learner.