It often seems that no matter what we do, no matter how well they read and no matter what curriculum or method we use, spelling is an issue. Here is some great homeschool spelling curriculum for students with dyslexia.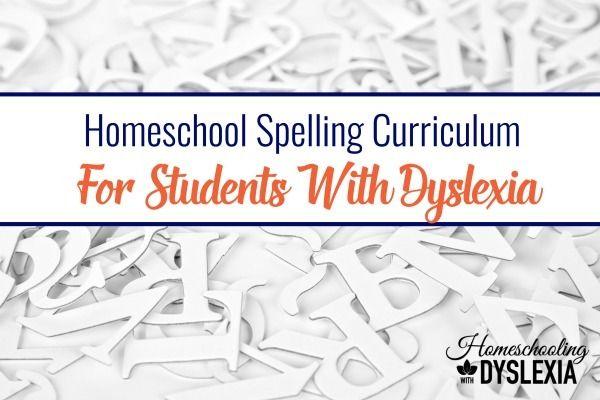 Welcome back to this 5-day series on Finding Homeschool Curriculum for the Student With Dyslexia.
To read this series from the beginning, click here.  So far we have talked about the general way that dyslexics learn, what to look for in a reading curriculum, and how to teach writing or composition.
Spelling With Dyslexia
If you have been parenting or teaching kids with dyslexia (or been married to a dyslexic) for any amount of time, you are part of an elite group that grapples with this most perplexing phenomenon.
Teaching spelling to someone with dyslexia.
It often seems that no matter what we do, no matter how well they read and no matter what curriculum or method we use, spelling is an issue.
Elements of an Effective Spelling Curriculum for Dyslexia
Just like with reading, any effective spelling curriculum will be based on the Orton-Gillingham principles that I wrote about in my post on finding a homeschool reading curriculum for students with dyslexia.
Spelling instruction should:
be directly and explicitly taught.  Leave nothing to guesswork – all concepts should be clearly taught.
be incremental and sequential starting with the most basic spelling skills and building on that in a logical order.
be multi-sensory.  Short term memory weaknesses in the dyslexic mind make remembering spelling rules difficult.  By accessing information via multiple senses (multi-sensory) we are using more areas of the brain and have a greater likelihood of remembering what was taught.
provide continual review.  Remember, dyslexic students need to overlearn reading and spelling rules.  This is accomplished through lots and lots of practice.
Teaching Tips
Be consistent – daily review is important for making the rules stick.
Be flexible – if the lesson in your spelling curriculum takes too long or covers more than your child can handle in one lesson, break it up into several days.
Practice, practice, practice – build words with letter tiles, write them in notebooks, write them from dictation.  Review is necessary for the rules to stick.
Spelling Curriculum for Kids With Dyslexia
Written by the same people who created the Orton-Gillingham based reading curriculum, All About Reading, this program contains all of the elements of an effective spelling curriculum.  An 'open and go' program that makes teaching easy with little teacher pre required.
Some families benefit from the simple, example-based methods of Sequential Spelling.  It works along the lines of practice, practice, practice.  If you are teaching spelling to multiple ages or if your child is resistant to All About Spelling, this program is worth a try.
Best Apps for Spelling
Advances in technology are a huge help to our kids (and adults) with dyslexia.  Check out our list of some of the best apps for spelling that are particularly good with people with dyslexia.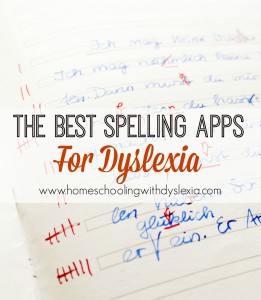 Our Parent Dyslexia Class – Teaching Spelling
If you are looking to get educated about dyslexia and how to educate, encourage and empower your kids with dyslexia, you have come to the right place.
For more information on getting started homeschooling your child with dyslexia, download my free ebook, Homeschooling With Dyslexia 101,  that covers things like understanding learning styles and teaching methods, how to create a positive learning environment and schedule, or how to set goals and get it all done.
For more information on specific strategies to teach spelling to your dyslexic child the way he or she learns, consider taking our 'Teaching Spelling' Class.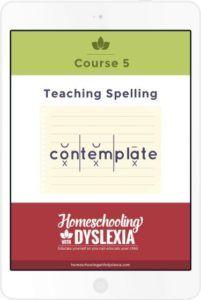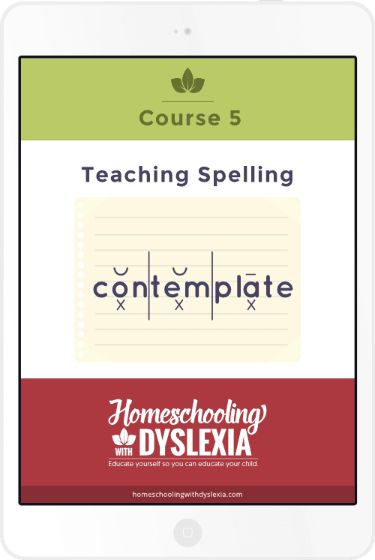 What you will learn in this class:
why people with dyslexia struggle with spelling
the best methods for teaching spelling
the power of studying morphology and etymology with your dyslexic students
3 simple ways to teach morphology to your students
the best accommodations for students with dyslexia
how to balance accommodations with remediation
Connect With Us!
This site was created to be a place for families who chose to homeschool their dyslexic kids to share there successes and failures and to offer encouragement to one another. Please consider dropping by the Homeschooling With Dyslexia Facebook Page and being a part of our community!
How about you?  Do you have a favorite spelling program in your homeschool?  Please share in the comments below!